Disney Springs is a foodie paradise. There are so many terrific dining options, including many different cuisines and something for every budget. Thankfully if you're in the mood for a delicious burger, then look no further than D-Luxe Burger. So what it's all about? Worth the cost? Here are the 6 things you need to know about D-Luxe Burger at Disney Springs.
6 – A Fantastic Quick Service Restaurant for Disney Springs
With all of the great dining choices at Disney Springs, it's great to have an option to get a good burger at a quick service location. When the restaurant was announced, we were pleasantly surprised to learn that D-Luxe would be a quick-service restaurant. It's just another restaurant among many that serve up great food at Disney Springs.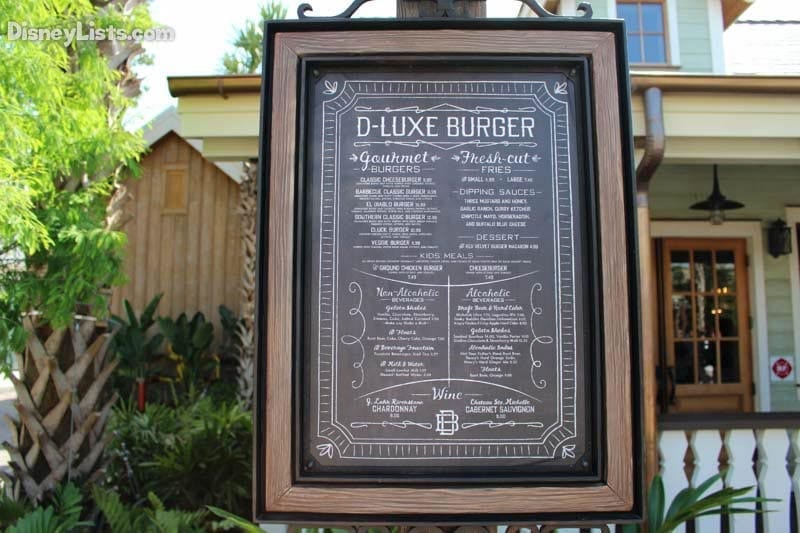 5 – Simple Ordering and Pick-Up
Upon entering the restaurant, you'll join the queue to place your order. We visited on a busy Friday night and the line was actually out the door. We waited for about 15 minutes to place our order. The ordering counter is quite small and only two cast members take orders at a time. This is likely for the best because the cooks can only handle so many burger orders on the grill at one time. You'll place your order for everything here. Be sure to mention any alterations you wish for your order. After ordering, you'll receive a pager, and you'll wait for your food order. Most tables have a spot where you put your pager, and they will even bring your food to you when it is ready.
Note that D-Luxe does accept the Disney Dining Plan and is one quick-service entitlement. Considering burgers range in price from $10.49 to $13.49, using an entitlement here is a great value. D-Lux offers various discounts. The last time we visited, they were offering a discount for annual pass holders, so don't be afraid to ask.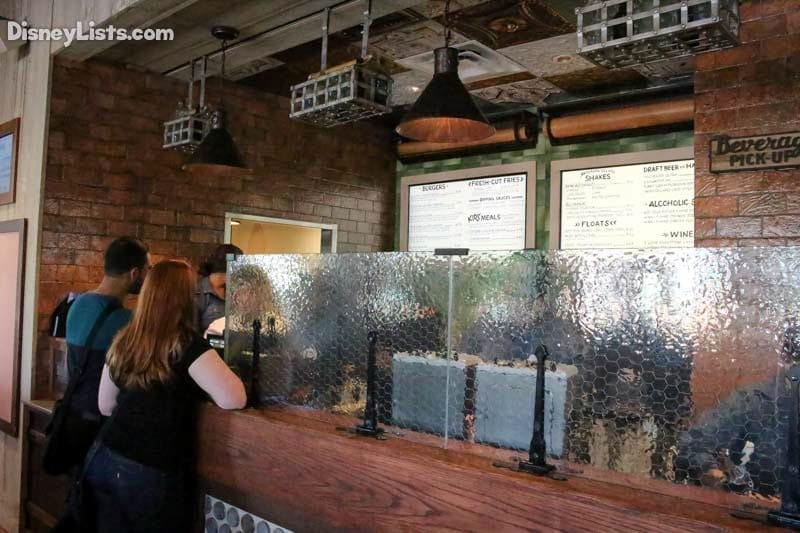 4 – Intriguing Menu
D-Luxe features burgers, of course, and they have six burgers to choose from. Feel free to customize when you order. The gourmet burgers on the menu include:
Classic Cheeseburger – Beef patty topped with cheddar, lettuce, tomato, and pickle
Barbeque Classic Burger – Beef patty topped with a fried onion ring, smoked Gouda, bacon, barbeque sauce, and lettuce
El Diablo Burger – Chorizo-and-signature-blend patty, fried banana peppers, pepper jack cheese, lettuce, tomato, and chipotle mayonnaise
Southern Classic Burger – Beef patty, topped with fried green tomato, pimento cheese, lettuce and bacon
Buffalo Chicken Sandwich – Fried Chicken Breast topped with Buffalo-Ranch Sauce, Blue Cheese Crumbles, Bacon, Lettuce, and Tomato
Plant-based Pacific Island Burger – Plant-based Patty with Cabbage and Mushroom Ragout, Mango Salsa, Lettuce, and Dill Pickles on Plant-based Parker House Roll
Children have three options: a cheeseburger, a grilled chicken sandwich, or chicken breast nuggets. Sides include freshly cut fries with your choice of dipping sauces. The restaurant also consists of some flavorful gelato shakes with rotating flavors. Adults will find hard sodas, draft beer, and cider, as well as shakes with spirits that include the flavors Smoked Bourbon and Godiva Raspberry. Non-alcoholic shakes are $7.50, with alcoholic shakes priced from $12 – $16.
An additional plus is the option of multiple flavors of dipping sauces for your fries. We tried Curry Ketchup, Garlic Ranch, and Chipotle Mayo.
3 – Exceptional Theming & Seating
The restaurant has a feel of an old ranch farmhouse with rustic woodwork, barn doors, and very unique lighting. The theming is where this restaurant shines. There are two main seating areas indoors. The front room features a gas-burning fireplace (that was lit and giving off heat even though it was 90 degrees outside) and some large tables. Since the queue and ordering area are also here, expect this room to be a bit loud. After you pass the beverage station and pick-up area, there are bar-type seats available along the wall. In the back room, you'll find tables of all sizes and chairs to match the farmhouse theme. One modern convenience is that every booth and most tables have outlets for charging your portable devices while eating. Outside you'll find a nice patio area that looks out on the blue spring waters.
2 – Taste and Value. 
Since we are a family of five, we ordered 5 burgers: 3 classic cheeseburgers for the kids, 1 bacon hamburger for Cindy, and one El Diablo Burger for Chad (who is the most daring when it comes to flavors). As far as flavor and taste, the hamburgers are pretty good. We love hamburgers and have had them all over Disney property. Indeed, these burgers were better than most quick-service burgers that you find in the parks (not exactly saying that much). We recently enjoyed a fantastic burger at Sci-Fi Dine-In Theater, and that burger was much better than what we tasted at D-Luxe burger. Comparing it to a national chain such as Red Robbin (A-) or Shake Shack (A+), D-Luxe was a solid B.
As far as value goes, when comparing to other quick-service restaurants, the burgers are not that overpriced when comparing what you will pay on Disney property. A Royal Guard Burger at Backlot Express is $13.99, but that includes fries. A 1/3 lb Angus Bacon Cheeseburger is $11.99 with fries. We ordered two large fries for our family of five, and we had plenty. Next time, we would likely just order 1 large fries. (Regular fries are $4.99, and large fries are $7.49). Likely one regular fries would be enough for two people. The burger mentioned above at Sci-Fi Diner with fries is priced at $19.00, so a $10 burger seems reasonable for a quick-service burger on Disney property.
1 – Overall Impressions
Overall, we were happy enough with our experience at D-Luxe burger. This is an excellent addition to the Disney counter service line up at Disney Springs. Most guests are going to be pleasantly surprised by D-Luxe Burger.
For a no obligation, FREE Quote on a Disney vacation package, please contact our travel partner Magical Vacation Planner at 407-442-0227 (407-442-0215 for Spanish). You can also request a FREE quote online by Clicking HERE.