You have already been waiting in lines all day for various attractions, so when you are hungry and want to eat you really don't want to have wait in yet another line forever.  There are definitely some pro tips that would help you with that. Here are 8 great tips for how to deal with crazy long lines at quick service restaurants.
Editor's Note: We understand that with the phased reopening of Walt Disney World, some of the advice in this article may not apply if you visit while capacity limits are in place and mobile ordering is used at quick-service restaurants. (You can read everything you need to know about the phased reopening by clicking here). We will continue to share articles that give guidance on a "normal" vacation to Walt Disney World, along with any special changes or instructions you may need to be aware of during the phased reopening to provide the best tips we can regardless of when you are visiting. ~ Chad & Cindy
9 – Eat at off-peak times.
People are creatures of habit, and they tend to like to eat at the same times of the day every day. This means that popular breakfast times are around 8-9:30ish; lunch is usually around 11 – 1, and dinner is generally from 5-7. These are the times that you should try to avoid eating, especially if you plan on quick-service dining. Those are the times when you expect lines to be at their longest and seating to be at a minimum, especially for large parties to sit together. You should do everything you can to train yourself to eat at off-peak times so that you can avoid these waits and save yourself a lot of time! You may be able to only eat 2 full meals a day this way, which could also save you money on your food budget.
8 – Figure out what you want in advance.
Many of the restaurants have menus that you can grab to look closely at while you are in line, and then you can hand them back in when you get to the front or give them to another guest behind you. If there isn't a cast member handing them out, then look to see if they have any if you can't see the menu from the line. You should at least be able to see the big menu overhead before you get to the point where you order. Get your family to ultimately decide on their menu items before it is your turn so that you can save a lot of time while ordering and make the ordering process less chaotic.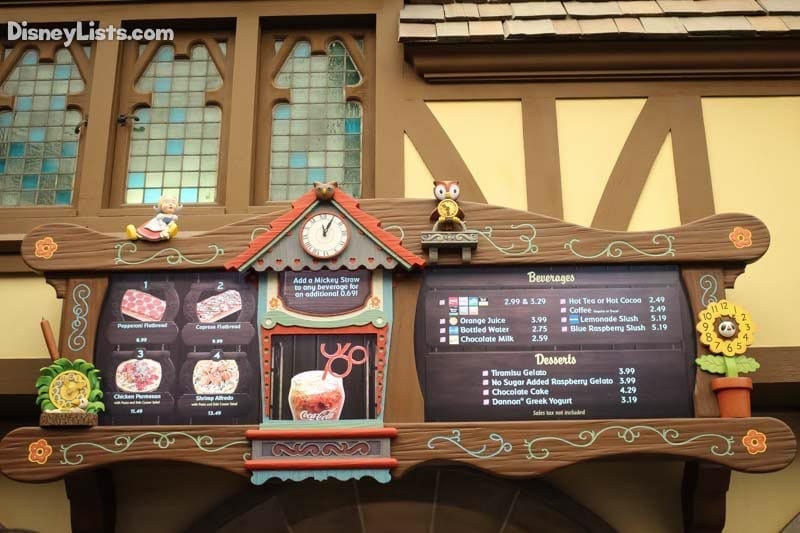 7 – Try Be Our Guest. (If you can get in.)
Editor's Note: During the phased reopening of Walt Disney World, Be Our Guest lunch service is a table service meal. It is unclear whether or not this change is temporary or permanent. 
Be Our Guest has a really unique lunch service that we really hope catches on at other quick-service locations. You still book a dining reservation for lunch, but it is still quick service dining. You even pre-order your food using the Disney mobile app! Then you check-in at your dining time. They bring you in, and then you find a table, and in a little bit, your food will be brought out to you. It saves a lot of time and makes for a great dining experience. We really hope to see more of this type of service! Reservations for this one go fast, so you will need to make them in advance.
6 – Understand your Dining Plan.
Editor's Note: During the phased reopening of Walt Disney World, Disney Dining Plans are temporarily suspended. 
If you are on the Disney Dining Plan, then make sure that you understand the entitlements for your plan. This will save a lot of time and questions when you are trying to place your order. This will also prevent anyone in your family from scrambling to decide what they want because they didn't know what was included in the dining plan. Review your plan entitlements in advance, even before your vacation, and then you will be prepared to make decisions in the heat of the moment.
5 – Have your payment ready.
If you aren't on the Dining Plan and will be paying for your meal, then be sure to have your payment ready. You can pay with cash or with credit card. If you are staying at a Disney resort, you can also charge it back to your resort room, but that will have to be pre-setup with a pin number. You can do that before you arrive for your vacation, so make sure to take care of that in advance, so you don't have to worry about it once you arrive.
4 – Be wary of restaurants with multiple bays to pick from.
There are some restaurants on property that have different lines that have different options depending on which line you are in. These can be difficult to navigate depending on how many there are in your party and who wants what. If you know your kids want chicken and you want a sandwich from another line, you will then have to wait in two different lines, and possibly juggle everything. It may work out to where you could have some of your party wait in one line, while you wait in another line, but the lines could be moving at different speeds, thus causing some of your family to be dining or waiting while their food gets cold while others are still waiting in line. This isn't ideal for a family meal, so it is usually best to avoid these if you want to save time. Harambe Market at Disney's Animal Kingdom is an example of this model of quick-service restaurants.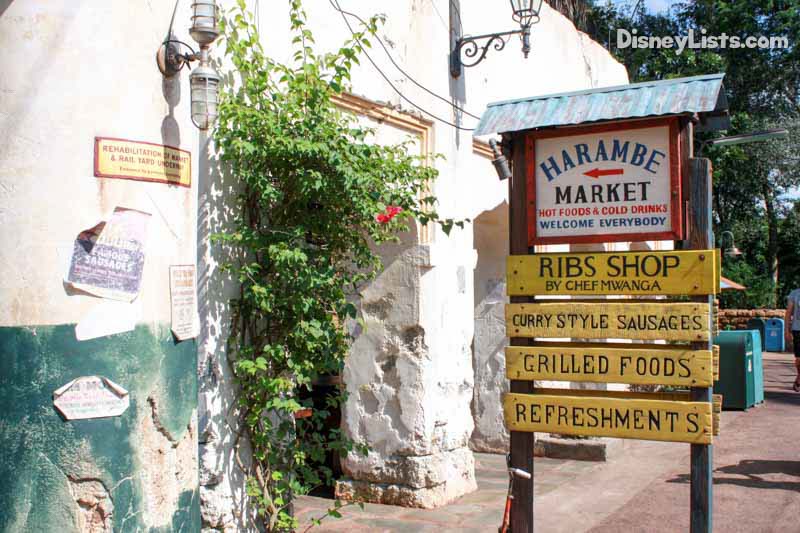 3 – Send someone to get a table if you can.
At some of the quick service restaurants, Disney has been trying a new model where everyone in your party has to stay together in line, and then you go and find a table. If you are dining at a quick-service restaurant where this is NOT in place, and you can send someone to get a table, then do it. If you get their orders and go ahead and get the table, you will save time wandering around and looking once you have trays of food in your hands. If that person or people can also gather napkins, ketchup, utensils, etc. then you save even more time as you will be ready to eat right when you sit down! Please be mindful of others. Wait until your party is close to ordering.
2 – Pick notoriously, faster restaurants.
All of the quick restaurants at Disney World have something unique and special to offer. Still, some are notoriously busy than others, partly due to the location of the restaurants and what is around them, not because they aren't great restaurants. Here are some great options to check out at each park that might help you save a little wait time:
Magic Kingdom

: Columbia Harbour House (The food is delicious, it is just a location that isn't in your face and easily noticed. The location also has an upstairs seating area that is a lot of fun!)

Epcot

: World Showcase Quick Service (There are tons of options and stands that usually have shorter lines than locations in Future World. Plus, dining at these locations become part of the whole experience and an opportunity to try something new.)

Hollywood Studios

: Backlot Express (There aren't a TON of options at the Studios, but I suggest this one because it is more toward the back part of the park, the line to order is inside instead of waiting outside, and there is a TON of seating options compared to other locations. The soda refill stations are also accessible to guests so you can get a refill to take with you on your way back out.)

Animal Kingdom

: Restaurantosaurus (This is another one that is off the beaten path, and you have to almost seek out to find. It also has an inside line with a ton of seating, plus an excellent topping bar and access to the soda refills.)
1 – Use Disney's Mobile Ordering Service
At most Walt Disney World quick-service restaurants, guests can use their mobile devices to order food and beverages ahead of time and pick up their food during a certain time window. This service allows guests to totally bypass the regular line for ordering and waiting for food. It's genuinely like a FastPass for quick service dining! You need the MyDisney Experience app on your smartphone to use the service. For more details on how to use this service, read this article.
For a no obligation, FREE Quote on a Disney vacation package, please contact our travel partner Magical Vacation Planner at 407-442-0227 (407-442-0215 for Spanish). You can also request a FREE quote online by Clicking HERE.