Florida is a few weeks into its Phase One reopening. On May 7, Disney announced a phased reopening of only Disney Springs, and many have been looking forward to its phased reopening. The rest of Walt Disney World Resort is still closed for now, including theme parks and Disney Resort hotels. Visiting Disney Springs is not what we are used to, and there are things you need to be aware of before you visit the area. We present this information to inform you of what to expect as Disney World reopens and for you to make a decision on whether or not to visit. Here is what you need to know about the phased reopening and visiting Disney Springs.
1 – Getting There & Parking
Because all Disney resorts are closed, there is no Disney transportation to Disney Springs. All guests must arrive in their own vehicles. During this initial phase, guests are directed to self-park in the Orange or Lime Garages. All surface lots are closed. Disney has reduced the number of entrances for Disney Springs to four locations: Orange and Lime Garages, along with the Hotel Plaza Boulevard pedestrian bridge and rideshare location. There was plenty of signage and traffic cones out to guide guests to the right place to drive and park. We experienced no trouble and only a short wait to get into the Orange Parking garage, but not any longer than an average busy day delay when trying to park in Disney Springs.
2 – Appropriate Face Covers are Required
Be aware that all guests three years of age and older, along with cast members and third-party operating-participant employees, are required to wear an appropriate face covering while visiting Disney Springs. Disney has stated that this is an important part of protecting both guests and cast. Please be sure you have an ample amount of face coverings for yourself and your party before you arrive, as you'll need to wear them over your nose and mouth at all times (except when sitting at a dining table eating).
Do be aware that at this time there are no face coverings for sale at Disney Springs. You need to have them with you and wearing them as you approach the screening area. If you do not have them, you will not be allowed to enter. Also, if you are in the Disney Springs area and not wearing the mask (other than eating or drinking as stated above), you will be asked to put your mask on. A Disney Cast Member confirmed to us that they are enforcing the face-covering rule. You must wear one. If you are not willing to do that, then as the Cast Member said, "Disney Springs is not the place for you at this time." Guests who refuse to wear a face mask will be made to leave.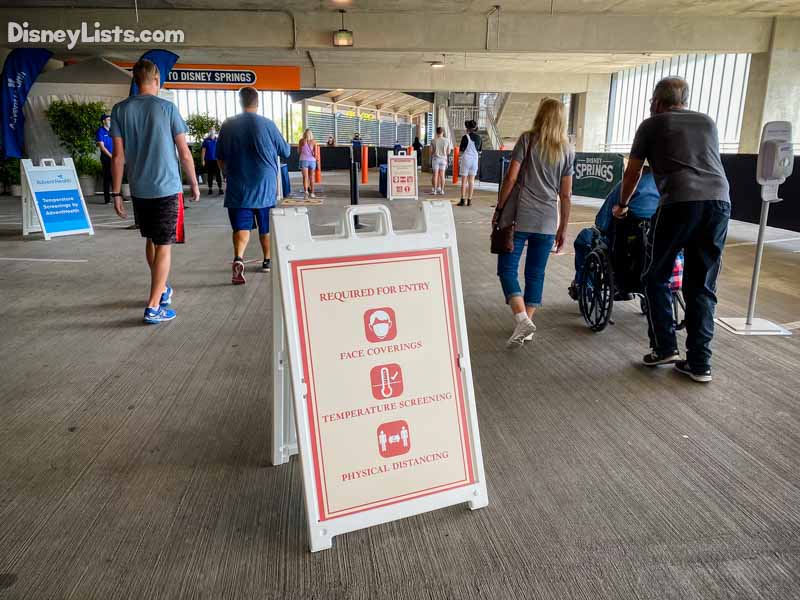 3 – Temperature Screening
Once you arrive at Disney Springs, you and your party will be required to undergo temperature screenings. Based on guidance from health authorities, anyone displaying a temperature of 100.4 degrees or higher are directed to an additional location for rescreening and assistance; those who again measure 100.4 degrees or higher will not be allowed entry, nor will those in their party. We encourage you to check the temperatures of yourself and your party before leaving home, as an extra layer of precaution.
Since we parked at the Orange Garage, our screening was done just before the walkway over to Disney Springs from Level 2. We saw other screening areas at the Lime Garage and at the bottom of the Hotel Plaza Boulevard pedestrian bridge near Once Upon a Toy and Earl of Sandwich. Note that entrances are being controlled, and you have to submit to a temperature screening to enter Disney Springs. (Click on any photo below to enlarge).
4 – Warning Signs
Disney has released a warning statement for those considering coming to Disney Springs. The following is stated on the Disney Springs website:
We have taken enhanced health and safety measures—for you, our other Guests, and Cast Members. You must follow all posted instructions while visiting Disney Springs.
An inherent risk of exposure to COVID-19 exists in any public place where people are present. COVID-19 is an extremely contagious disease that can lead to severe illness and death. According to the Centers for Disease Control and Prevention, senior citizens and guests with underlying medical conditions are especially vulnerable.
By visiting Disney Springs you voluntarily assume all risks related to exposure to COVID-19.
Help keep each other healthy and safe.
Warning signs with the same message are near the entrances of Disney Springs for visitors to see.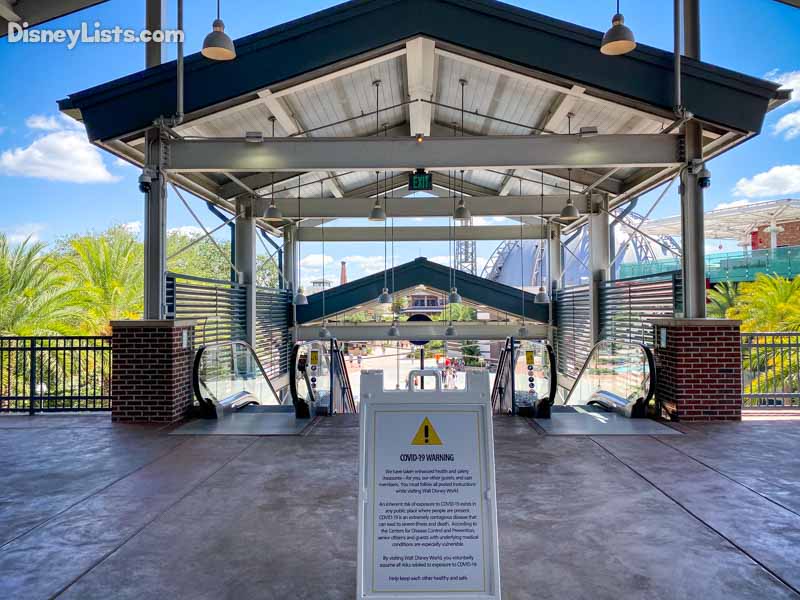 5 – Physical Distancing and Capacity Measures:
To maintain appropriate physical distancing throughout Disney Springs during this initial phase, Disney will limit the number of guests visiting the property, as well as within each location. In addition, ground markings help promote proper distancing when queuing is necessary. Disney also added physical barriers in select places where it's difficult to maintain physical distancing.
We observed many ground markings all over Disney Springs to help people stand on the right spots. Most businesses had markings indicating where to stand if there was a queue outside the store. Stores were limiting the number of people inside, and we saw several long lines outside of the stores with people appropriately spaced. Walkways also had markings that included arrows to guide the direction of pedestrians. Finally, we saw many doors marked entrance or exit only, so stores are creating one-way traffic to prevent people from getting too close to each other. (Click on any photo below to enlarge).
6 – Cleanliness
Disney has increased cleaning and disinfection procedures in high-traffic areas such as elevators and escalators, handrails, benches, tables, handles, restrooms, and more. There were also plenty of hand-washing stations and hand sanitizer available throughout Disney Springs. We observed a lot of cleaning being done by Cast Members. Surfaces were being wiped down, especially in high-traffic/high touch areas such as trash bins. Disney is doing a great job of trying to keep Disney Springs clean and encourage guests to do their part as well.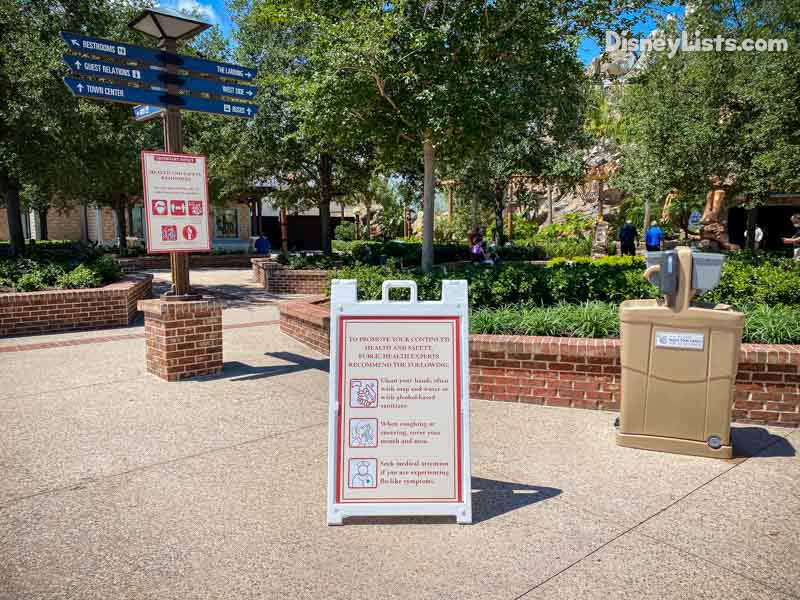 7 – Cast Members and Security
Disney Cast Member Matt Simon shared the following on cast training:
Our cast members are going through extensive new training as we all learn to adjust to these changing times together. To that end, we will have some cast members walking throughout Disney Springs to explain our new procedures and answer any questions you may have. They will also encourage everyone to follow these measures for the health and safety of us all.
Also, the security staff presence was a lot more than we are used to seeing. There was a lot of security walking around to ensure guests were adhering to the new policies. Thankfully, we saw everyone following the guidelines. The only time we saw someone without a mask was when they were eating and drinking.
8 – Operating Participants Now Open
During the initial phase of reopening, not all locations in Disney Springs are operating.
Here is a list of the locations now open:
4 Rivers Cantina Barbacoa Food Truck
Aerophile – The World Leader in Balloon Flight
American Threads
Amorette's Patisserie
Anthropologie
Aristocrepes
The Art Corner by Artistic Talent Group
Basin
BB Wolf's
Blaze Fast-Fire'd Pizza
The BOATHOUSE®
Build-a-Dino
Chapel Hats
Coach
Cookes of Dublin
Chicken Guy!
City Workds Eatery & Pour House
Columbia Sportswear
Crystal Arts by Arribas Brothers
Daily Poutine
Disney Days of Christmas
Disney Food Trucks
DisneyStyle
Disney Pin Traders
Disney's Wonderful World of Memories
Dockside Margaritas
Duncan Yo-Yo
Earl of Sandwich®
Edward Beiner Purveyor of Fine Eyewear
Erin McKenna's Bakery NYC
Everything But Water
eyCatchers Cart
francesca's
Free People
Frontera Cocina
The Ganachery
Ghirardelli Soda Fountain and Chocolate Shop
Haagen-Dazs
Happy Hound
Havaianas
House of Blues Restaurant and Gear Shop
Joffrey's Coffee & Tea Company®
Joffrey's Handcrafted Smoothies Kiosk at Disney Springs
JOHNNY WAS
Just for Fun Socks
Just Plumerias
Kate Space New York
Kiehl's
Kipling
Lacoste
Lefty's – The Left Hand Store
The LEGO Store
Levi's
Lilly Pulitzer
Lucky Brand
Luxury of Time by Diamonds International
Marketplace Carousel
Marketplace Co-Op Stores
Marketplace Snacks
Morimoto Asia
Na Hoku – Hawaii's Finest Jewelers Since 1924
Oakley
Once Upon a Toy
Paddlefish
Pandora® Jewelry
Paradiso 37 Entertainment
Pelé Soccer
Pizza Ponte
Planet Hollywood
The Polite Pig
Pop Gallery
Raglan Road Irish Pub and Resturant
Ron Jon Surf Shop®
Royally Yours by Arribas Brothers
Rustic Cuff
Rubio Arts Balloons
Sanuk
Savannah Bee Company
Sephora
Shore
Shope for Ireland
Sosa Family Cigars
Sperry
The Spice and Tea Exchange
Sprinkles
Stance
Star Wars Galactic Outpost
Star Wars Trading Post
Starbucks at Disney Springs Marketplace
Starbucks at Disney Springs West Side
STK Orlando
Sugarboo & Co.
Sunglass Icon
Superdry
Superhero Headquarters
Sunshine Churros at Disney Springs Marketplace
Sunshine Churros at Disney Springs West Side
Terralina Crafted Italian
Tommy Bahama
Tren-D
T-REX™
TUMI
UGG®
UNIQLO
UNOde50
Under Armor Brand House
Vera Bradley
Vivoli il Gelato
Volcom
Vera Bradley
Wetzel Pretzels at Disney Springs Marketplace
Wetzel Pretzels at Disney Springs West Side
World of Disney Store
Wolfgang Puck Bar & Grill
Wine Bar George – A Restaurant & Bar
YeSake Kiosk
ZARA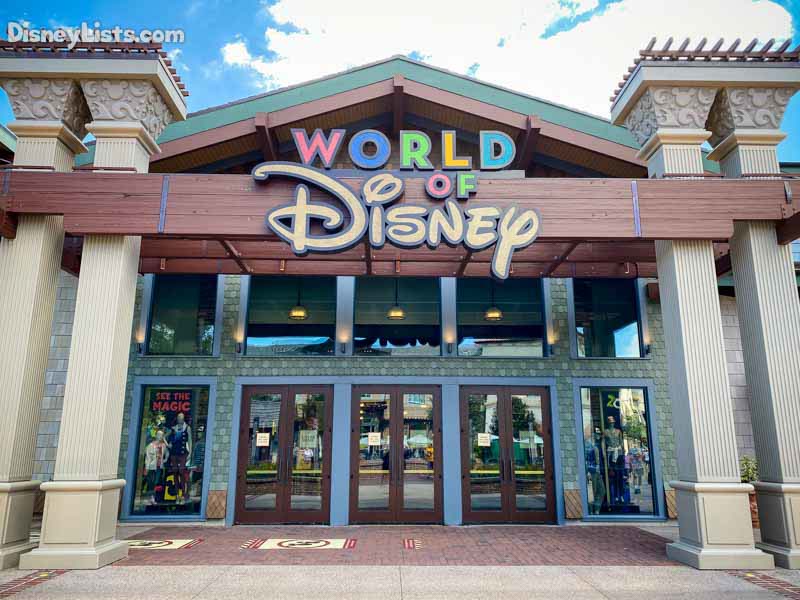 9 – Overall Thoughts
While we didn't stay too long, we really enjoyed our time at Disney Springs. We visited for just about an hour. We chose not to eat because the wait times for the quick-service restaurants were long because there are only a handful operating. We look forward to eating there soon.
Once more Disney operated stores open, we feel that more people will be visiting Disney Springs. It will be interesting to see how busy it becomes and how crowded it will become. Disney has said they will limit crowd size. Since its likely only locals are visiting at this time, we expect crowds to be pretty manageable.
Deciding whether and when to visit Disney Springs is going to be a decision that each guest needs to make for themselves. We hope that this information is helpful in making that decision for your family. We can tell you that Disney is taking the safety of its guests and following all guidelines from local and state health officials very seriously. It was obvious that Disney has put a lot of thought into how to create a positive and safe guest experience. We felt Disney delivered on that while providing a very clean space and managing the area in a way that provided the safest environment you can hope for under the circumstances. If you choose to visit Disney Springs during the first phase of reopening, you will likely find it a positive, comfortable experience.
Disney Spring is open from 10 am – 10 pm for the foreseeable future. Restaurant hours vary by location.
Click here to see our Instagram Story with more photos and video.
For a no obligation, FREE Quote on a Disney vacation package, please contact our travel partner Magical Vacation Planner at 407-442-0227 (407-442-0215 for Spanish). You can also request a FREE quote online by Clicking HERE.