As Florida begins to reopen, many have been looking forward to the phased reopening of Disney Springs. On May 7, Disney announced a phased reopening of only Disney Springs. The rest of Walt Disney World Resort will remain closed, including theme parks and Disney Resort hotels. Visiting Disney Springs will not be what we are used to. Disney has released more information on what to expect while visiting Disney Springs. Here is what you need to know about the phased reopening of Disney Springs.
1 – Safety Procedures Will be in Place
Disney Cast Member Matt Simon shares details on the safety procedures below:
Wednesday, May 20, will be a great first step in the phased reopening of Walt Disney World Resort, as Disney Springs begins its initial reopening that morning. With the safety and well-being of our guests, cast members and third-party operating participants at the forefront of our planning, we are eager to begin welcoming you back to this part of Walt Disney World. While our theme parks and resort hotels remain temporarily closed, the phased reopening of Disney Springs is a welcome milestone as we navigate through this unprecedented time together as responsibly as we can.
Based on applicable government requirements, as well as guidance from health authorities such as the CDC and appropriate government agencies, we are implementing a number of new health and safety measures and operational changes. Rest assured, there is plenty of magic awaiting you at Disney Springs – it just may feel a bit different than before. Here is what you need to know prior to your arrival:
Parking and Entrances: During this initial phase, guests will be directed to self-park in the Orange and Lime Garages. All surface lots will be closed. We will also reduce the number of entrances for Disney Springs to four locations: Orange and Lime Garages, along with the Hotel Plaza Boulevard pedestrian bridge and ride share location.
Appropriate Face Coverings: All guests 3 years of age and older, along with cast members and third-party operating-participant employees, will be required to wear an appropriate face covering while visiting Disney Springs. This is an important part of protecting both our guests and our cast. Please be sure you have an ample amount of face coverings for yourself and your party before you arrive, as you'll need to wear them over your nose and mouth at all times (except when sitting at a dining table).
Temperature Screenings: Once you arrive at Disney Springs, you and your party will be required to undergo temperature screenings. Based on guidance from health authorities, anyone displaying a temperature of 100.4 degrees or higher will be directed to an additional location for rescreening and assistance; those who again measure 100.4 degrees or higher will not be allowed entry, nor will those in their party. I encourage you to check temperatures of yourself and your party prior to leaving home, as an extra layer of precaution.
Physical Distancing and Capacity Measures: To maintain appropriate physical distancing throughout Disney Springs during this initial phase, we will limit the number of guests visiting the property, as well as within each location. In addition, ground markings will help promote proper distancing when queuing is necessary. We will also add physical barriers in select places where it's difficult to maintain physical distancing.
Cleanliness: We've increased cleaning and disinfection procedures in high-traffic areas such as elevators and escalators, handrails, benches, tables, handles, restrooms and more. We will also have hand-washing stations and hand sanitizer available, and encourage you to use these frequently.
Cashless Transactions: We're recommending you use cashless payment options whenever possible during your visit to Disney Springs, including debit cards, credit cards, Disney gift cards, etc. You can also opt for contactless payment options or use cash to purchase a Disney gift card at the Welcome Center and select merchandise locations.
Our cast members are going through extensive new training as we all learn to adjust to these changing times together. To that end, we will have some cast members walking throughout Disney Springs to explain our new procedures and answer any questions you may have. They will also encourage everyone to follow these measures for the health and safety of us all.
Everything we're doing during this unprecedented time is in service of our guests, our cast members and our third-party operating participants, who will also be following these new guidelines in their locations. We are constantly monitoring conditions and best practices, and we continue to learn every day from health and government authorities. As a result, our operational changes and safety measures may change from time to time as circumstances evolve. We want to deliver all the Disney magic you know and love with safety, as always, our top priority.
I understand this is a great deal of change to absorb, and I speak for all of us at Walt Disney World in thanking you for your cooperation and patience during this initial phase. Today's world is different, and it's going to require a shared responsibility, with everyone doing their part.
2 – Disney Issues COVID-19 Warning
Disney has released a warning statement for those considering coming to Disney Springs. The following is stated on the Disney Springs website:
We have taken enhanced health and safety measures—for you, our other Guests, and Cast Members. You must follow all posted instructions while visiting Disney Springs.
An inherent risk of exposure to COVID-19 exists in any public place where people are present. COVID-19 is an extremely contagious disease that can lead to severe illness and death. According to the Centers for Disease Control and Prevention, senior citizens and guests with underlying medical conditions are especially vulnerable.
By visiting Disney Springs you voluntarily assume all risks related to exposure to COVID-19.
Help keep each other healthy.
3 – Third-Party Operating Participants Will Open First on May 20
During the initial phase of reopening, third-party operating participants will begin to open. This means no Disney operated stores, such as World of Disney, will be open on the 20th.
Here is a list of the locations opening on May 20:
4 Rivers Cantina Barbacoa Food Truck
Anthropologie
The Art Corner by Artistic Talent Group
Basin
Blaze Fast-Fire'd Pizza
The BOATHOUSE®
Chapel Hats
Chicken Guy!
Columbia Sportswear
Crystal Arts by Arribas Brothers
Earl of Sandwich®
Edward Beiner Purveyor of Fine Eyewear
Erin McKenna's Bakery NYC
Free People
Frontera Cocina
Happy Hound
Joffrey's Coffee & Tea Company®
Lucky Brand
Luxury of Time by Diamonds International
Pandora® Jewelry
Paradiso 37 Entertainment
Pelé Soccer
Planet Hollywood
The Polite Pig
Pop Gallery
Ron Jon Surf Shop®
Royally Yours by Arribas Brothers
Sanuk
Savannah Bee Company
Sosa Family Cigars
STK Orlando
Sugarboo & Co.
Sunshine Churros at Disney Springs Marketplace
Sunshine Churros at Disney Springs West Side
T-REX™
UGG®
UNIQLO
UNOde50
Volcom
Vera Bradley
Wolfgang Puck Bar & Grill
Wine Bar George – A Restaurant & Bar
YeSake Kiosk
ZARA
4 – Some Patina Restaurant Group Locations Will Open on May 22
The Patina Restaurant Group will implement a comprehensive program in response to COVID-19 when it resumes operations at select restaurants in Disney Springs in Lake Buena Vista on May 22. The "Dine Safe: Commitment to Care" program is a comprehensive set of reengineered operating procedures to minimize contact risk and bolster hygiene protocol that meet or exceed the best-practice guidelines recommended by the U.S. Center for Disease Control and Prevention (CDC).
"These heightened sanitation standards will help us manufacture a dining environment that keeps guests and our team members as safe as possible," said Kyle Collins, Director of Marketing for Patina in Florida. "The health, wellbeing, and peace of mind of our guests, team members, and the community remain our highest priorities."
The following Patina Restaurant Group-operated venues in Disney Springs are resuming operations with limited menus for lunch and or dinner service on May 22. Their tentative accompanying hours that are subject to change include the following:
Vivoli il Gelato – Open from 10 a.m. to 10 p.m.
Morimoto Asia (Main Dining Room Dinner Service) – Open from 4:30 p.m. to 9 p.m
Morimoto Asia Street Food (Outdoor Dining Lunch & Dinner Service) – Open from 11:30 a.m. to 9 p.m
Pizza Ponte (Indoor/Outdoor Dining Lunch & Dinner Service) – Open from 12 p.m. to 8 p.m.
The remaining Patina Restaurant Group-operated locations at Disney Springs including Maria & Enzo's, Enzo's Hideaway, and The Edison will also resume operations soon. Please stay tuned for more information regarding the reopening of each of those restaurants.
5 – Three Disney Owned Locations are set to Open on May 27
According to Disney Cast Member Matt Simon, On May 27, three Disney-owned and -operated stores and venues will reopen: World of Disney, D-Luxe Burger (mobile order) and the Marketplace Co-Op. You can visit DisneySprings.com/reopening for the most current information on which locations are open.
RELATED ARTICLE: Top 15 Questions & Answers About Disney Springs
by Mike and Jamie Sylvester
Tremendous shopping for shopaholics to simple window shoppers; Irresistible dining for foodie gurus to sticky-fingered toddlers; and outstanding entertainment for music groupies to passersby. Disney Springs… a mecca of all things above and what we call the "unofficial 5th park" located on Walt Disney World property. It's no wonder that as Disney Springs gains popularity, the questions about it increase as well. Check out these top 15 questions and answers that we hope will help make your Disney Springs experience an enjoyable one!
1 – How Much Does It Cost To Visit Disney Springs?
Zero! Zilch! Nada! Parking (minus valet) and admission are totally free at Disney Springs. You can explore Disney Springs all you want and not spend a dime if you'd like. That would be a challenge, however, as shopping and dining beckon around every corner!
2 – What Days/Hours Is Disney Springs Open?
Disney Springs is typically open Sunday through Sunday (so, every day of the week) from 10:00 am to 12:00 am. Keep in mind hours do vary per establishment. For example, even if you are allowed into Disney Springs at 10:00 am, you likely won't be able to grab a bite to eat from many table, and quick service locations until closer to 11:00 am. Disney Springs also operates much like a Disney Park, where it is open for holidays.
3 – What Do The Different Sections Within Disney Springs Mean?
Much like the Disney Parks, Disney Springs has four different sections, which include Marketplace, The Landing, Town Center, and West Side. Each of these areas holds different shopping, eateries, and entertainment. The Marketplace is usually more familiar to people as it holds much of the same restaurants and shopping from when Disney Springs was Downtown Disney. The Landing edges the water and has incredible lounge and dining intermingled with a few shops. Town Center is the place for shoppers to be with a couple of great dining options. West Side is known as the entertainment hub and night crowds… much like The Landing. These areas flow into one another beautifully, and many don't even notice they've entered into a different themed area.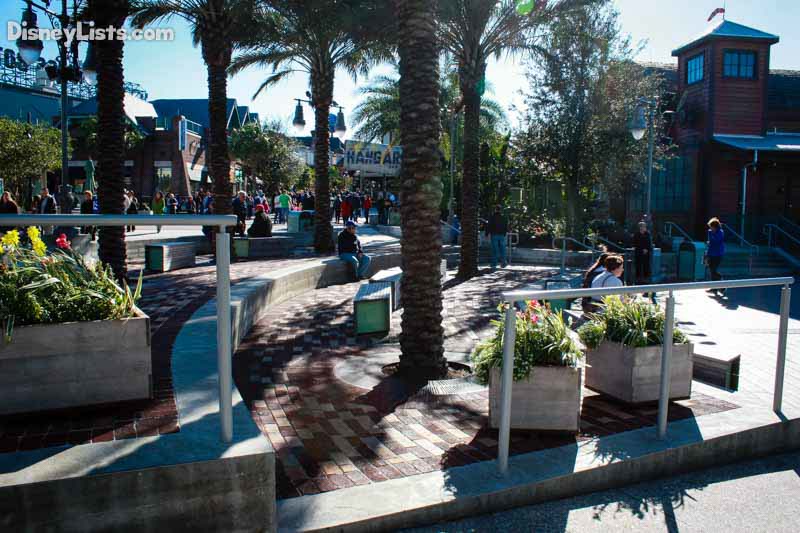 4 – Where Do I Park?
If you are driving into Disney Springs for the first time, chances are you'll be impressed with how well Disney laid out their parking! From very noticeable directional street signs to named parking garages and lots, we've been delighted with parking. Two parking garages are available, which include the Lime Garage (Marketplace) and Orange Garage (West Side). The West Side of Disney Springs also has ground parking available in lots called Grapefruit, Watermelon, and Strawberry. Our favorite locations are either of the two garages, as they are centralized to Disney Springs as a whole.
5 – What Are My Disney Resort Transportation Option?
If you are a Disney Resort guest, Disney offers bus transportation to and from their resorts for guests needing the lift. If you are staying at Disney's Old Key West Resort, Port Orleans Riverside, Port Orleans French Quarter, or Saratoga Springs Resort, you can also catch a boat to and from Disney Springs!
6 – Can I Park At Disney Springs And Take A Disney Bus To The Park?
Unfortunately, no. The Disney transportation out of Disney Springs only goes to Disney Resorts and not to the parks. If you are, however, already at a Disney Park and would like to go to Disney Springs, Disney transportation will take you from the parks to Disney Springs… but it's a one-way trip.
7 – Are Disney Gift Cards Accepted?
Mostly, yes! Disney Gift Cards are accepted at most venues located at Disney Springs. If there is a specific restaurant, shop, or entertainment venue you are planning to use your Disney Gift Card at, we recommend checking with that location in advance. While this is Disney property, several of the venues are independently owned.
8 – Can We Use Our Disney Dining Plan To Pay For Meals?
Numerous table and quick service locations throughout Disney Springs accept the Dining Plan. Just like the Disney Gift Card, we'd recommend checking with your restaurant destination of choice before dining to be sure they accept your Dining Plan.
9 – Are Magic Bands An Option As A Method Of Payment?
If you are a Disney Resort guest and have set up your Magic Band to act as your wallet, you will be pleased with the number of places you can tap your Magic Band to pay at Disney Springs! Most locations offer this easy way of paying for shopping, dining, and entertainment.
10 – Are Coupons And/Or Discounts Available?
If you are an Annual Passholder, Disney Vacation Club member, Disney Visa/Chase Cardholder, or Tables in Wonderland member, you can expect discounts on merchandise, dining, and entertainment in some cases! Some of the independent retailers will run special deals or offer coupons available at their websites or on their apps that can be used in the shops at Disney Springs.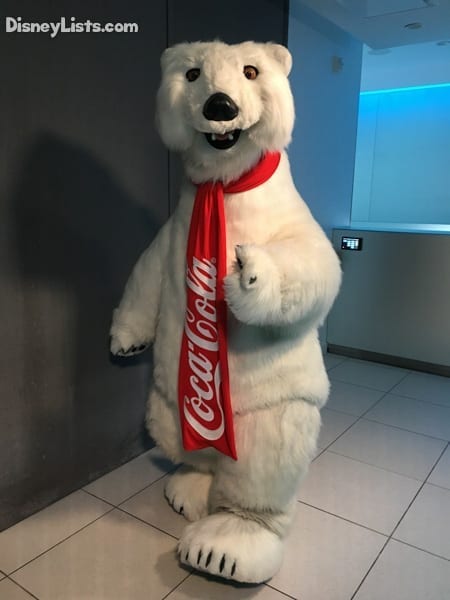 11 – Are Disney Characters At Disney Springs?
On a rare occasion, Disney Springs will roll out the red carpet for special character appearances. At the present time, however, Disney Springs does not have any regular character meet and greets as you'd find in the theme parks. While there are no Disney characters, the Coca-Cola Polar Bear is available for pictures at the Coca-Cola Store, and the pictures will show up in your MyDisney Experience App.
12 – Is All Merchandise Available Disney-themed?
No, not at all! Actually, we wish Disney Springs had even more Disney-themed merchandise! You can expect to find most of the Disney inspired shopping in the Marketplace section, which includes World of Disney and the Art of Disney, to name a couple. The Town Center shops offer more of an outlet feel with trendy, name-brand boutiques.
13 – What Is The Best Restaurant?
Ugh! Don't make us choose! While we can't decide on one absolute favorite restaurant, we will say we can't get enough of Jaleo, Morimoto Asia, Raglan Road, Earl of Sandwich, The BOATHOUSE, and Blaze Fast-Fire'd Pizza. Our kiddos would say T-REX is their favorite but not so much for us parents!
14 – What Are The Best Snacks?
If you have a sweet tooth, check out Sprinkles… especially their Cupcake ATM! You can't go wrong with the covered in goodness fries available at The Daily Poutine. And if you want a beverage to go with your snack, check out our favorite beverage stop – Dockside Margaritas.
15 – What's New?
This is the ever-changing question that is hard to keep up with all the growth Disney Springs has and is undergoing. Top highlights to know right now is that Cirque du Soleil is currently closed to make way for a new show-but is opening very soon! New restaurants are opening all the time. And the latest buzz is about The VOID! Star Wars: Secrets of the Empire by ILMxLAB. The VOID offers a cutting-edge hyper-reality experience that we thought maybe the most impressive attraction Disney has ever built. Check out our review by clicking here.
We hope we've been able to answer some of your questions about Disney Springs. #ThePlaceToBe!
For a no obligation, FREE Quote on a Disney vacation package, please contact our travel partner Magical Vacation Planner at 407-442-0227 (407-442-0215 for Spanish). You can also request a FREE quote online by Clicking HERE.