The Best Friends Breakfast featuring Lilo and Stitch is one of our favorite breakfasts on property.  We love everything about the experience from the atmosphere to the food to the amazing staff and so much more.  If you are considering a breakfast at 'Ohana during your next stay, here are definitely some things that you need to know about this amazing meal:
1 – Make reservations as soon as possible.
The restaurant is extremely popular, so you will definitely want reservations as early as you can get them!  You can begin making dining reservations at 180 days prior to the date of your arrival, and I definitely recommend that you do.  If you are having trouble snagging a reservation, don't give up.  There are many reservation changes and drops in the weeks and even days leading up to when you would be looking, so keep trying and you may get lucky!
2 – Know how to get there.
The restaurant is on the second floor of the Great Ceremonial House at Disney's Polynesian Village Resort. In order to get there you will likely either want to take a boat or monorail from the Magic Kingdom to get there.  The monorail usually starts running first, so it is probably your best bet.  You can drive there, too, if you brought a car.  There aren't buses that go directly from resort to resort, so that is why you have to carefully plan how you get there and make sure that the transportation that you plan to take is running at the time you need it to.
3 – The theme is fun and amazing.
Since the restaurant is in the Polynesian Village Resort, the theme definitely has the island and tropical feel.  There is beautiful greenery along with tiki gods that line the walkway.  The restaurant has tons of windows so there is a lot of natural light, which is absolutely beautiful in the morning hours.  The views overlook the swimming pool, which has a huge volcano side.  It really feels like you could be dining in Hawaii.  Not only that the whole theme for the restaurant is family.  "'Ohana" means family and that is the recurring theme at the restaurant.  The servers are your "cousins" and they work hard to treat you like family.
4 – What's for breakfast?
The breakfast starts with delicious pastries and a fresh plate of fruit.  Soon after that comes the huge skillet of food which includes scrambled eggs, biscuits, sausages, bacon, breakfast potatoes and, of course, Stitch waffles.  You have all of your usual non-alcoholic beverages, but you also have their delicious tropical juice that is served to everyone at the table along with the option to have Kona coffee, too.  Everything is so delicious, and it is definitely a meal that you want to come hungry for!  If you are a breakfast eater, this is definitely one of the best! If you have a special dietary need or food allergy, be sure to speak up about that (you can even let the staff know in advance of your reservation by emailing Disney) and they will be able to tell you what is safe for you to eat and create alternatives for you so that you can have a delicious meal.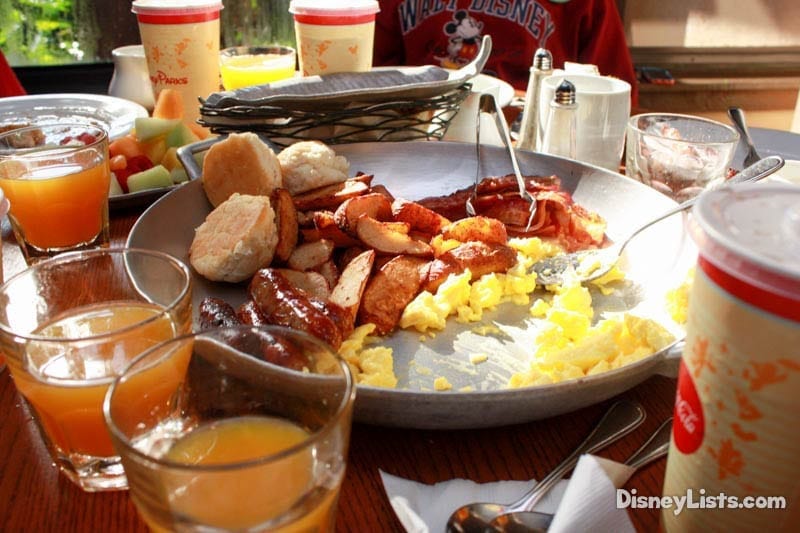 5 – This is not your typical buffet.
The meal is all you care to enjoy.  The difference here compared to other all you care to enjoy restaurants is that it isn't a typical buffet.  You don't get up and go get your food.  Your meal is served family-style and your server will bring you more of any item that you would like more of.  So don't be shy or worry about taking the last waffle!  Your "cousin" would be happy to bring more to the table for you, and at no extra cost!
6 – There are characters to meet.
We all love those characters!  Character experiences are the best and a staple part of the Disney experience.  Breakfast at 'Ohana does include meet and greets with a few favorites.  The regular attendees at the breakfast at Mickey, Pluto, Lilo, and Stitch.  They make their way from table to table to sign autographs, take pictures and interact with your entire family.  This is a great way to meet these characters without waiting in line at the park!  More time for more rides and attractions!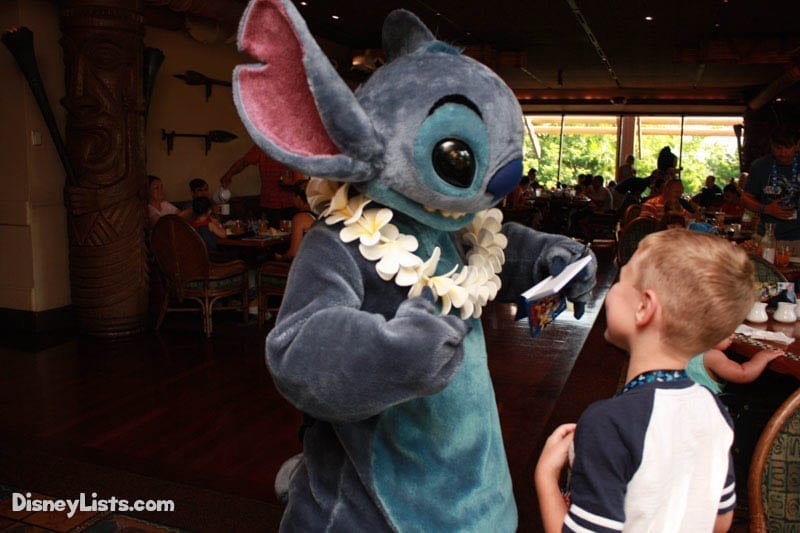 7 – This is a PhotoPass/Memory Maker opportunity.
There will be a PhotoPass photographer at the breakfast to take a picture of your party prior to your breakfast feast.  If you have Memory Maker or are an Annual Passholder with PhotoPass that means that you get to download these pictures for free!  If not, you can still purchase the pictures separately if you choose.  Pictures are one of the best vacation souvenirs, so we always love to collect pictures from every spot we can to commemorate and remember the entire trip. Note that you'll still want to bring your own camera to capture character interactions!
8 – You can see the castle from the restaurant.
There is just something about the sight of the castle that is extremely magical.  So it makes a meal even more magical when you have the castle as your backdrop.  It is off in the distance across the Seven Seas Lagoon, but you can clearly see the impressive and beautiful castle from the restaurant and likely from your table while you dine.  What a perfect start to the morning!?!
For a no obligation, FREE Quote on a Disney vacation package, please contact our travel partner Magical Vacation Planner at 407-442-0227 (407-442-0215 for Spanish). You can also request a FREE quote online by Clicking HERE.