Hola Amigos! If you find yourself in Epcot with a craving for Mexican food, you're in luck! Located in Epcot's World Showcase, Mexico has a quick service food option (La Cantina de San Angel) but sometimes it's nice to sit down and dine at a table service restaurant, just like San Angel Inn Restaurante. Before you dine, here are a few things you might find helpful to know.
1 – Beautiful Atmosphere
In our opinion, San Angel Inn is one of the most beautiful restaurants in all of Epcot's table service restaurants. Located within the Mayan ruin landmark, you'll be in awe as you make your way towards the restaurant. Inside this Mayan ruin temple, you'll find what looks like a Mexican marketplace with unique souvenirs and treats. The restaurant is hard to miss with it's incredible evening sky backdrop with an erupting volcano in the distance. The elegant dime lighting from the lanterns throughout the restaurant make for an intimate experience to go right along with the linen table cloths, cloth napkins, decorative plates and royal blue wine glasses. The low music and sounds from the erupting volcano are relaxing and perfect for the environment. Set to the theme of a 17th century hacienda (a large Mexican estate), the romantic atmosphere sets the stage for your meal.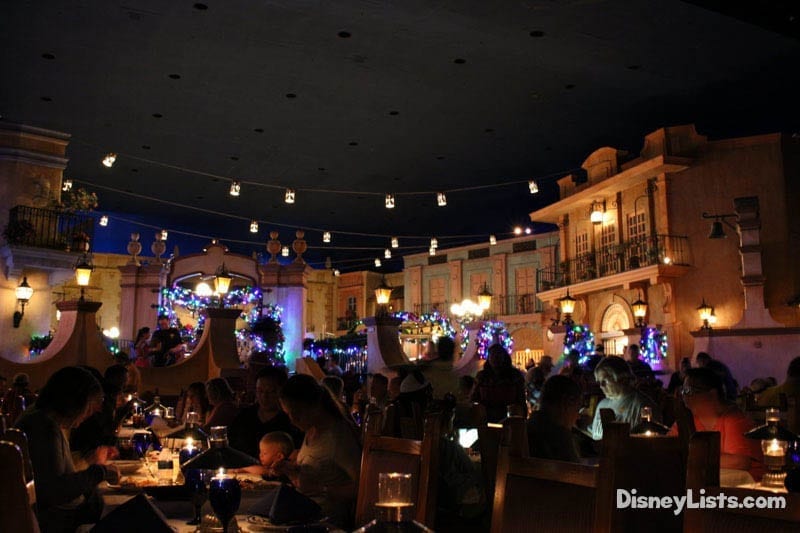 2 – Brilliant Mexican Cuisine
We have yet to experience a dish at San Angel Inn that we haven't enjoyed. From appetizers and entrées, to of course the desserts – your Mexican food craving will be appeased! When seated servers will bring out some tasty tortilla chips and salsa so you can browse the great menu selections. Select the Soup Aztec, Quesadillas Rebozadas, or browse the many selections for an appetizer. Promptly following your appetizer will come your entrée such as Combinación Mexicana (New York strip, fish taco, cheese enchilada, corn, refried black beans, and guacamole with lots of tasty toppings) or the Enchiladas Verdes con Pollo (Pulled chicken enchiladas covered with green tomatillo sauce and served with rice and refried black beans). The Enchiladas Verdes con Pollo is especially a favorite of ours, but heads up – as you would suspect, the green sauce does provide a little kick! For dessert, we recommend the delicious Helado de Dulce de Leche (caramel ice cream).
[smartslider3 slider=75]
3 – Inevitable Drink Menu
We call it the inevitable drink menu, but it's simply inevitable that you'll be ordering something off of this menu! Of course you can't go wrong with the San Angel Inn Margaritas. They have several types of margaritas such as Blood Orange, The Classic, Avocado, Horchata, Wild Passion Fruit, and Hibiscus. If a margarita is not your thing, no worries – excellent white and red wine selections are available. Another drink worth noting is the San Angel Inn Premium Tequila Flight. So many selections, we're sure you'll find the right one to go with your meal!
4 – Reservations Recommended
While San Angel Inn Restaurante hasn't been full when we have dined there, we have noticed hostesses still asking walk ups to wait for a long length of time. We highly recommend you make an advanced reservation if at all possible to avoid long wait times to be seated or possibly being turned away for reservation only days during the busy season. Keep in mind you'll need a park ticket to gain access to this restaurant, so be sure to work that into your plans.
5 – Seating Advice
The restaurant space is elegant and beautiful, but the tables are super close to each other. Sometimes it's hard to tell where one family begins and the other family ends. If you are someone who prefers a less intimate approach, this might not be the place for you. A little tip for a great view – ask for a seat near to the railing that looks out over the Gran Fiesta Tour, the fun boat ride featuring the Three Caballeros… and of course don't forget to ride this before or after you dine!
6 – In The Know
We have eaten at San Angel Inn a couple of times now and feel that we need to be honest in mentioning the service portion of our experiences. While our servers have always been friendly, they seem to be very busy and aren't as attentive as you may find yourself expecting out of restaurants on Disney property. The food/cook service is fast and incredible (so good!), but once delivered there seems to be a lull in service. We hope if you have already dined at San Angel Inn, you have experienced the exact opposite in service standards. Lastly, this one is for families with children – if your child doesn't like Mexican selections, you may want to look at bringing a snack along with you for the meal. Our daughter loves the kid's menu because she likes Mexican food, but we have heard this is rather tricky for children that may be picky eaters.
Alright, Amigos… we'd love to hear about your San Angel Inn Restaurante experiences!
For a no obligation, FREE Quote on a Disney vacation package, please contact our travel partner Magical Vacation Planner at 407-442-0227 (407-442-0215 for Spanish). You can also request a FREE quote online by Clicking HERE.