Guests who visit Walt Disney World love to spend most of their vacation time exploring and enjoying the four theme parks. Of the parks, Disney's Animal Kingdom is the newest and by far the most detailed with several different areas that are each themed differently to bring guests to places around the world and in time. The park is a massive celebration of nature and strives to teach guests about the importance of protecting the planet through entertaining attractions, dining, shopping, and entertainment. While guests make their way through Disney's Animal Kingdom enjoying the experiences and taking in the many details, they can also be on the lookout for Hidden Mickeys. Hidden Mickeys can be found virtually everywhere throughout Walt Disney World and include anything that comes together to form the likeness of Mickey or another Disney character like Minnie, Donald, or Goofy. Disney's Animal Kingdom is home to countless Hidden Mickeys found amongst the details, artwork, and architecture, and guests love to spend time trying to find them all! Here are the top nine Hidden Mickeys in Disney's Animal Kingdom to find on a Walt Disney World vacation.

1 – Kilimanjaro Safaris' Island
No visit to Disney's Animal Kingdom is complete without a ride on Kilimanjaro Safaris, which brings guests into the Harambe Reserve for an authentic safari through the forests and savannah of Africa. Guests can enjoy beautiful scenery and animals like giraffes, lions, elephants, cheetahs, and hippos along the way. At one point during Kilimanjaro Safaris, guests drive past an island covered with brightly colored flamingos. Those who look closely at the small island will notice that it is shaped like a Hidden Mickey.
2 – Maharajah Jungle Trek Earrings
The Maharajah Jungle Trek is a beautiful self-guided walking tour in the Asia section of Disney's Animal Kingdom near Kali River Rapids. Guess who wander into the trek can enjoy the Royal Anandapur Forest with lush greenery, beautiful animals like Asian Tigers, and wonderful temple ruins. Just before entering into the aviary on the Maharajah Jungle Trek, guests can enjoy several carvings depicting men. One of the men has earrings on, the left of which forms a classic Hidden Mickey.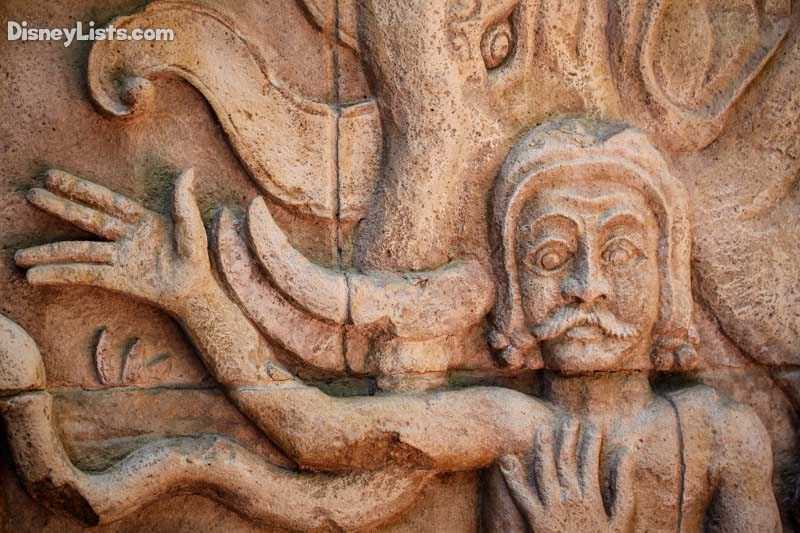 3 – Expedition Everest's Track
The largest Hidden Mickey in Walt Disney World can also be found in Disney's Animal Kingdom in the Asia section of the park. Expedition Everest is a looming mountain through which guests can enjoy a daring adventure where they come face to face with the Yeti. One Hidden Mickey found on the attraction is so massive that it actually cannot be seen from the park. Guests who check out a map and pull up an aerial view of Expedition Everest will notice that its track forms two large loops that protrude out of the mountain to form a classic Hidden Mickey.
4 – Expedition Everest's 
Before boarding Expedition Everest, guests can enjoy a beautifully themed queue filled with rooms that feature supplies and artwork. One portion of the queue features a Yeti museum, which is filled with artwork, artifacts, history, and cultural references to the mythical creature. Guests who spot a photo of a bear standing on its hind two feet might notice that the animal's ears have been changed to form the silhouette of a classic Hidden Mickey.
5 – Mombasa Marketplace's Pavement
Guests who explore the wonderful village of Harambe can enjoy plenty of small details that bring the area to life. The Mombasa Marketplace is a wonderful store to browse in the village that sells unique and interesting items. Just outside of the store, guests can look to the ground to spot a Hidden Mickey in the pavement comprised of a metal cover and ears formed by pebbled embedded in the concrete.
6 – Dinoland's Pavement
Nearby in Dinoland is the quirky and entertaining Chester & Hester's Din-O-Rama, which features carnival-style games and several attractions, which are favorites of many guests. The area is designed to look like an old highway and parking lot, and guests who look closely at the pavement to find parking spaces might stumble upon a Hidden Mickey. Inside the lines of a parking space in Chester & Hester's Din-O-Rama is a classic Hidden Mickey formed by three circular cracks in the pavement.
7 – Tree of Life's Hippo
The focal point of Disney's Animal Kingdom is the Tree of Life, which towers over the surrounding plant life with thousands of leaves and hundreds of animals intricately carved into the trunk. Guests can enjoy beautiful views of the Tree of Life from all over the park, including the back portion of the tree from the walkway connecting Africa and Asia. On the rear of the Tree of Life's trunk is a carving of a hippo complete with an upside-down classic Hidden Mickey above his eye.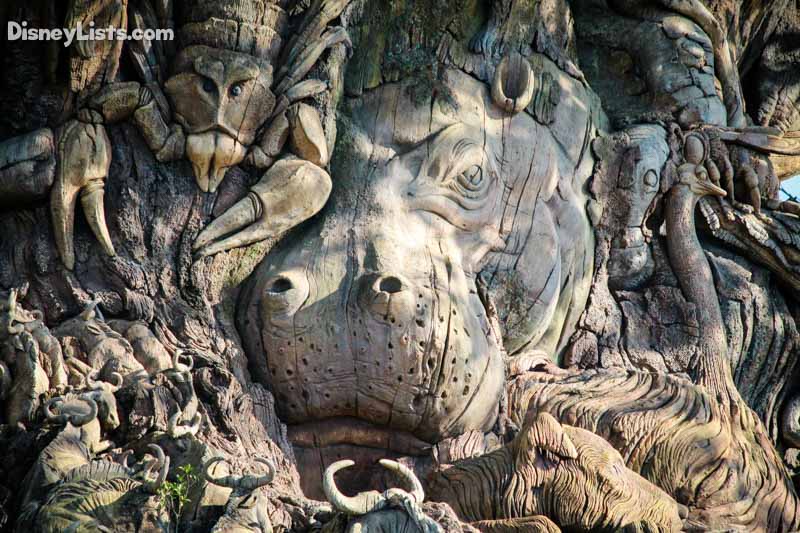 8 – Dinosaur's Whiteboard
One of the most thrilling attractions in Disney's Animal Kingdom is Dinosaur in the Dinoland area of the park. The attraction brings guests into the Dino Institute and invites them to travel back in time on what turns into a thrilling and heart-pounding adventure. After boarding their Time Rovers, guests move through a small room before heading into the actual time-traveling area. This small room features a whiteboard on the left-hand side of the attraction's vehicles, and guests who look closely can spot a Hidden Mickey drawn on the bottom left corner with a dry erase marker.
9 – Tusker House Restaurant's Sign
One of the most popular full-service dining locations in Disney's Animal Kingdom can be found in the village of Harambe. The Tusker House Restaurant is open daily for breakfast, lunch, and dinner and offers up a delicious buffet that features both African delicacies and traditional American options. Guests who dine at the location can enjoy meeting Mickey and friends while eating their meals and even spot a Hidden Mickey. One room of the Tusker House Restaurant features a sign that lists whether drivers are currently in or out. The top driver on the list has a classic Hidden Mickey next to his name instead of a circle.
For a no obligation, FREE Quote on a Disney vacation package, please contact our travel partner Magical Vacation Planner at 407-442-0227 (407-442-0215 for Spanish). You can also request a FREE quote online by Clicking HERE.