Gifts, gifts, and more gifts! There is never a shortage of awesome gifts available at Disney. While shopping and dreaming about what you would like to buy, don't forget about Disney's excellent variety of personalized gifts available. A gift with a touch of personalization just added something special! Here is our top 9 list of personalized gifts at Walt Disney World.
9 – Caricatures
Let's kick this list off with one of the most fun personalized gifts to make our list! Pull up a chair and get ready to be amazed as an artist takes a typical self-portrait and turns it into a silly and unique caricature. Sure, your nose or forehead might be much larger than you would ever want it to be, but it's fun to see what the artist comes up with! Caricature artist are available in all of the theme parks as well as at Disney Springs. Times they are available and locations may vary, but check with Cast Members and they'll point you in the right direction!
8 – Parasol
Your sweet Princess will be thrilled with the gift of a personalized parasol available at Magic Kingdom!  Just across from the Ye Old Christmas Shoppe in Liberty Square, you'll spot the bright Liberty Square Parasol Cart. Different sizes and colors of parasols are available with personalization options such as name printing and princesses.
7 – Bags and Blankets
Disney Floral and Gifts is a service Disney provides that has items placed in your resort room (or in a family/friend's room) to add an extra special touch to a Disney trip. Tasty goodies, flowers, and plenty of themed items are available in their selections. We especially love their ability to personalized specific bags and even blankets which make for fantastic souvenirs.
6 – Glassware
One of the best gifts we ever received was personalized glassware from family members. Drinking glasses, shot glasses, plates, and more – all with the ability to be personalized. Our glasses, for example, have our favorite characters on them with our names etched beautifully. Magic Kingdom, Epcot, and Disney Springs are our favorite places to find great glassware items to have personalized.
5 – Ornaments
Remember your Disney trip year after year, as you decorate the tree for Christmas! Personalized Disney ornaments are some of our favorite tree decorations and a great gift to give to just about anyone. Ye Old Christmas Shoppe at Magic Kingdom has personalization options, as does the huge Christmas shop called Disney's Days of Christmas at Disney Springs.
4 – Frames
That magical moment has been captured, now a Disney frame is a must-have! Take that one step further, and have a Disney frame personalized with an engraving such as a family name and date of the family vacation. Check out Arribas Brothers at Disney Springs for some great personalization options.
3 – Phone Cases
You know we've reached the era of techies when phone case personalization is the new trendy thing at Disney! D-Tech at Disney Spring Marketplace Co-Op is probably our top pick for having phone cases personalized. Coming in all shapes and sizes to fit practically all phones, you can add your name, favorite colors, and favorite characters to your phone case!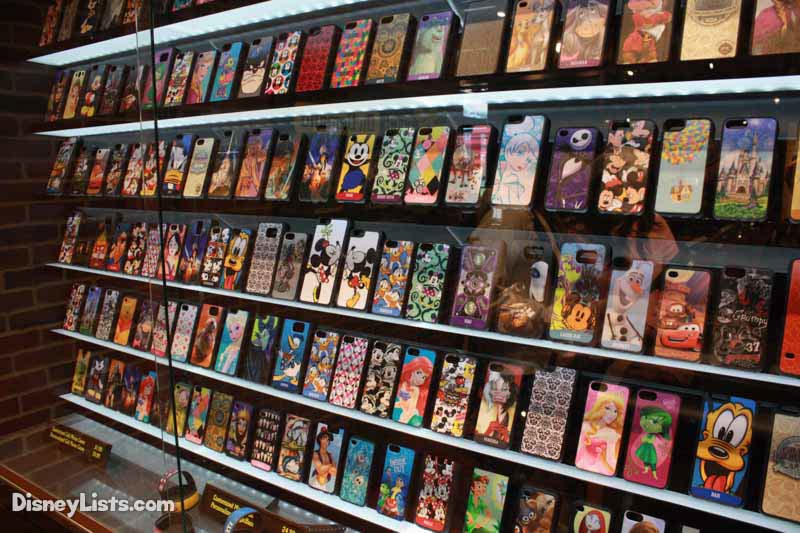 2 – MagicBands
While you're making your personalized phone case at D-Tech, you might as well make a personalized MagicBand as well. Sporting a personalized MagicBand around the Disney property and elsewhere is a fun conversational piece, and Disney fans will be envious of your awesome design! Plus, who doesn't love looking down at their wrist to see their favorite character smiling back? Or in some cases – such as a Darth Vader, scourging back!
1 – Mickey Ear Hats
Well, of course, our number one goes to the famous Mickey Ear Hats! A rite of passage in our household is the original basic ears with the name inscribed on the back. With all of the hat selections now, the difficult part is trying to select which one to have personalized! Thankfully, you don't have to look very far to have a set of ears personalized. Personalization is available at all four theme parks as well as at Disney Springs.
What are your favorite personalized gifts at Walt Disney World? We'd love to hear from you!
For a no obligation, FREE Quote on a Disney vacation package, please contact our travel partner Magical Vacation Planner at 407-442-0227 (407-442-0215 for Spanish). You can also request a FREE quote online by Clicking HERE.