This may sound like an odd topic, but let's face it… we all have to go!  When you do have to go, I am sure we all prefer it to be in a comfortable restroom that is hopefully less crowded, less likely to encounter lines and maybe even more unique than the other bathrooms if you are lucky.  For any baby needs or matters that require a little more privacy, don't forget about the Baby Centers located toward the front of each park.  These will definitely suit your needs for those issues more than the bathrooms will.  For the rest of us, here are the top 10 bathrooms spread across all of Walt Disney World that I recommend.
10 – The American Adventure – Epcot
The World Showcase is huge is, and you will likely need to use the facilities at some point while you are out there. The American Adventure pavilion is at the center of the World Showcase, making it more accessible than other locations. This location also has more stalls, as most of the World Showcase restrooms only have a couple stalls, making lines longer and more annoying to deal with. This is an excellent place for a pit stop.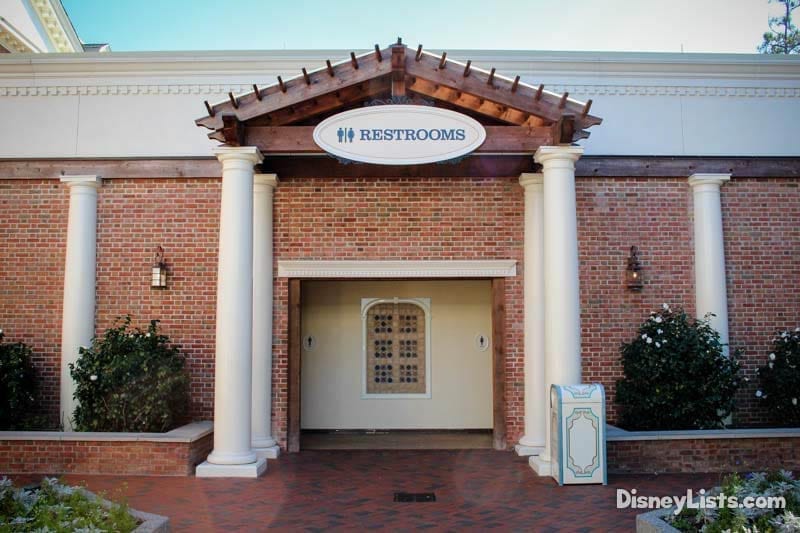 9 – Tomorrowland Terrace – Magic Kingdom
The bathrooms here have the paint and décor to match that of Tomorrowland Terrace and of the Tomorrowland area. The great thing about them is that most times throughout the day, there is no one in the restaurant and the restrooms are deserted. It has become one of our go-to spots, especially when we have to juggle diaper changes and let the kids do their business. You just actually go into the restaurant area, and you will see the restrooms inside.
8 – Kilimanjaro Safaris – Animal Kingdom
These bathrooms are along the path around Kilimanjaro Safaris and aren't as obviously seen as other restrooms you may be familiar with. This makes it a much less frequented spot and a great place to stop when you are in Africa. Plus the outside theming of the restrooms fit in perfectly with the area, and I just love that!
7 – The Seas with Nemo and Friends – Epcot
This is definitely a stop if you are looking for low or no waits and more privacy. People likely only know that these restrooms exist if they are actually inside the pavilion and exploring, especially since the ride lets out in a different area than the bathrooms are. Less visitors also mean that the restrooms are typically cleaner, along with the low wait benefit.
6 – Splash Mountain – Magic Kingdom
These restrooms are likely only seen by folks that are exiting the ride. The bathrooms are right on the walkway after exiting the gift shop, and many people walk right by them. Low waits and the music around this attraction is laid back and relaxing!
5 – Dinoland, USA – Disney's Animal Kingdom
These restrooms are often missed since they are past the Primeval Whirl attraction. There is nothing else to see in the land this far back, so many guests don't even know that they are there. We love hidden bathrooms, and a little extra piece when you have to make that necessary stop!
4 – Imagination Pavilion –Epcot
This is definitely a favorite spot. These restrooms are definitely unknown by many, but they also have enjoyable music like you encounter from the pavilion in general. It is definitely a great place to stop, especially if you might be in there for a little bit. (No judgment!)
3 – Sunset Boulevard – Disney's Hollywood Studios
I like the restrooms that are right between the gift shops on the right side of the road coming from Hollywood Boulevard. These typically seem less crowded than the ones closer to Tower of Terror as well as the restrooms that are right at the front of the park, since that seems to be the first stop for many who just enter the park.
2 – The Odyssey –Epcot
Many people don't even realize that there are restrooms still open at the Odyssey building. It is actually a really great and comfortable place to stop with a walkway off the usual path. So you can usually get to some of the locations faster during high traffic time as you don't have as many guests to deal with, and you have restrooms that aren't as crowded should you need to stop!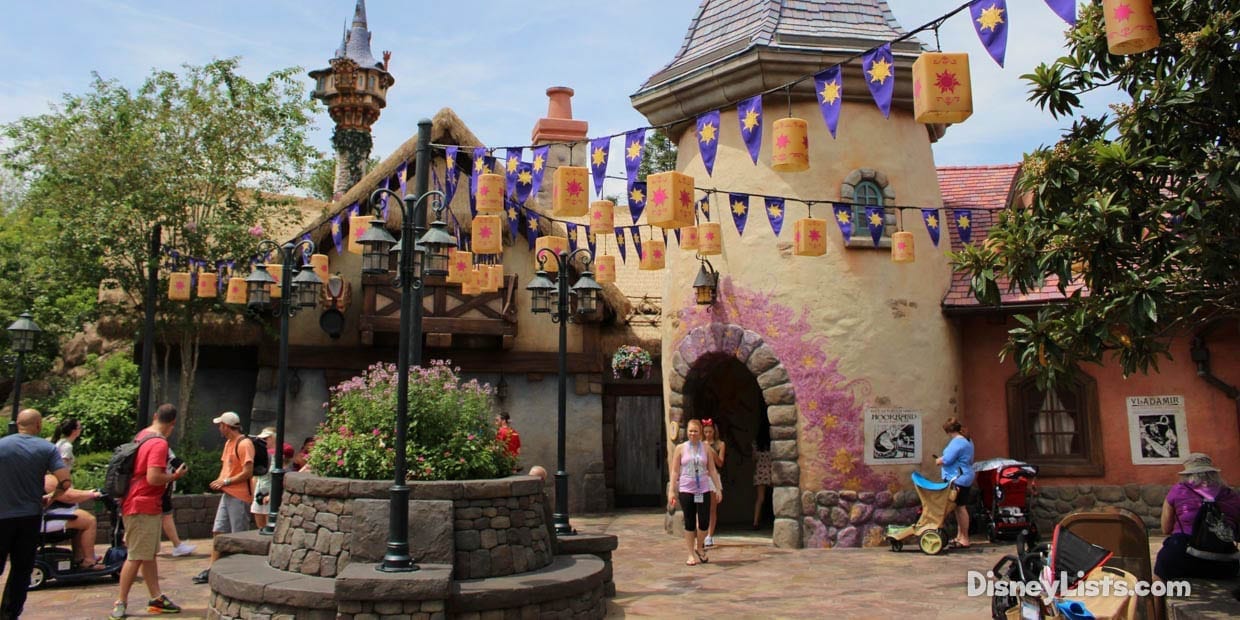 1 – Rapunzel Bathrooms –Magic Kingdom
These are my absolute favorite bathrooms on property. The theming is perfect and just like you are in Rapunzel's village during her birthday celebration. The music is fun, and the entire area is exciting to look around in. These are located just down from Peter Pan's Flight, but before you exit Fantasyland toward The Haunted Mansion. The restrooms aren't as private as others, but the perfection of the area and the details that went into these bathrooms make up for that!
For a no obligation, FREE Quote on a Disney vacation package, please contact our travel partner Magical Vacation Planner at 407-442-0227 (407-442-0215 for Spanish). You can also request a FREE quote online by Clicking HERE.