While the highlight of many guests' Walt Disney World vacation is spending long days in the theme parks, there is a beautiful transformation that occurs each night when the sun goes down. The Disney theme parks come to life with exquisite lighting that transforms areas and attractions, making them unique to enjoy once night falls. While all Disney attractions are enjoyable during the day, some of them take on a new experience once night falls, making them totally worth visiting after dark. Here are the top nine attractions in Walt Disney World that are best experienced at night.
1 – Valley of Mo'ara, Pandora – The World of Avatar
When visiting Pandora – The World of Avatar, you're actually walking through the Valley of Mo'ara. Here you'll see the exotic plants that come to life-some with your help, a Na'vi-bulit drum circle, Navi totems, and other cultural items, and new Wilderness Explorer challenges and badges to collect. While visiting Pandora, you will be astounded by the amount of color, artwork, and interactive experiences. Disney is famous for its immersive theming. However, Pandora takes the theming to a whole new level. Rather than just providing backdrop and context, with so many remarkably foreign flora and fauna to discover, and nearly everything having some sort of interactive element, the theming in Pandora rises almost to the level of attraction in itself. At night and the land transforms into an entirely new experience. The bioluminescent plants of Pandora illuminate the land at night, giving breath-taking views of the Pandora landscape that are completely different from the daytime experience. Along with the other Animal Kingdom, nighttime experiences, such as a night safari, and the show Rivers of Light: We Are One, Animal Kingdom is now a must-do nighttime park.
2 – Big Thunder Mountain Railroad
In the Magic Kingdom's Frontierland is an attraction that invites guests to hold onto their hats and glasses and board the wildest ride in the wilderness. Big Thunder Mountain Railroad brings guests into the mining town of Tumbleweed, where there are caverns filled with bats, plenty of critters, and a small town with an old fashioned saloon. Since much of Big Thunder Mountain Railroad occurs outdoors, guests who ride it during the day are offered sweeping views of the surrounding areas, and guests who ride at night can enjoy a completely different experience. Once darkness falls, the mine train moves so quickly that guests only can catch quick glimpses of nearby lit attractions and buildings. Guests who enjoy Big Thunder Mountain Railroad at night should also check out the second floor of the saloon where townsfolk can be seen enjoying themselves.
3 – Splash Mountain
Right next door to Big Thunder Mountain Railroad is an attraction that brings guests on a soaking adventure with Br'er Rabbit. Splash Mountain has guests board logs and bob along with a wonderful attraction, which tells the story of Br'er Rabbit looking for more adventure while trying to escape capture by Br'er Fox and Br'er Bear. With several portions of the attraction occurring outdoors, guests can enjoy beautiful views from Splash Mountain at night. The final drop of the attraction also offers a quick glimpse of the entire Magic Kingdom and Disney's Contemporary Resort in the distance, which look even more spectacular when lit at night.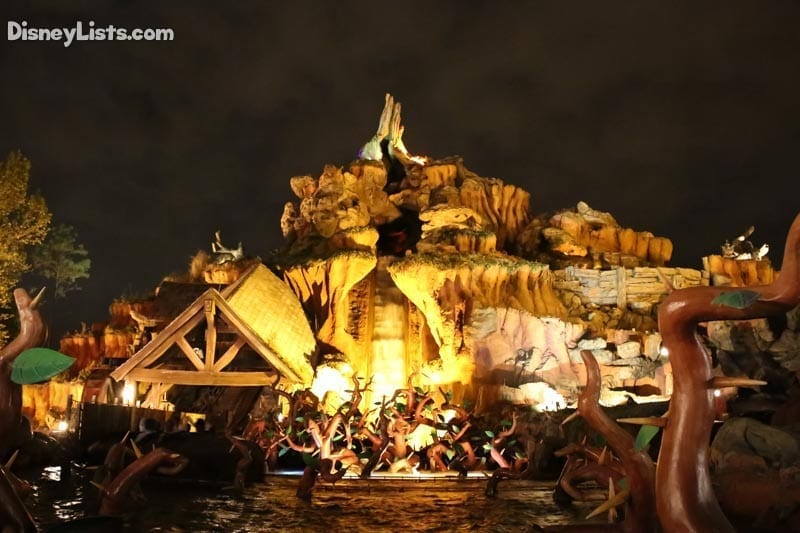 4 – Seven Dwarfs Mine Train
One of the newest attractions in the Magic Kingdom can be found in New Fantasyland and was inspired by the Disney animated classic Snow White and the Seven Dwarfs. The Seven Dwarfs Mine Train invites guests to board gently swaying mine carts and enter into the mines where the dwarfs dig all day long. Once quitting time hits, guests can sing along and check out the cabin where Snow White and the Dwarfs live. While the Seven Dwarfs Mine Train is enjoyable during the day time, riding at night is even more exciting as there are beautiful views of surrounding New Fantasyland and Storybook Circus, which are perfectly lit once the sun goes down.
5 – Tomorrowland Transit Authority PeopleMover
Tomorrowland in the Magic Kingdom is home to an experience that gives guests a ride on the highway in the sky. The Tomorrowland Transit Authority PeopleMover brings guests around the skies of Tomorrowland, offering them unique glimpses from above and quick glances into nearby attractions like Buzz Lightyear's Space Ranger Spin and Space Mountain. The Tomorrowland Transit Authority PeopleMover is a great way to people-watch during the day and a fantastic way to enjoy the futuristic neon lights of Tomorrowland by night.
6 – Astro Orbiter
Also found in Tomorrowland right above the loading area for the Tomorrowland Transit Authority PeopleMover is the Astro Orbiter. This attraction brings guests up high above the land to board rockets and blast off for a dizzying adventure through the skies and planets. While the Astro Orbiter offers fantastic views during the daytime, once night hits, the views are even more beautiful as Tomorrowland comes to life with bright neon lighting. Guests who time their experience on the Astro Orbiter well can also enjoy a completely unique view of Wishes Nighttime Spectacular while flying through the skies of the Magic Kingdom!
7 – Dumbo The Flying Elephant
The attraction that many guests consider a rite of passage in Walt Disney World is Dumbo, the Flying Elephant. This classic attraction can be found in Storybook Circus in the Magic Kingdom and brings guests on a whimsical flight with Dumbo and Timothy Mouse. The attraction features two spinners, each with beautiful fountains and details perched in front of a large circus tent. Guests who enjoy Dumbo the Flying Elephant during the daytime can take in wonderful views of Storybook Circus and New Fantasyland. Still, those who enjoy the experience at night can watch the beautiful lighting cast on the fountains below while soaring through the night skies with Dumbo.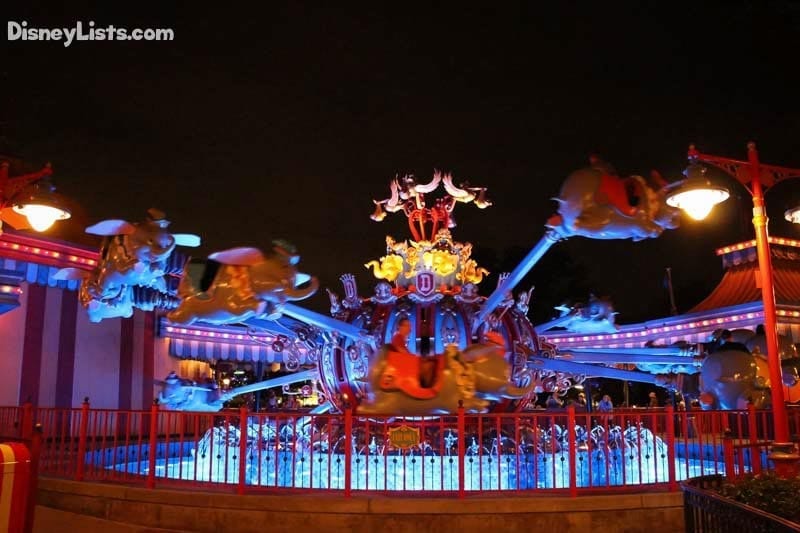 8 – Test Track Presented By Chevrolet
Epcot's Future World is home to a thrilling automotive adventure that lets guests tap into their creative sides. Test Track Presented by Chevrolet brings guests into the design studio where they can create their very own SIM cars and then see how they measure up on the track in Power, Efficiency, Responsiveness, and Capability. While most of the attraction occurs inside a massive show building, the exciting finale whisks guests around an outdoor loop for a thrilling joy ride. Guests who enjoy Test Track Presented by Chevrolet at night can enjoy unique views of Future World lit with neon lights.
9 – Expedition Everest
Disney's Animal Kingdom features an attraction that brings guests deep into the heart of the Forbidden Mountain. Expedition Everest can be found in the Asia section of the park and begins as a calm tea train ride. Suddenly, guests find themselves inside the cavernous mountain, desperately trying to escape the clutches of the fabled Yeti. Expedition Everest is a fantastic attraction to enjoy at nighttime as guests can take in sweeping views of all of Walt Disney World from the lift hill. Guests who look in all directions while heading to the top of the mountain can spot landmarks in the other three theme parks, as well as some Disney Resorts, lit beautifully for nighttime.
For a no obligation, FREE Quote on a Disney vacation package, please contact our travel partner Magical Vacation Planner at 407-442-0227 (407-442-0215 for Spanish). You can also request a FREE quote online by Clicking HERE.