Dining
Trip Traditions: 5 Foods We Love to Eat Every Disney Vacation
Our culture loves food. Many family traditions are built around food. It's part of every celebration, and almost every get-together. A holiday meal, a birthday cake, or a Super Bowl party with a fantastic spread. Vacations at Walt Disney World present an opportunity to eat so many different kinds of delicious foods. Our family found that we kept going back to our favorite restaurant, kept looking forward to certain treats and snacks, and after many trips, we realized that we had created another trip tradition-food we love to eat every Disney vacation.
5 – Our Favorite Ice Cream Treat
Let's face it. Most of the year it's so hot that you'll likely want to cool off with some kind of ice cream treat. Whether it's a Mickey Bar, Mickey Sandwich, ice cream sundae, or ice cream cone, Disney has some amazing ice cream choices that will please everyone in your party. Our personal favorites are the Mickey Bar, and ice cream from Ghirardelli Ice Cream Shop. Read our Top Counter Service Ice Cream Spots in Walt Disney World for the best ice cream on property.
4 – Favorite Snacks
With all the walking you'll be doing around the parks, it's not unusual to be hungry in between meals. If you're on the Disney Dining Plan, you'll also have 1 snack credit per day to use. There are so many snack items to choose from! Our kids love getting frozen lemonade. I love getting a Mickey pretzel! Need ideas? Check out the articles below that cover some of the best snacks at Disney World!
Best Junk Food at Disney World
Top 10 Snacks in Epcot's World Showcase at Disney World
3 – Popcorn
I know, this one may seem a little boring because you can get popcorn anywhere, but Disney does such a fantastic job of creating special keepsake popcorn containers, that we can't help ourselves. We've seen Mickey Ghosts, Mickey Santas, RD-D2s, the drum's in Animal Kingdom, holiday-themed buckets, special event buckets…the list goes on and on. They make great souvenirs. We love to use them at home for our homemade popcorn. I've also used them for toy storage and a piggy bank. I've read about using them as a flower vase, a sugar container, pencil or pen holder, party food holder, gardening bucket, and cooking utensils storage! There are lots of creative ideas out there.
2 – Eat at the Same Restaurant
We all have our favorite restaurants on property, and so you may find yourself going to that certain favorite every trip. For our family, that is usually eating at Blaze Pizza at Disney Springs. The options are as endless as the many restaurant choices on Disney property. You may already have a favorite restaurant you always visit. If not, think about where you've visited more than once. Does it serve food everyone loves? Will every member of the family look forward to going there? Will a trip just not seem right if you skip this place?
1 – Try a New Food
We have a rule for our family. Everyone must try something new. We like to visit during the Epcot Food & Wine Festival in the fall, and we always encourage our children to try some of the many different kinds of foods offered during the festival. Other times of the year, we like to try unique foods found in the many country pavilions. Outside of Epcot, there are plenty of places to find new food items to try. This goes for the adults in our families as well. We tend to eat the same foods all the time, but this tradition allows us to find new favorites and create new traditions!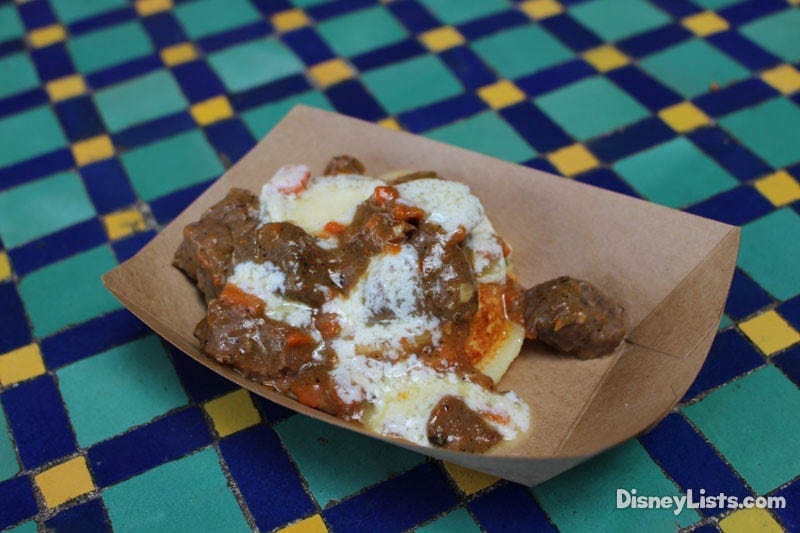 Honorable Mentions
Favorite foods are highly subjective. You may have scanned the list and be shocked that we don't have a turkey leg or Dole Whip on this list. Some in our family do not care for them. Your family may love them, and that's great. This list isn't about following what our family does. It's about finding those things that make sense for your family. What foods do you love to eat? The great thing about building family traditions is that it brings families together. Have a discussion. Ask questions. Value other's input. These are all things that make families stronger.
For a no obligation, FREE Quote on a Disney vacation package, please contact our travel partner Magical Vacation Planner at 407-442-0227 (407-442-0215 for Spanish). You can also request a FREE quote online by Clicking HERE.