With so many tasty places to dine and grab a snack at Animal Kingdom, it's hard to decide where to stop for a bite. But, if you are looking for that delicious something – plus characters to join in the fun with you – then you'll want to dine at Tusker House Restaurant! Here are a few things to know about Tusker House.
1 – Head to Africa
Located in Animal Kingdom's Africa, you'll spot Tusker House Restaurant on your way to the Festival of the Lion King show. Another easy way to locate Tusker House is to listen out for the Tam Tam Drummers of Harambe which offer a rhythmic drum celebration roughly twice every hour. It seems like the area just outside of Tusker House is always lively and full with people enjoying the sights, sounds, and smells!
2 – Colorful Surroundings
The colorful Harambe marketplace outside of Tusker House, spills over into the restaurant, providing a vibrant atmosphere. Bright cloths, wooden beams, traveler's maps, African animal carvings, safari style pictures, and decorative African masks take you from a normal dining experience to an adventurous excursion! You could break the seating areas into four different spaces with three of the spaces being close/linked together, while the fourth space is independently located on the other side of the buffet area. As soon as we entered, we were greeted by the incredible smells and sights of the buffet. We noticed that while it was busy and almost every table was occupied, the space still felt open and airy. We just couldn't get enough of all the little details on the walls to check out!
3 – Let's Eat!
Tusker House boasts an excellent buffet that serves breakfast, lunch, and dinner at designated times. Whether you want to go traditional and stick with the American cuisine items or go bold and taste the flavors of Africa, you are sure to find plenty of items to fill your plate (plus two more!). The breakfast buffet includes all the regular breakfast favorites (Mickey waffles, eggs, bacon, etc.) plus specialty items like coconut-sweet potato casserole, basmati rice, beef bobotie, cheese blintz, mealie pop, and banana-cinnamon bread pudding to name a few. Don't forget to try their amazing "Jungle Juice" which simple recipe has orange juice, passion fruit juice, and guava juice – it's amazing! Lunch is great if you are looking for a middle of the day break and have an appetite to go along with it. The lunch and dinner buffets serve specialty menu items including almost every meat imaginable (try the Cape Malay Curry Chicken – yum!), curried and jollaf rice, blatjangs, mealie corn bread, and so much more! Once again, if you prefer the American cuisine, no problem there are selections such as macaroni and cheese, corn dogs, salad, and all the basics. Don't forget about the desserts such as chocolate volcano cake, baklava, and pecan chocolate tart to name a few mouthwatering selections.

4 – Safari Characters
What's a great dining experience without a few of our favorite characters strolling around in Safari gear?! Mickey, Donald, Daisy, and Goofy, sport their unique safari gear at Tusker House. We especially love this opportunity to meet so many characters in one swoop instead of having to wait in several different lines to meet them in the park. You get to sit and eat while they make their way to your table for a memorable moment. We were especially impressed with Goofy as when he saw our daughter's Wilderness Explorer sticker (a free exploration program for the kiddos in the park), he made the Wilderness Explorer hand signal with our daughter which thrilled her! Every hour, each character takes a different section of the restaurant and dances around with the children through the tables with maracas. It's a great experience for the kids and for the parents to watch – or join in if you'd like!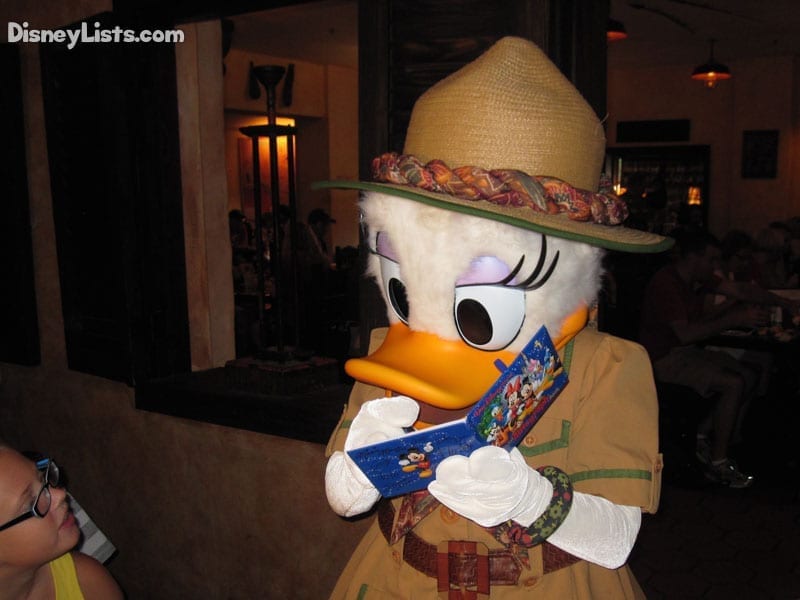 5 – Wild About the Service
We were super impressed with the service that all Cast Members provided at Tusker House. From the moment we checked-in at the hostess stand, to the short wait for them to call our name and text us, to the servers inside, we couldn't have asked for better. Typically, a host/hostess will drop you off at your table and you won't see them again through your experience. Our hostess sat us, then made a point to stop by our table after seating other guests roughly 20 minutes later. She just wanted to ask how the food was and to be sure we were having a good time! It's those little above and beyond moments that make us love Disney's guest service.
6 – A Few Tips
Please, please, please do yourself a favor and make advanced dining reservations. Tusker House fills up fast and walk ups are usually turned away with "reservation only" seating. We always tend to arrive super early for our dining experience, but we've learned that when it is busy at Tusker House (almost always), you can't check in until 15 minutes prior to your reservation time. Lastly, if you need a place to wait, there are tables around back that are somewhat hidden behind the second host/hostess stand. Or, you can always check out Dawa Bar located just in front of Tusker House and enjoy a specialty cocktail while you wait.
We'd love to hear about your Tusker House Restaurant experience!
For a no obligation, FREE Quote on a Disney vacation package, please contact our travel partner Magical Vacation Planner at 407-442-0227 (407-442-0215 for Spanish). You can also request a FREE quote online by Clicking HERE.