Who doesn't love the Disney buses?  My kids consider the buses a ride all by themselves and get just as excited to board the Disney bus.  They are really easy to navigate and a great amenity for guests on property, but there are several tips that will help you in getting the most out of the transportation and improving your efficiency on property.  Here are several of my favorite tips.
9 – Where all do the buses travel?
The bus transportation all over Walt Disney World Resort runs picks up and drops off at all of the theme parks, water parks, Disney Springs, and each of the resorts. You can get to just about anywhere at Walt Disney World resort via bus transportation. You may want to ask about the fastest route if there isn't a direct route from your location, as there can be a variety of ways that you can get to certain places, but in general, it is effortless to navigate your way using the buses.
8 – How often do the buses arrive?
The buses typically arrive every 20-25 minutes for each route. If you arrive at the bus stop and no one is in line, it can sometimes mean that the bus may have picked up recently for that stop. At the resorts, there is a video monitor that will tell you how long until the next bus is expected to arrive. Knowing the expected arrival time is so helpful in knowing how much longer until your specific bus is there.
7 – Know when the buses start and stop running each day.
The buses typically start running about 45 minutes before park opening and continue running all day until an hour after park closing. There is usually a very early bus that will come through to get guests to many character breakfasts. You can ask the front desk at your resort for the time of the earliest bus if you need to get there early. It is extremely convenient!
6 – Always take the bus (or other transportation that doesn't require you to drive) to the Magic Kingdom.
Some guests like to drive around the resort (I am definitely not one of them), but the Magic Kingdom is one park I don't recommend driving to if you are focused on getting the best use out of your Disney time. If you drive to the park, you have to park at the Transportation and Ticket Center and then walk or via tram to catch the monorail or the ferry to get to the front gates of the Magic Kingdom. While the monorail and ferry are both magical and a lot of fun, the whole process can take a while. If you take the bus, you get dropped off right by the main entrance with a fantastic musical fanfare when you arrive. You get to the magic faster!
5 – Disney Springs and Buses
Editor's Note: At this time, there is no bus service from the parks to Disney Springs. We hope this service will return soon. Bus service from Disney resorts to Disney Springs is available.
To prevent guests from trying to bypass parking fees at the parks by parking at Disney Springs and then busing over, no buses have a route directly from Disney Springs to the theme parks. To get to and from either location, you have to take a bus to a resort first. In order to be efficient and you are trying to get between these two places, it is typically best to pick a resort that is close to either location. This will keep you in a more direct route that doesn't take you way off from where you are trying to end up. However, guests are able to travel directly FROM the theme parks to Disney Springs, but only after 4 pm. Please note that even after 4 pm, buses only travel FROM the parks TO Disney Springs. To get back to the parks from Disney Springs, guests will always have to travel to a resort and then catch a second bus to the theme parks.
4 – Don't leave with the herd at park closing.
It may seem like the natural reaction to follow the herd right out of the park, but don't do it! First, you want to make sure the park is actually closed. For example, after some of the evening shows, the parks aren't necessarily closed, but guests just think that is the case and make a mass exodus at the end of the show. Either way, if you leave right when all of the other guests are leaving, you will just be waiting in bus lines, as it can take a couple of bus cycles to get the guests all picked up. You can spend the time looking at more of the details around the park, cruising the gift shops, interacting with the cast members, and soaking up more of the Disney magic rather than standing in line for the buses. Once the herd thins out for a while, you can make your relaxing walk to the buses, too!
3 – How to get from your resort to another resort.
There are so many great dining options and other things to see across all of the many resorts that you will definitely want to explore. There aren't bus routes that go back and forth between resorts, so you have to get a little more creative, but it's pretty simple! You just take a bus to one of the theme parks and then take a bus to the resort from there (or sometimes take a monorail or boat if it is an option). It is best to take a bus to a park that is close to where you are trying to end up. If you are going to breakfast at Chef Mickey's at the Contemporary, then you will definitely want to take the bus to Magic Kingdom. If you are going to a meal over at Animal Kingdom Lodge, then you will definitely want to take a bus to Animal Kingdom first. If you aren't sure what is closest to the resort you are trying to get to, just ask! A cast member at the resort will be happy to help.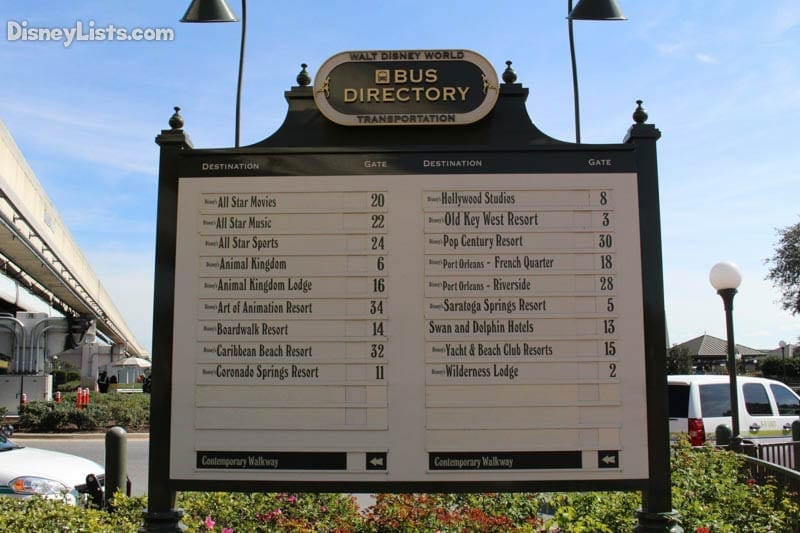 2 – Leave at least an hour before you need to be at your destination.
If you have dining reservations, it is a good idea to leave the resort at least an hour before you need to be there. This gives you time to catch a bus, get to your location, and then walk to where you need to be. It is easy to underestimate the amount of time you need to get there, but if you stick to an hour as a good rule of thumb, you will likely be OK. I channel my inner White Rabbit when we are on property and nudge my family out the door chanting, "I'm late, I'm late, for a very important date!"
1 – Water Parks share bus routes.
You may notice that there isn't a separate route for Typhoon Lagoon or for Blizzard Beach. For the water parks, they will share a bus with one of the other locations. Usually, Animal Kingdom and Blizzard Beach will share a bus route, and then Disney Springs and Typhoon Lagoon will share a bus route. Be sure to double-check at the bus depot at your resort to ensure that there are no changes to the routes.
For a no obligation, FREE Quote on a Disney vacation package, please contact our travel partner Magical Vacation Planner at 407-442-0227 (407-442-0215 for Spanish). You can also request a FREE quote online by Clicking HERE.