This really is one of my favorite spots in Walt Disney World.  I am a huge Christmas junkie and it helps give me a Christmas fix with all of the amazing decorations and theming of the location.  Even better, it is great fun for the whole family, even smaller kids.  We feel like it is a great break from the parks while still getting to be a part of the Disney magic and experiences.  Here is are some key things you need to know about Winter Summerland:
8 – The location and how to get there.
The Winter Summerland Miniature Golf course is located right next to Blizzard Beach Waterpark.  You can drive and park directly at the location, or you can park at Blizzard Beach. If you don't have a car with you on property then no problem!  You just take the bus from your resort that goes to Blizzard Beach, and you will be right there.  Instead of entering Blizzard Beach Waterpark, you just walk and head over to Winter Summerland.
7 – The amazing, fun theme.
The theme for this amazing golf course is one of my favorites on property.  Santa and his reindeer discovered the area and decided to create a summer vacation spot to enjoy when they aren't delivering presents.  The area is decorated with Christmas lights, wreaths, garland, and even Santa's sleigh to set the perfect mood for a fun, Christmas-inspired experience.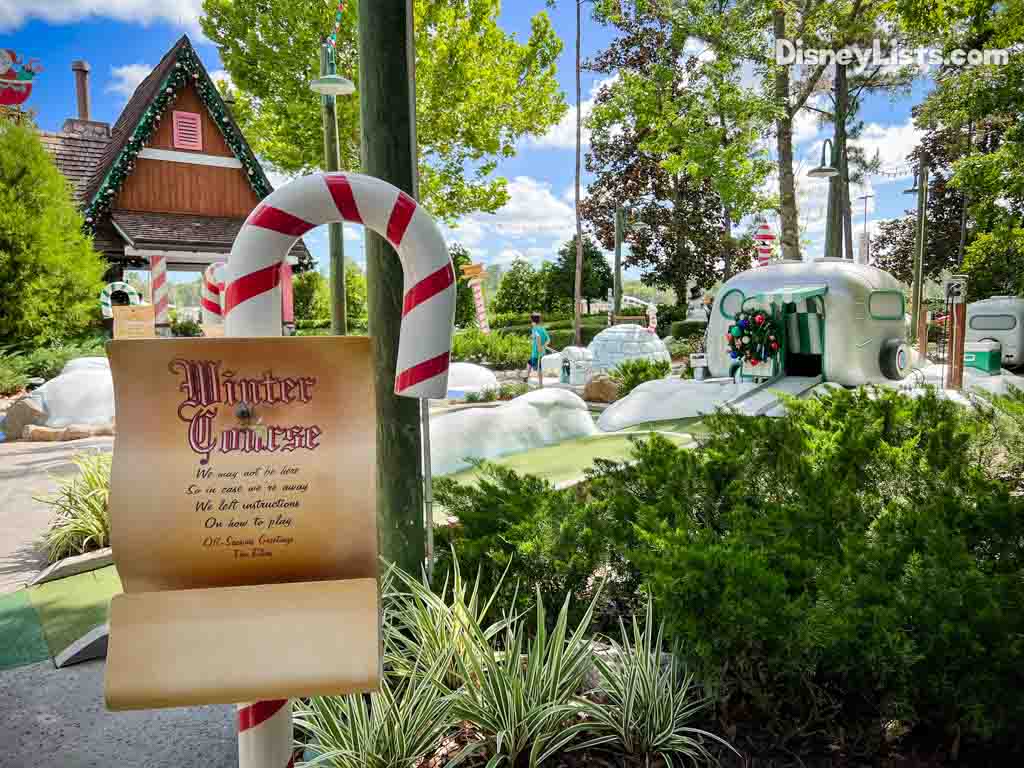 6 – There are two courses.
Yep, you heard that right!  There are two different 18-hole miniature golf courses.  Each has a slightly different theme.  There are Winter and Summer courses.  Winter is all covered in snow and has snow-inspired holes that are a great mix of fun and challenging.  Summer is the perfect feel of Christmas meets the beach.  It is a beach vibe while still surrounded by Christmas-inspired fun.  Both courses are a lot of fun, and you won't go wrong either way.
5 – The costs and discounts.
The cost for 18 holes of fun on one of the courses is $14 per adult and $12 per child (children under 3 are free).  If you are an annual passholder or DVC member, you will need to show your card in order to get a 15% discount on your admission.  Be sure to ask about any other discount opportunities so that you make sure you get any discounts you can.  If you have the Water Park Fun & More option, your admission is included!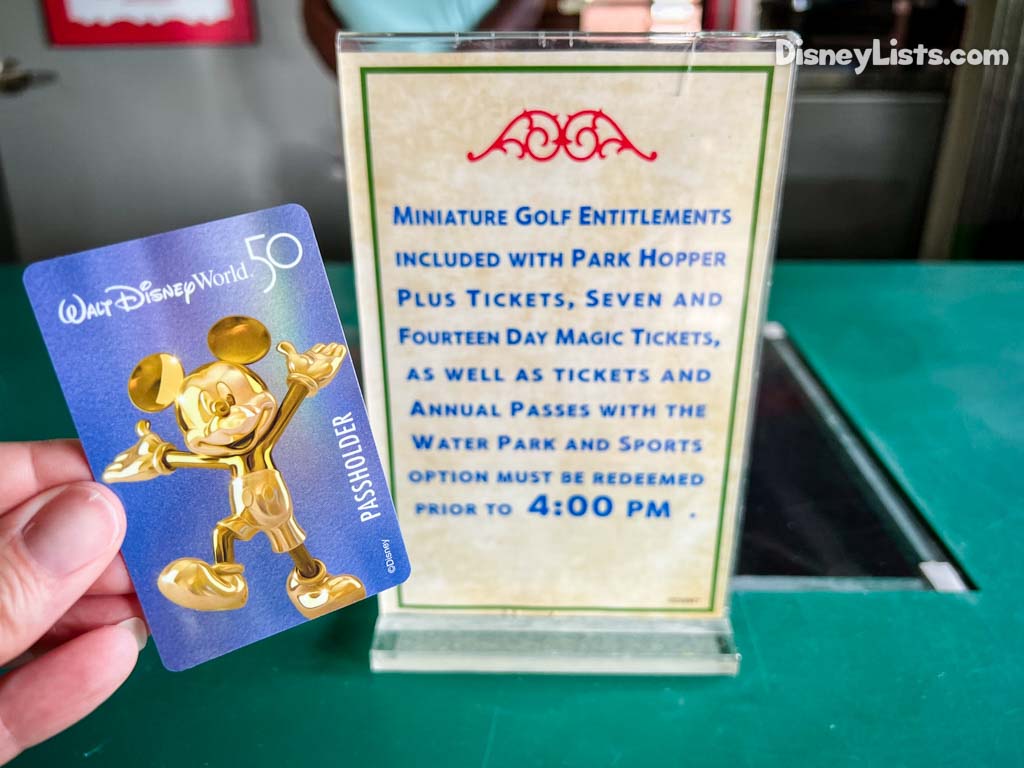 4 – Save your receipt for 50% off the second round.
Once you purchase your first 18 holes on one of the courses, if you decide that you want to experience the other course, show them your receipt, and you only have to pay half price for the second course so that you can experience them both.  You are still subject to any waits, and they may not honor this discount after 4 PM or during peak seasons, but definitely ask about it when you make your purchase.
3 – The hours of operation.
The hours for both courses are 10 AM to 10 PM.  It always surprises me that it stays open that late, but the experience is very different at night.  I recommend going during the day and night so you can see and experience the courses both ways.  I love the Christmas lights at night!
2 – Bring your camera.
Definitely take lots of pictures!  There is a great photo opportunity right as you walk in to sit inside Santa's sleigh.  There is also another great opportunity while you wait to take a picture with a statue of Santa in his summer attire.  Then you will want to take pictures of some of the amazing courses and décor, plus just the fun that your family will have on the courses!
1 – How it works.
So when you get there, you will purchase your round of golf.  You pick your course, and they will let you know the wait times for each course.  They will give you the slip to return back to get your clubs and balls when they call your party.  They stagger starting guests on the courses so that there aren't long lines in the sun or the pressure to hurry through the course. We loved that we didn't feel completely rushed and that they paced letting golfers enter the course.  While you wait, you can purchase refreshments (including beer) and wait at covered picnic tables, so you don't have to stand in the sun.  They will call you up, give you everything you need and then you can start your course.  The courses are full of fun and surprises, and you can keep your scores along the way.  We loved how smooth the operation was over there!
For a no obligation, FREE Quote on a Disney vacation package, please contact our travel partner Magical Vacation Planner at 407-442-0227 (407-442-0215 for Spanish). You can also request a FREE quote online by Clicking HERE.