Our daughter's favorite place in the world is Disney World – but what 7-year-old doesn't feel that way!? Family and friends have been polled and here's our top picks for the best Disney souvenirs for kids ages 5-9.
1 – Custom Astromech Unit from Droid Depot in Star Wars: Galaxy's Edge
While parents may enjoy this just as much as the kids, building a droid is a guest experience that is number one on our list for kids ages 5-9. The experience is offered at the Droid Depot. For this custom astromech adventure, you'll enter a workshop stocked with stacks of parts, chips, and manuals to construct their own droids, some of the galaxy's most indispensable sidekicks. In this immersive retail experience, kids will construct either the BB-series or R-series astromech. Droid parts come and go on conveyor belts as you make choices to construct your own units. Once built, you'll place their droids in an activation station to bring them to life, allowing the droids to be operated via remote control.* Droids can be further customized with personality-affiliation chips, color panels, and other accessories. Once activated, droids may interact with other astromech droids and with certain other Bluetooth-enabled elements and devices throughout Black Spire Outpost.* It's an amazing experience by itself and kids will love taking home their very own droid to play with for hours and hours.
Watch the video below to learn more about the process.
Reservations to this experience are highly recommended. Click here to make your reservation.
*A droid will interact with various Bluetooth-enabled elements as it is carried around Star Wars: Galaxy's Edge, but using a remote-control device to operate a droid while at the theme parks will be prohibited.
2 – Banshee from Windtraders in Pandora – The World of Avatar
Nestled under a thatched roof and covered in Na'vi totems, Windtraders is the place for a genuinely out-of-this-world shopping experience. The one-of-a-kind retail location is located inPandora – The World of Avatar, a new land at Disney's Animal Kingdom. Here, shopping becomes an experience, one that's every bit as special and unique as the Windtraders merchandise available. An exceptional feature of Windtraders is the Banshee Rookery. As the name implies, it's home to some of the winged creatures made famous in Cameron's epic film. The rookery sits beneath a brightly colored hand-painted map depicting banshees soaring over Pandora. The rookery is also where guests can select their own banshees to care for. The experience begins with a naturalist who helps each guest find the banshee that's just right for them. Guests are then asked to take the Banshee Pledge, which teaches the importance of the banshee as a symbol of their commitment to the environment. The Banshees are extremely popular, especially among kids ages 5-9!
3 – Pins from Disney Pin Trading Collection
Editor's Note: During the phased reopening of Walt Disney World, pin trading only takes place through pin trading boards throughout the resorts. Guests are not able to directly trade pins with Cast Members.
There are so many kinds of pins throughout all of Disney to purchase. If your child has a favorite Disney character, favorite ride, or even a favorite resort – it is likely there is a pin for the occasion! Plus, the pin trading process is very simple. Buy a lanyard, and some Disney pins then go make friends! Your young one can trade pins with Cast Members and/or other Guests if they would like, or keep the pins for themselves. Our daughter loves the excitement of seeing what pin she may trade for next! Pins are a great souvenir, and you can keep adding to your collection year after year.
4 – Kingdom Keepers Book
Wait a minute – a book my child actually wants to read!? Whether you would like to read a book to your child or have your child independently read, the Kingdom Keepers book series is outstanding for a young Disney fan that is now into chapter books. The Kingdom Keepers series takes the reader to Disney World after regular park hours. Could the Villains be trying to overthrow Disney World and maybe even the world? These descriptive books place you in familiar settings, on familiar attractions, and face to face with familiar characters. But surely, good will prevail…. right? While you can purchase these books at major book stores, we suggest you purchase it as a souvenir from Disney to bring the book to life through your child's own magical experience.
5 – Disney Charm Bracelet or Necklace
In almost every Disney gift shop throughout the parks, Disney Springs, and even at the resorts, you may notice a charm bracelet and necklace stand. What makes these charms unique? Disney characters, Disney desserts, iconic Disney symbols, and much more – these charms have it all! Much like the Disney Pandora charms for adults, your kiddo can have a charm bracelet of their own. Collect as many charms as you'd like and keep adding to the collection as you go. When your child gets back home, they will enjoy sharing with friends and family what each charm means to them. We also love that this is an inexpensive souvenir compared to some of the others!
6 – Build Your Own Lightsaber
The ultimate experience and souvenir for your young Star Wars fan. Located at Hollywood Studios in Tatooine Traders (Star Tours Gift Shop), your child can build their own lightsaber! Type of lightsaber (good vs. evil), size, and features are all up to you. This is one souvenir your child will be thanking you for time and time again! One small tip – you'll want to take the lightsaber fighting outdoors when you get home… or you can get all lamps and valuables away from the force!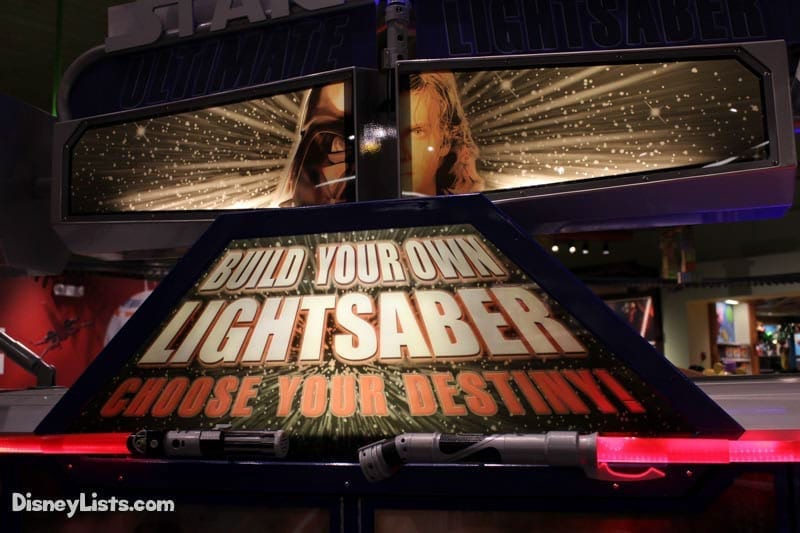 7 – Photo Album and Journal
This is one of our favorites as parents! We enjoy seeing what our daughter values the most about our Disney trips as we give her a camera to snap photos for her very own photo album. The pictures are spectacular, and she takes pride in arranging them to her liking in her Disney Album. Go one step further and give your child a journal if they enjoy writing. Our daughter has transformed her journal into an "Imagineer Book." She is putting notes and tips down in writing that she plans to use one day as she says she's going to be an Imagineer. Why not ignite their creative side with this souvenir?
8 – Figure Play Set
What is your child's favorite Disney movie? You may get lucky and find a whole figure play set at a reasonably low price for Disney's standards. Look among Disney park gift shops and throughout Disney Springs for these little Figure Play Sets. Each playset is specific to a Disney movie, such as the movie Tangled. One playset includes small, plastic figurines of several of the popular characters in the film (Rapunzel, Flynn Rider, Maximus, Pascal, etc). We especially love how easy it is to pack up these little figurines for your child to enjoy just about anywhere. This a simple souvenir, yet one of our daughter's favorites that she plays with over and over again.
9 – Personalized MagicBand
Now you're talking! A MagicBand to a child is already the coolest thing they've ever had on their wrist (ok, adults feel that way too!). Disney has expanded its custom making of MagicBands to a whole new level, giving us one more perfect souvenir for your child. To customize and personalize a MagicBand, head to MagicBand On Demand Station located in Magic Kingdom within Tomorrowland Light & Power Co. (the gift shop located at the exit of Space Mountain). With roughly 50 graphics to choose from and even the ability to add your child's name to the band, you'll be impressed as will your child with this high-tech experience. We love the variety of this souvenir!
10 – Disney Racers
Last, but not least, we must make mention of the Disney Racers collection. Check out these die-cast metal body race cars of different characters (same size at Hot Wheels). It's hard to explain, but Disney someone turns even a character like Dumbo into a cool looking race car! You can find these cars in several Disney gift shops throughout the parks and at Disney Springs. An excellent place for a large selection is the Test Track gift shop at Epcot. Whether your child wants to collect these items or play with them, they are an excellent souvenir for the car fan in your family!
Keep in mind while these are our fun souvenir ideas for children ages 5-9, every child is different! We recommend you listen and look to see what your child is eyeing the most. Of course, the BEST souvenir you of all will be the memories you create as a family at Disney!
For a no obligation, FREE Quote on a Disney vacation package, please contact our travel partner Magical Vacation Planner at 407-442-0227 (407-442-0215 for Spanish). You can also request a FREE quote online by Clicking HERE.