Dining
10 Classic Theme Park Foods that are the Best at Disney World
This list makes us want to go to Disney right now! We've tasted them all, plus a few others, but these are our top 10 best classic theme park foods at Disney World. Count them down with us and see if your favorite makes the list!
10 –  Churros
Fried dough + Disney fans = the classic theme park food, Churros! It's a great change of pace to take a bite of one of these Latin American snacks. Much like a funnel cake, but in an easy to snack stick form, Churros are a great mix of flavor that Disney has been known to serve up even in bite size options. After a few tastes of Disney churros you'll find yourself attempting to dance the samba back to the food cart for round two!
9 – Candy Apples
An apple a day keeps the doctor away, right?! Mickey, Minnie, Sorcerer Mickey, Goofy, Olaf, Monsters Inc., caramel, sprinkle/candy coated, seasonal (Halloween, Christmas, 4th of July) … you're sure to find a candy apple for each day of your vacation! Chances are if you've been inside one of Disney's candy shops or bakeries, you've come across a colorful variety of candy apples. We've discovered that while the animated candy apples are fun for all ages, even the simple caramel coated apples are heaven on a stick! The taste of the sweet coating combined with the fresh apple underneath is the perfect combination for one excellent, classic Disney Park food.
8 – Mickey Rice Krispy Treats
We can't get enough of these! Typically formed in the shape of Mickey, rice krispy treats are found in almost every gift shop you step foot in at the parks. Some are plain, some are chocolate coated, and some have icing or sprinkles! Sticks have been added to a few of these treats for an easy grab and go snack, or buy a box of them to take home with you. We especially love the HUGE Mickey rice krispy treats. You're gonna need time and a few friends to finish that one!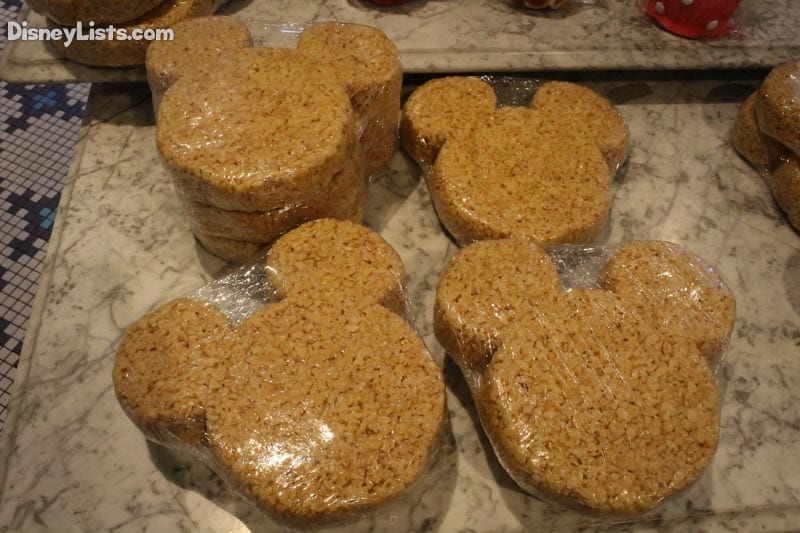 7 – Cake Pops
It's funny how every time we buy Cake Pops, they seem to disappear within minutes. A curious problem in our family, as these delicious babies are filled with the wonderful taste of marshmallow and doughy cake in a variety of flavors such as vanilla, chocolate, and red velvet. Much like the candy apples above, we delight in the fact that there are so many different decorative selections – as the kids steam up the window deciding which one they want.
6 – Popcorn
A traditional and classic Disney food that we could never get tired of. It doesn't help that in every section of the parks it seems like the aroma of popcorn calls to us. We aren't complaining though! Disney keeps their popcorn fresh in both taste and in style with their many collectible souvenir popcorn buckets. Show off your souvenir bucket, and if someone asks where the popcorn went, just tell them Donald Duck ate it!
5 – Dole Whip
Aaahhh… so refreshing! Enjoy sipping your Dole Whip while you explore Adventureland at Magic Kingdom. The classic Dole Whip comes in pineapple, orange, vanilla or swirled. Soft serve or float form, you'll feel as if you've been swept off to Hawaii once this refreshing taste hits your tongue.
4 – Mickey Pretzel
A classic park favorite and for good reason! Who doesn't enjoy a soft, salty pretzel in the shape of Mickey himself. Depending on which park you are ordering your pretzel, you can select a different pretzel each time if you'd like. Dipping sauces are available in different areas such as caramel, cheese, and even pizza sauce! The sweet cream cheese pretzel is our favorite, but we have to give a shout out to the yummy jalapeno cheese pretzel as well. So many to choose from – you'll want to try them all.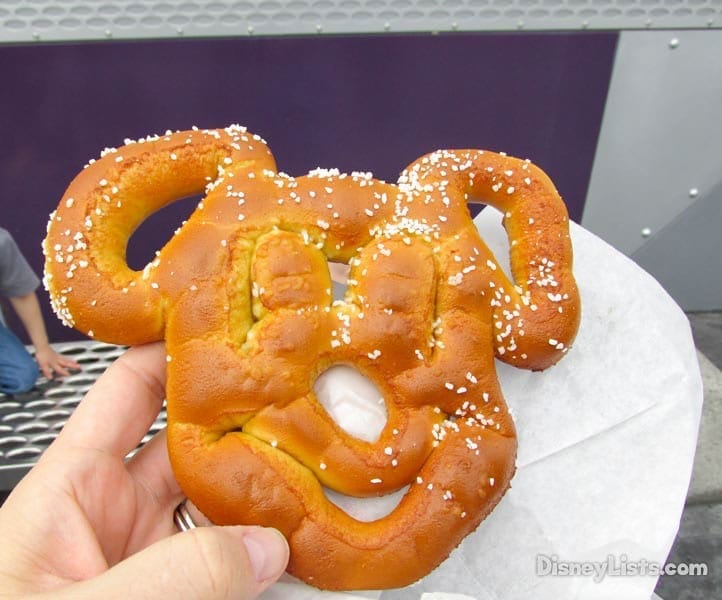 3 – Casey's Corner Hot Dogs
Casey's Corner quick service restaurant is a Magic Kingdom classic, and the hot dogs within it are equally amazing! After a hot day of walking around the park, something about a Casey's hot dogs while waiting for a parade makes for the perfect family treat. Standard dog, Chili-cheese dog, barbecue slaw dog, or even corn dog nuggets – go ahead, or two!
2 – Turkey Leg
Not only does a turkey leg taste spectacular while strolling through a Disney Park, but you'll look like a boss doing it! Let's be honest – where else can you walk around eating a gargantuan turkey leg (likely with no napkin) and have people oohh and aahh over how great it looks?!
1 – Mickey's Premium Ice Cream Bar
Number one on our list has to go to our favorite and what we see people eating the most in the parks – Mickey's Premium Ice Cream Bar. Something about this Mickey shaped ice cream reminds us of our childhood time and time again! Not only do you receive the ice cream bar in a bright red, white, and blue wrapper with Mickey smiling on the front – but taking a bite out of the Mickey shaped treat just shouts Disney World! With the firm chocolate coating and the vanilla ice cream inside, we can't get enough of this classic Disney food.
Did your favorite make the list? We'd love to hear what your favorite classic theme park food is at Disney World!
For a no obligation, FREE Quote on a Disney vacation package, please contact our travel partner Magical Vacation Planner at 407-442-0227 (407-442-0215 for Spanish). You can also request a FREE quote online by Clicking HERE.