If the thought of traveling with young children to Disney World has you reaching for the Tylenol bottle, take a deep breath and know that you aren't alone! Several people love the thought of sharing Disney World with their kiddos but dread the drama that tends to unfold in a young one's mind when they are overstimulated. Have no fear – DisneyLists is here! Here are our top 10 do's and don'ts for traveling with the youngins'.
1 – DO Prep Your Child for the Trip
A lot of work can be done before you even take off for your Disney trip! Disney movies, TV shows, books, and music are our favorite ways to prepare our kids for who/what they might run in to. This also helps us learn our children's favorite characters so we know exactly who we need to be sure we visit for a character meet and greet. We personally like to count our trip down with a weekly family Disney movie night! With young kids, it's also fun to sit down in front of YouTube and type in an attraction and see if it spikes their interest. For example, do they light up when they see Tigger bouncing around on The Many Adventures of Winnie the Pooh? If they are old enough to have an opinion – get them involved in the preparations and planning.
2 – DON'T Forget FastPass+ and Rider Switch
Editor's Note: During the phased reopening of Walt Disney World, FastPass+ is temporarily suspended.
We highly recommend reading up on the Rider Switch policy at Disney World. It's an incredible service for families with young children. It actually allows an adult guest to wait with a child unable to ride an attraction and then board the attraction without waiting in line again, via that FastPass+ line. There is no need to force your child on a ride that might scare them. Plus, the FastPass+ system is a MUST-DO when you travel with young children. There is no point in waiting in multiple long lines if you can cut out some wait time with a FastPass.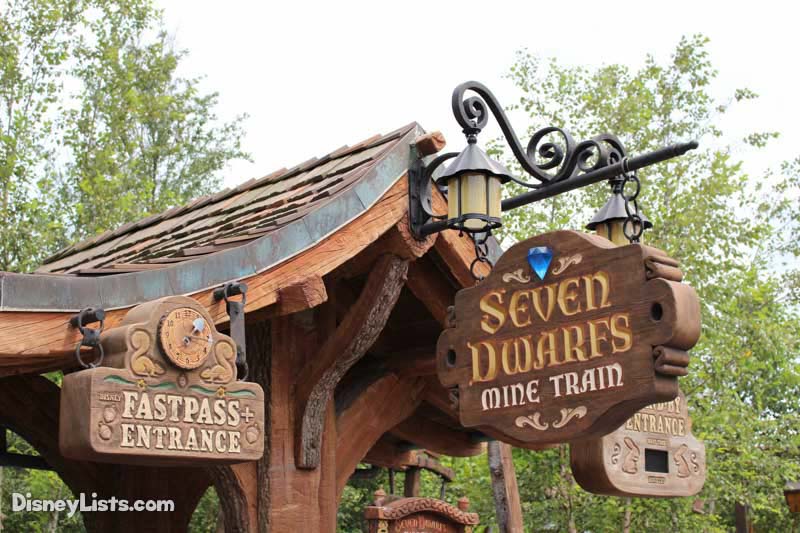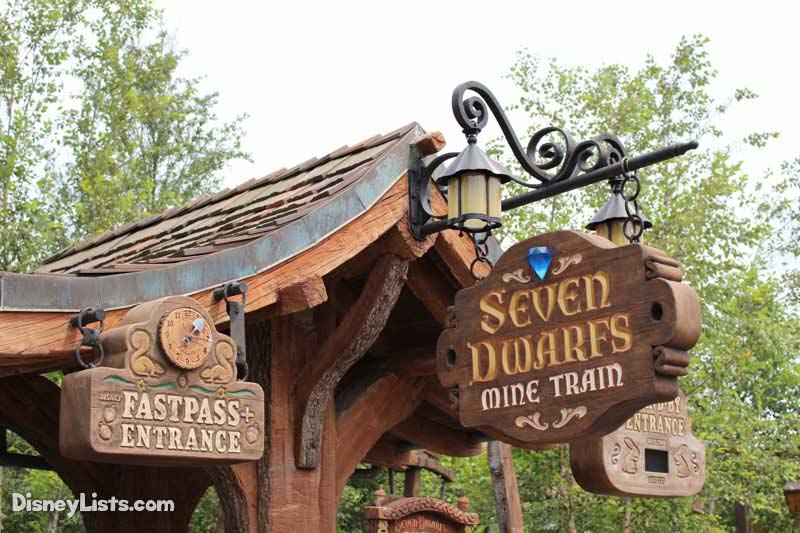 3 – DO Expect Meltdowns
Sorry, but yep – meltdowns will happen. It's likely the culmination of heat, exhaustion, overstimulation, and the crowds, that send young ones (and old alike!) into that moment of melting down. Our suggestion here – look for the warning signs! A few tricks we've learned over the years is to have snacks on hand, a constant supply of water, and special surprise (Dollar Tree) toys that you can hand them when they least suspect it.
4 – DON'T Dress to Impress
It's cute to see all the different kids dressed up in special outfits and cute costume like gear, but most importantly do your best to keep your child comfortable. Don't worry about trying to impress anyone. Instead focus on the right, comfortable clothing appropriate for the weather, easy walking shoes, sunscreen, hats, and anything else you can think of that will bring comfort to your child.
5 – DO A Little Restaurant Research
While us adults might have this vast list of restaurants we must try – check out the reviews or look for blogs about how different restaurants interact with kids. Some restaurants are especially geared toward children which makes the whole dining experience so much more relaxing for the child and for the adult. A few off the top of our head that are our kids' favorites… Rainforest Café or T-Rex, Tusker House, Chef Mickey's, Whispering Canyon, Hoop De Doo Musical Revue, and Sci-Fi Dine-In Theater. TIP – watch the amount of snack/junk food/desserts your child is eating and try to get them to go a little healthier on occasion. This tends to help with those meltdowns mentioned above!
6 – DON'T Forget Their Stubby Legs
It sounds strange enough, but really – it's easy to forget that their legs are roughly 3 times shorter than ours! So, if you are having them walk with you, don't forget the fact that they are taking three times as many steps as you are. On the flip side of that – if they are in the stroller all day, they might be itching to stretch their little legs. Find a place to spread out and let them run around for a bit whenever you have the opportunity. Even babies need to lay down and spread out on occasion… check out the Baby Care Centers for this.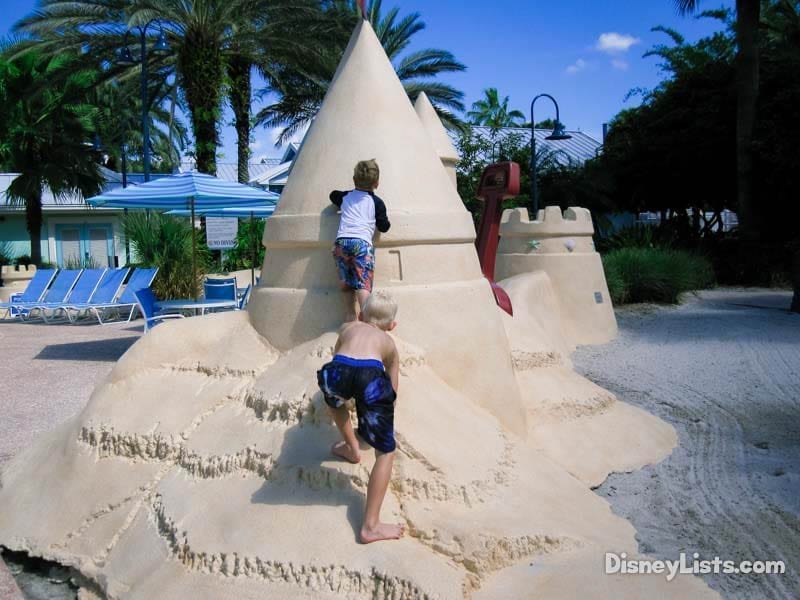 7 – DO Attempt Moments of Normalcy
What is "normal" anyway?! We surely haven't found it in our family, but we do however find our kids respond well when we give them glimpses of "normalcy" while on vacation. For example, the best way we have found to do this at Disney World is to have a Resort Day. A day of swimming in the pool as a family. Playing around on the playground. Or even renting a movie from the clubhouse and snuggling up in bed to watch it. Or daughter once told us one of her favorite/earliest memories of spending time at Disney was when we had to go in to grab our laundry from the clubhouse and fold it together in the resort room! Attempt a sense of normalcy from time to time.
8 – DON'T Allow the "I Want"
This one is a personal favorite of ours, and yet probably the trickiest! We expect young children to reach for just about everything they can grab and yell out the two words they seem to learn first – "I Want!" But, as tempting as it is to fall into this "I Want" trap – just don't do it! Try to teach them that they get one thing a day for example if that's how you'd like to spend your merchandise budget. The sooner you cut "I Want" out of their Disney lingo, the better the trip will be. Trust us… the "I Want" stuff like toys, candy, balloons, glow sticks, etc. are everywhere at Disney World!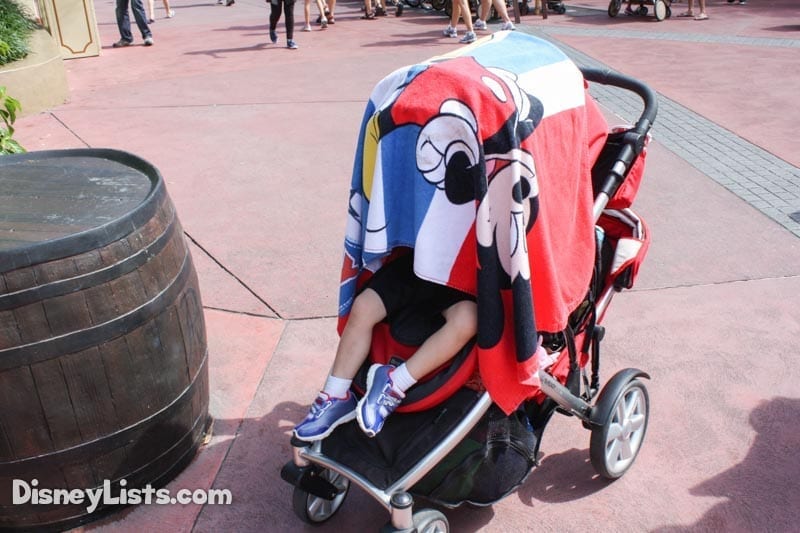 9 – DO Stick to a Bedtime Routine (sometimes!)
Editor's Note: During the phased reopening of Walt Disney World, fireworks are temporarily suspended.
It's super hard to get the kiddos off to bed at a decent hour while at Disney World. It's impossible to tuck them in early on nights when fireworks and parades are taking place – and that's ok because it is vacation after all. But, if the planning allows it, we highly recommend attempting a normal bedtime routine if at all possible. We've learned for example our youngest sleeps terribly if he doesn't get a soak in the tub before bedtime. So, even if we make it back to the resort at 11 pm – we still stick him in the tub for a brief moment just to give him the sense that he's experiencing his bedtime routine. TIP – don't forget that napping in the park can be heaven-sent! Lean that stroller back and let your kiddo snooze till their heart is content!
10 – DON'T Over Plan
The key here – KEEP IT SIMPLE. When traveling to Disney with young children you simply can't expect to get ALL of Disney wrapped into your vacation and that's really ok! Plan for the must-dos for each member in your family and be sure those items are knocked out. The rest of the stuff is just a bonus… the icing on the cake! Expect that you'll be going to plan B, C (and sometimes D!) and it just seems to take the pressure off. It is vacation after all – so relax and enjoy it with your family.
What are some of do's and don'ts you've experienced while traveling with young children to Disney World? We'd love to hear from you!
For a no obligation, FREE Quote on a Disney vacation package, please contact our travel partner Magical Vacation Planner at 407-442-0227 (407-442-0215 for Spanish). You can also request a FREE quote online by Clicking HERE.