Since Disney's Animal Kingdom is the largest of Walt Disney World's theme parks, it's no surprise that you may miss some great experiences. Here is our top 10 list of attractions and/or experiences we think are worth going back for!
Editor's Note: We understand that with the phased reopening of Walt Disney World, some of the advice in this article may not apply if you visit while park hours are reduced, capacity limits and physical distancing are in place, and some of our favorite experiences—fireworks, parades, and character greetings—are temporarily suspended. (You can read everything you need to know about the phased reopening by clicking here). We will continue to share articles that give guidance on a "normal" vacation to Walt Disney World, along with any special changes or instructions you may need to be aware of during the phased reopening to provide the best tips we can regardless of when you are visiting. ~ Chad & Cindy
1 – UP! A Great Bird Adventure
There's a show in Animal Kingdom, and we're wild for it! Senior Wilderness Explorer Russell and his furry pal Dug from Disney•Pixar's animated hit film UP join bird experts on a new adventure featuring encounters with birds from around the world. UP! A Great Bird Adventure replaces Flights of Wonder and provides a nice upgrade that should make the show more engaging for younger visitors. The birds perform tricks and beautiful flights for the two hosts who aim, along with Up stars Russell and Doug, to teach guests about the importance of conservation and preservation.UP! A Great Bird Adventure is truly a fantastic show that can't be missed in Disney's Animal Kingdom!
Editor's Note: During the phased reopening of Walt Disney World in 2020, this show is temporarily suspended.
2 – Meet Rafiki
How often do you get to meet a character as spectacular as Rafiki? Rafiki is currently greeting guests at Discovery Island, Character Landing. Watch the meet and greet times and plan to visit with the silly, yet wise baboon. If you have a baby, we especially recommend you stop by Rafiki's, as you can tell he has a sweet spot for the little ones. Your baby may just receive a special dedication on his or her head, just as Simba did as a cub.
Editor's Note: During the phased reopening of Walt Disney World in 2020, character greetings are temporarily suspended.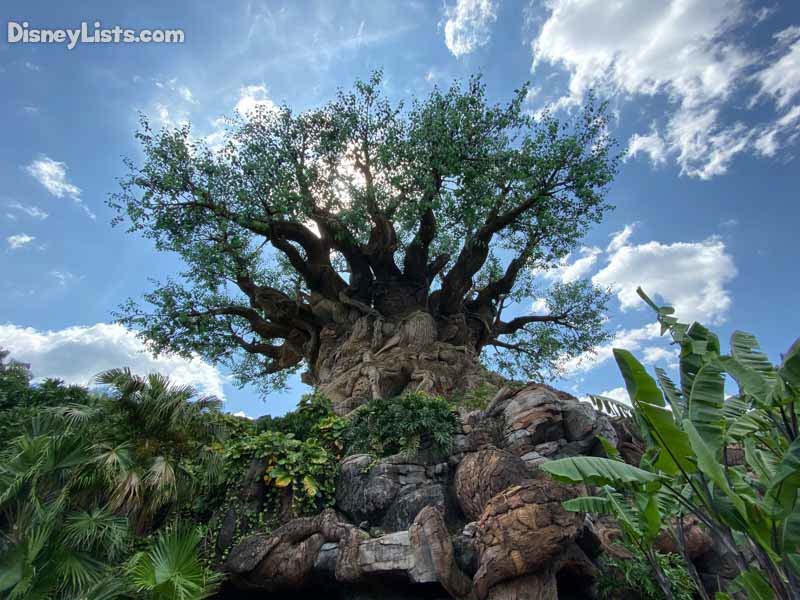 3 – Bollywood Beats
Bollywood Beats is a fun musical and dance spectacle in Asia. You can catch this fun and exciting performance around six times per day across from the Up! A Great Bird Adventure theater. It's a whole lot of fun and worth watching!
Editor's Note: During the phased reopening of Walt Disney World in 2020, this show is temporarily suspended.
4 – Dino-Sue
Somehow overlooked by many, Dino-Sue stands tall as a complete replica of an actual Tyrannosaurus Rex. Dino-Sue is 13-feet tall, and 40-feet long, which makes for the perfect photo op for the paleontologist in your family. Fascinating facts surround Dino-Sue as the most complete T-Rex discovered. While we understand your need to rush straight to ride the Dinosaur ride, Dino-Sue is along that same path and worth taking a moment with.
5 – Discovery Island Trails
You can't miss the enormous Tree of Life, but have you spent time up close with it? As you walk this lush trail around the Tree of Life, you can't miss the unique wildlife and incredibly detailed carvings (over 300!) in the tree. You will likely come across some tunnels and bridges along the footpath. While you are winding down the trail, you may just meet up with Tarzan!
6 – Harambe Fruit Market
You may be thinking… fruit at Disney World? Well, yes – delicious, fresh fruit! We just love the Harambe Fruit Market located in Africa near the Safari. The unique fruit stand emits fresh smells and has an even more refreshing taste with their variety of healthy fruits and snacks. As you shop then bite into the fruit, you will feel as if you have been transformed to an authentic African marketplace. We aren't saying pass up on the Mickey Ice Cream – but we are saying have some fruit too!
7 – Viva Gaia Street Band
On Discovery Island, once per hour, be sure to stop by and be entertained by the Viva Gaia Street Band. This fun multi-cultural troupe gets the crowd going with a Caribbean street party. Occasionally, characters will join the dance party to help the kids get moving. It's a whole lot of fun for the whole family.
Editor's Note: During the phased reopening of Walt Disney World in 2020, this show is temporarily suspended.
8 – Wilderness Explorers
Just like Russell says from the movie "Up" – Wilderness Explorers are friends to all! Becoming a Wilderness Explorer is a perfect way for your kiddos to explore Animal Kingdom and learn some educational facts along the way. The scavenger hunt will guide you and your child through an adventure with challenges and discoveries along the way. This is an excellent activity for the child that may not be as interested in catching all the rides, or perfect for the family that has visited the park previously. The highlight is, of course, earning your adventure badges! Sign up as you head into the park (as you exit the "Oasis" portion just over the bridge).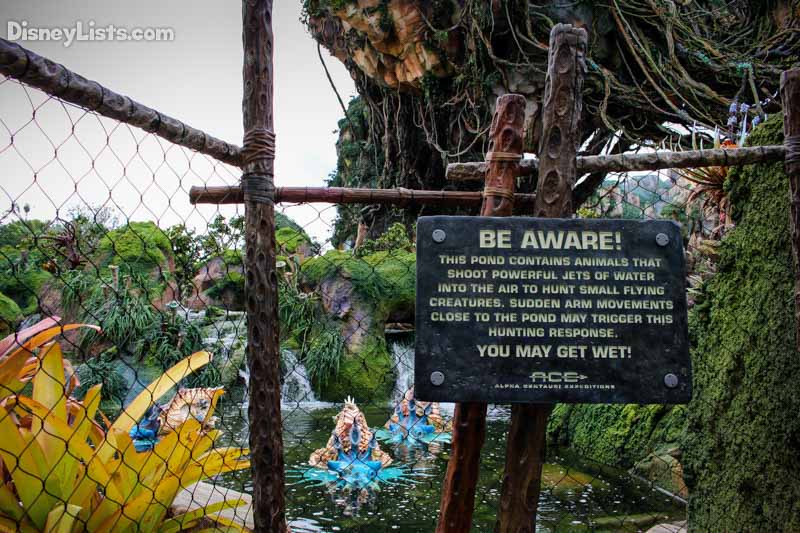 9 – Exotic Plants & Animals in Pandora – The World of Avatar
When visiting Pandora – The World of Avatar, you're actually walking through the Valley of Mo' ara. Make sure you slow down and not rush past the amazing these to see in the new world. Here you'll see the exotic plants that come to life-some with your help, a Na' vi-built drum circle, Navi totems, and other cultural items, and new Wilderness Explorer challenges and badges to collect. While visiting Pandora, you will be astounded by the amount of color, artwork, and interactive experiences. Disney is famous for its immersive theming. However, Pandora takes the theming to a whole new level. Rather than just providing backdrop and context, with so many remarkably foreign flora and fauna to discover, and nearly everything having some sort of interactive element, the theming in Pandora rises almost to the level of attraction in itself. At night, the land transforms into an entirely new experience. The bioluminescent plants of Pandora illuminate the land at night, giving breath-taking views of the Pandora landscape that are altogether different from the daytime experience. So on your way to the fantastic attractions, take time to explore the Valley of Mo' ara!
10 – Meet Pocahontas
Tucked away in the Discovery Island Trails, and easy to miss, is the beautiful Pocahontas. With her love for nature, there is no better place than Animal Kingdom for Pocahontas to call home. Pocahontas is now greeting guests on the Discovery Island Trails West.  Pocahontas will be at the end of the path, ready to greet you. With typically with short wait times, we recommend visiting Pocahontas on your way into Africa.
Editor's Note: During the phased reopening of Walt Disney World in 2020, character greetings are temporarily suspended.
There is so much to see and do at Animal Kingdom that trying to do it all in one day is nearly impossible. If it fits in the plans, we suggest going for round two at this park and enjoy the items above that you may have missed the first time around.
For a no obligation, FREE Quote on a Disney vacation package, please contact our travel partner Magical Vacation Planner at 407-442-0227 (407-442-0215 for Spanish). You can also request a FREE quote online by Clicking HERE.