Maybe you've tried to get dining reservations for a specific restaurant but are finding it impossible to reserve a table. Maybe you're just interested in trying a different restaurant but want a similar experience and/or similar food. Browse our list of 12 dining alternatives to see if any of these options would work for you!
1 – Chef Mickey's vs. Cape May Café
Editor's Note: Chef Mickey's offers modified character dining and a fixed menu. Cape May Cafe is scheduled to reopen on May 18, however, it will reopen without character dining. 
An alternative for the beloved Chef Mickey's? Ok, hear us out! Yes, Chef Mickey's is fantastic, but have you ever checked out Cape May Café? Cape May Café is located at Disney's Beach Club Resort. Typically, much easier to land a reservation, this character dining experience is one that we highly recommend trying out. Serving breakfast and dinner, Cape May has incredible food – with better taste and options than Chef Mickey's, in our opinion. Meet Minnie, Goofy, Donald, and Daisy looking bright in their beach gear! The atmosphere at Cape May is much more intimate, and the noise level goes down a notch in comparison to Chef Mickey's.
2 – The Crystal Palace vs. 1900 Park Fare
Editor's Note: Crystal Palace is open without characters and 1900 Park Fare is temporarily unavailable.
No park ticket to Magic Kingdom to dine at Crystal Palace but looking for the same atmosphere? Keep the airy and elegant feel plus terrific buffet by visiting 1900 Park Fare located at Disney's Grand Floridian Resort. 1900 Park Fare serves breakfast and dinner with a great variety of food options. You'll still have a chance to meet Winnie the Pooh and Tigger plus some other unique characters such as Mary Poppins, Alice in Wonderland, and the Mad Hatter.
3 – Spirit of Aloha vs. Ohana
Editor's Note: During the phased reopening of Walt Disney World, both of these dining options are temporarily unavailable.
Matching the Spirit of Aloha's entertainment is somewhat tricky. We still feel the need to mention Ohana. Also located at Disney's Polynesian Resort, Ohana has very similar food and drink options that you would find at Spirit of Aloha. You may not see professional dancing at Ohana, but your children can join in the luau with Auntie! Plus, maybe you are only free for breakfast – Ohana offers a great breakfast buffet while keeping true to the Hawaiian flare. Did we mention Lilo and Stitch make an appearance at breakfast?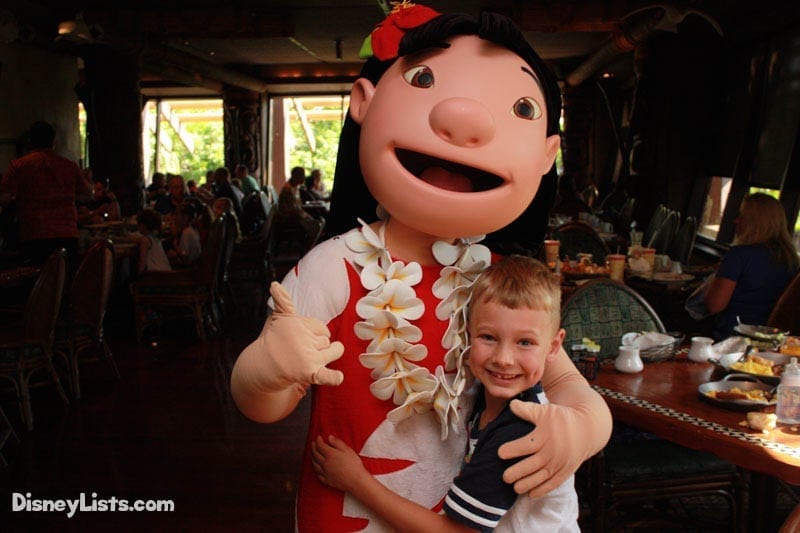 4 – Cinderella's Royal Table vs. Akershus Royal Banquet Hall
Editor's Note: During the phased reopening of Walt Disney World, Cinderella Royal Table is operating without the princesses, and Akershus Royal Banquet Hall is temporarily unavailable. 
We love Cinderella's Royal Table. There is just something about eating in the Cinderella Castle that is hard to beat! However, we do know that reservations are somewhat tricky. The best way we know to dine with the princesses other than Cinderella's Royal Table would be Akershus Royal Banquet Hall located in Epcot. Akershus is just as perfect to dine for your princess or prince with the royal appearance inside. Delicious food and beautiful characters – Akershus will become a family favorite. Guess what – Cinderella has decided to dine with you at Akershus too! You can also visit with princesses such as Snow White, Belle, Aurora, Ariel, and Mary Poppins.
5 – Sci-Fi Dine-In vs. AMC Disney Springs 24 Dine-In Theater
Sci-Fi offers American cuisine with the entertainment of 50s TV show clips. AMC 24 Dine-In Theater offers an American cuisine with entertainment of the newest movie theater releases! If you aren't able to make a reservation at Sci-Fi or if you don't have a park ticket, check out AMC 24 Dine-In Theater located at Disney Springs. Enjoy a great meal while watching a show!
6 – 50's Prime Time Cafe vs. Whispering Canyon Cafe
Ok, so this one seems like an odd combination, but hear us out! 50's Prime Time has the old school theme, but one of their main draws is their fantastic meatloaf from Mama's kitchen and the humor to go with it. Whispering Canyon located at Disney's Wilderness Lodge offers similar food selections (including meatloaf!) and humor that, in our opinion, surpasses 50's Prime Time. Fresh jokes, casual Cast Members, and a fun wooden horse stampede await you at Whispering Canyon.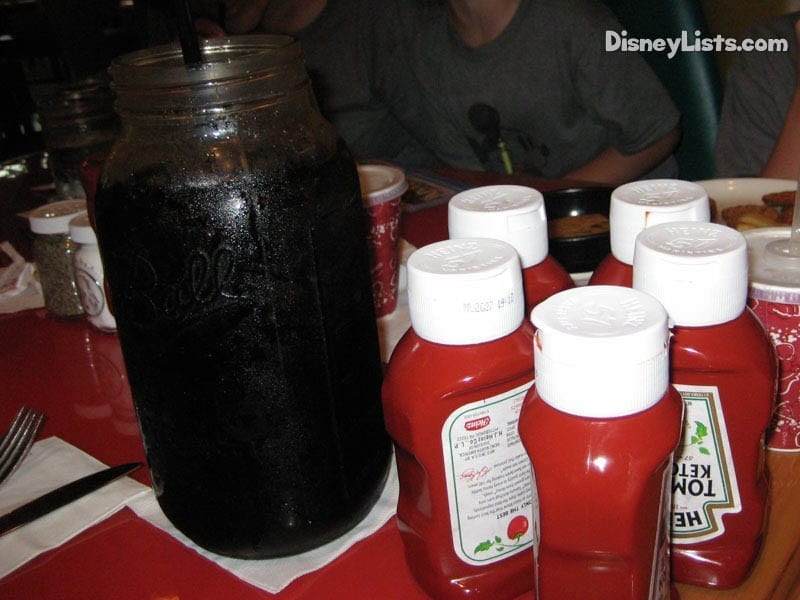 7 – Beaches and Cream Soda Shop vs. The Fountain
Beaches and Cream Soda Shop at Disney's Beach Club Resort has some delightful food and dessert options. You may notice reservations; however, it can be tricky to obtain at Beaches and Cream simply because of its popularity and small size. Check out The Fountain at the Dolphin side of Swan and Dolphin Resort, which is just a short walk up the boardwalk from Disney's Beach Club Resort. The Fountain is known for its "Eats and Sweets" and is large in size compared to Beaches and Cream. Truly a hidden gem! Pull up a stool to the bar or grab a booth or table, and slurp away at one of The Fountain's incredible malts or shakes – among many other dessert and food selections.
8 – Splitsville vs. ESPN Club
Maybe you are looking for a bar/pub-type atmosphere but aren't in the mood to fight the crowds or traffic to get to Splitsville at Disney Springs. ESPN Club, located at Disney's Boardwalk may be the alternative you are looking for. Sure, no bowling is available at the ESPN Club, but the majority of people eating at Splitsville don't bowl anyway. American food and bar favorites are offered at ESPN Club, much like at Splitsville. Sports playing on the big screens make for a great evening of entertainment. Plus, shop along the Boardwalk just as you would at Disney Springs!
9 – Le Cellier Steakhouse vs. Yachtsman Steakhouse
Editor's Note: During the phased reopening of Walt Disney World, Yachtsman Steakhouse is temporarily unavailable. 
We get it – for many NOTHING can touch in comparison to Le Cellier. Sorry, but we disagree! Have you ever tried the Yachtsman Steakhouse at Disney's Yacht Club Resort? No park ticket is needed to dine at Yachtsman. Enjoy spreading out at Yachtsman while keeping the same intimate and sophisticated dining experience Le Cellier offers. Check out these menus, and you'll see the comparison in food selections and in pricing. So stop panicking if you can't get your honey in for a reservation at Le Cellier – try a reservation at the Yachtsman instead. Even if you are planning a day at Epcot, the walk to Disney's Yacht Club isn't far from the Epcot gates.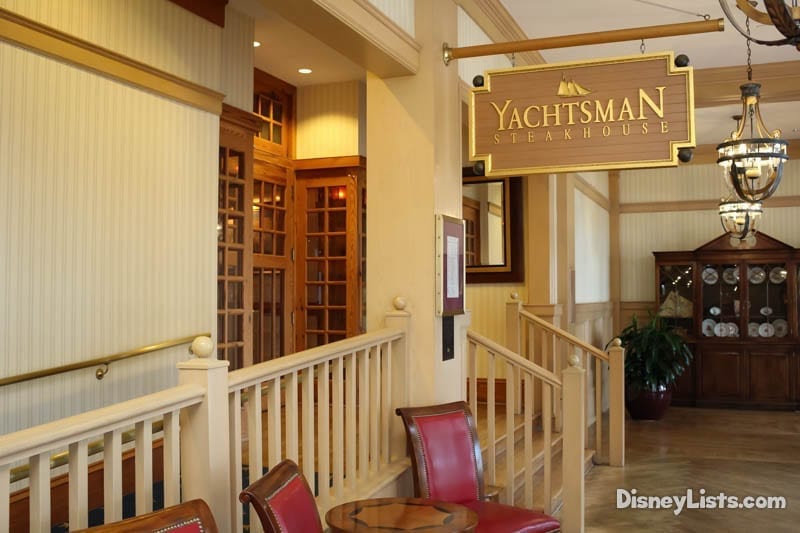 10 – Rose & Crown Pub & Dining Room vs. Raglan Road Irish Pub & Restaurant
British and Irish pubs – forget alternatives, dine and drink at both! Ok, but really, Raglan Road located at Disney Springs is an excellent alternative if you haven't been able to snag a reservation at Rose and Crown Pub or if you don't have a park ticket. Experience the friendly Raglan Road Pub that offers nightly entertainment, much like Rose and Crown Pub. These two pubs have similar food and drink menus. Bottoms up!
11 – Tony's Town Square vs. Via Napoli Ristorante e Pizzeria
Who doesn't love a little taste of Italy? Whether you are dining for romance or simply for the pasta and pizza, Tony's in Magic Kingdom and Via Napoli in Epcot are very comparable Italian restaurants. The menus, the price, the atmosphere, and the required park ticket make these locations rather similar. We do, however, find Tony's to be a little harder to get a reservation for, leaving Via Napoli an excellent alternative if that Italian craving must be satisfied!
Keep in mind that advanced dining reservations are recommended for even the alternatives we've listed, despite them being a little less popular. If you are up for it and have the time, why not try both options and let us know which one is your favorite!
For a no obligation, FREE Quote on a Disney vacation package, please contact our travel partner Magical Vacation Planner at 407-442-0227 (407-442-0215 for Spanish). You can also request a FREE quote online by Clicking HERE.