Whether you want to leave Magic Kingdom for a nice lunch or if you are staying at one of Disney's Monorail Resorts such as the Contemporary Resort, Grand Floridian Resort and Spa, or the Polynesian Village Resort, chances are you'll have to work extra hard at getting those extra vacation pounds off when you get back home! These monorail resorts offer a plethora of dining options that are open to everyone and anyone – not just the monorail resort guests. So, let's ride along on the monorail and pick our top 5 best quick service restaurants located within the monorail resorts.
1 – Capt. Cook's @ Polynesian Resort
Named after an 18th-century British explorer, Capt. Cook's is a quick-service spot located at the Polynesian Resort near the Nanea Volcano Pool. Grab a meal whenever you'd like at this 24-hour dining option. Serving breakfast, lunch, dinner, and late-night dining, there is no shortage of tasty selections. Lunch and dinner have great menus with American cuisine items inspired with Hawaiian flavors such as the Aloha Pork Sandwich, Thai Coconut Meatballs, Big Kahuna Sandwich, Hawaiian Flatbread, and Pho Noodle Bowl with Shrimp or Beef to name a few. But, we must insist that you check out their breakfast simply because of two words – Tonga Toast! This heavenly banana-stuffed sourdough bread, battered and deep-fried, and dusted with cinnamon sugar is more like a dessert than breakfast – but hey, you're on vacation!
2 – Contempo Café @ Contemporary Resort
This quick service experience at the Contemporary is all about the atmosphere! Sit and enjoy a meal or take a bite with you, but be sure to look up at the grand interior the Contemporary offers including the 90-foot mural inspired by 'it's a small world'. Watch the monorail breeze through the resort and delight in the bright and airy space. Plus, the excellent food matches the excellent atmosphere! Whether you want a light grab-and-go snack or sit down for a full-on meal, you'll find what you are looking for the Contempo Café. We suggest one of their delicious frittatas for breakfast or go simple with a cinnamon roll. Lunch and dinner have the usual American-style cuisine options like flatbread, burgers, salads, sandwiches, subs, pasta, and more. Go simple or big – either way, you'll be pleased.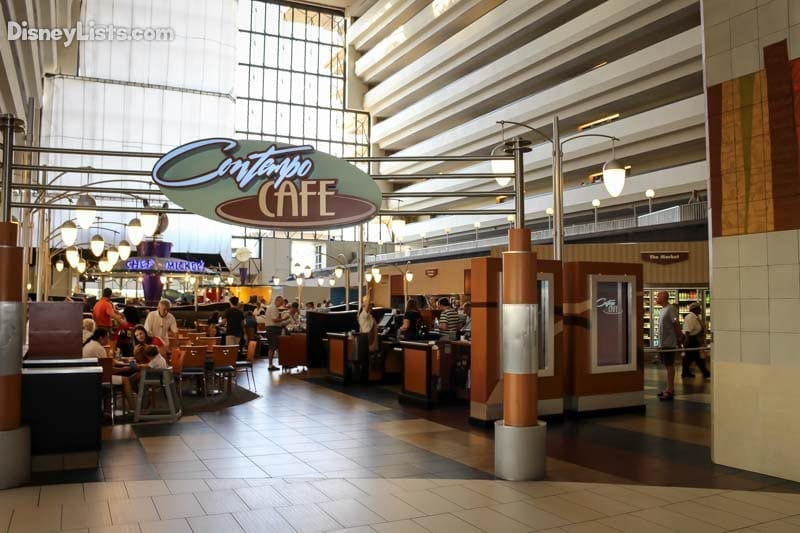 3 – Oasis Bar & Grill @ Polynesian Resort
Typically, we've found that the poolside quick service locations have simple menus. The Oasis Bar and Grill at the Polynesian is poolside food at its' finest! The menu boasts unique items such as Spinach and Watermelon Salad, Kalua Pork Sliders, Grilled Sustainable Fish Tacos, Sashimi of Tuna, Salmon, and Hamachi, and Chili-Spiced Asian Sticky Wings. The beverages served at the Oasis Bar and Grill are also perfect on a hot day by the pool! We especially recommend the Lava Smoothie (non-alcoholic) or the Frosty Pineapple or Big Island Ice Tea (both alcoholic). This is a great spot to eat light and sip back something refreshing.
4 – The Sand Bar @ Contemporary Resort
Despite The Sand Bar's very simple appearance near the Feature Pool and Water Play Area at the Contemporary Resort, we must say the short menu of entrees is a great one, with excellent variety! The menu includes items such as a Chili Cheese Dog, Three Cheese Quesadilla, Bacon Cheeseburger, Blackened Chicken Pita, Antipasto Salad, and mouth-watering wrap selections. Plus, you'll enjoy their great snack selections from healthy to heavenly, and everything in between! Don't forget to indulge on one of their specialty cocktails like Black Cherry Lemonade or Beso Del Sol Sangria. This is one great quick service spot that has something for all preferences in the family.
5 – Pineapple Lanai @ Polynesian Resort
Last on our list, but definitely not least would have to be Pineapple Lanai at the Polynesian Resort. Pineapple Lanai brings that Dole Whip taste of Magic Kingdom to a resort! This legendary frozen treat comes in different forms at Pineapple Lanai for guests to enjoy such as the Dole Whip Soft-Serve, Dole Whip Soft-Serve Swirl, or the Pineapple Float.  You might just want to purchase a Dole Whip in one of the Tiki Sippers or Bowls souvenirs. Yes, this is by far the simplest quick service location on our list, but it makes it into our top 5 because in our opinion it falls into must-do snacking!
We know that our list of favorites didn't include any of the quick service locations at the Grand Floridian Resorts and Spa, but we were going for unique and great taste with the best variety. We do however want to give an honorable mention to the Gasparilla Island Grill at Grand Floridian Resort. Do you have a favorite quick-service spot along the Monorail Resort loop? We'd love for you to share!
For a no obligation, FREE Quote on a Disney vacation package, please contact our travel partner Magical Vacation Planner at 407-442-0227 (407-442-0215 for Spanish). You can also request a FREE quote online by Clicking HERE.