MagicBands are used at the Walt Disney World Resort for park entry, FastPass+, Memory Maker, collecting your Photopass pictures, and resort guests can use for room entry and charging back to the resort. Disney offers complimentary MagicBands for guests who have a resort reservation or are annual Passholders in 8 different colors. Guests looking to purchase MagicBands have the option to purchase MagicBands at retail locations with unique designs. Any MagicBand linked to your profile on My Disney Experience account can be used interchangeably; think of them like having a copy of a key. So many guests have several different MagicBands they will use during their trip. Read on to find out 5 things you need to know about purchasing or customizing your MagicBands.
1 – Complimentary MagicBands with Resort Stay
Every time you book a Walt Disney World Resort stay, your party will receive a set of MagicBands for that stay. You have the option to customize these bands by selecting which color you would like as well as what name you would like printed inside. If you do not personalize the bands on your My Disney Experience account, you will receive gray bands when you arrive at the resort. To customize your MagicBand, you can log into your My Disney Experience account. You will need to have your resort reservation linked if you booked online it is likely already connected to your account. If you click on the main menu and choose the "Reservations and Tickets" option, you should see your resort reservation listed. If you do not see it, click on "Link a Resort Reservation" You will need the reservation number and the last name on the reservation. Once your reservation is linked, you are ready to go! Next on the menu, click on "MagicBands and Cards," you should now see your resort reservation with a button to customize your MagicBands. For each person, you can select a specific color and choose what you want printed inside. Once you have made your selections, you can confirm and ship your MagicBands to your home address. Please note if you are outside the USA, you cannot ship the MagicBands to your home, but you can still customize the bands and pick them up at the resort. If you already have MagicBands or you do not want any additional sets, you can also choose to decline MagicBands.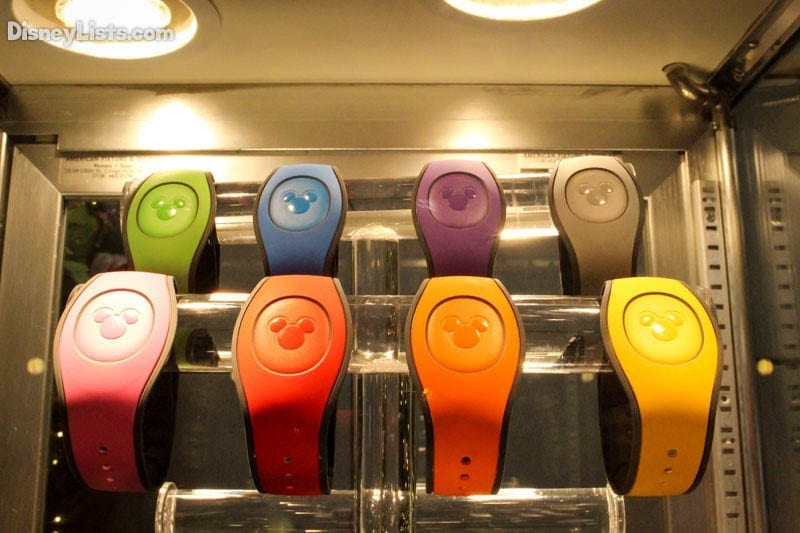 2 – Complimentary MagicBands for Annual Passholders
Annual Passholders are also eligible for a complimentary MagicBand each year they purchase an annual pass product. Once this annual pass is linked to your My Disney Experience account, you will be able to customize your MagicBand the same way you would for a resort stay. These MagicBands are shipped to your home, the box will also include a discount card for the year. You can also pick up a physical annual pass card to use for admission and discounts at any ticketing window with your photo ID.
3 – Purchasing a MagicBand
Guests can also purchase MagicBands at select retail locations at Walt Disney World. Any guest can purchase and use a MagicBand, they do not need to be staying at a resort to do so. (Please note that using your MagicBand to charge is only for resort guests, as you are charging back to the room and not directly to your credit card.) There are solid color MagicBands available for purchase as well as graphic MagicBands. The graphic MagicBands will have designs featuring characters such as Ana and Elsa, Princesses, Star Wars, Tinkerbell, Mickey and friends, and many other characters and designs. These bands range in price from $12.95 to $25.99, depending on the band. There are also special limited edition MagicBands that appear for specific events such as Flower and Garden Festival, Food and Wine Festival, Mickey's Not So Scary Halloween Party and Mickey's Very Merry Christmas Party. Some limited edition MagicBands will make sounds or different colored lights at the touchpoints for park entry.
4 – Purchasing a Customized MagicBand
At Tomorrowland Power & Light near Space Mountain in the Magic Kingdom and D-Tech on Demand at the Marketplace Co-Op at Disney Springs, guests can customize MagicBands beyond the standard graphic designs available. Guests can choose their MagicBand color, a specific image they would like on the MagicBand from a catalog of designs, and even have their name printed on the outside of the band. These customized MagicBands range in price from $21.95 to $29.95.
5 – Linking your MagicBand to My Disney Experience
If you have a resort reservation your MagicBands are automatically linked to your My Disney Experience account. If you have purchased a MagicBand at a retail location, there are two ways to link your new MagicBand to your account. At the merchandise location, you can choose to have your new MagicBand linked to your account immediately or choose to link it at another time. If you have another band or ticket that is linked to your account, you can have it linked right at the store. You would choose to not have it linked if you did not have an account set up yet, or if you were purchasing the band as a gift for someone else. (who would need to link it to their own account) If you need to link a new MagicBand to your account after purchase, you will log into your My Disney Experience account and choose "MagicBands and Cards" from the menu, then click on "Need to link a purchased MagicBand?" You will then enter the ID number located on the inside of the MagicBand and select who on your account will be using this MagicBand. Now your MagicBand is ready for use!
The different options available for customization gives options for guests looking for a more personalized MagicBands. The special event MagicBands such as those Mickey's Very Merry Christmas Party are different each year, making it an option for those looking for dated merchandise to purchase each year. Many guests will purchase MagicBand in addition to complimentary one they receive at their resort. Do you own more than one MagicBand? Are you looking forward to getting a special event, MagicBand, or customizing your own design?
For a no obligation, FREE Quote on a Disney vacation package, please contact our travel partner Magical Vacation Planner at 407-442-0227 (407-442-0215 for Spanish). You can also request a FREE quote online by Clicking HERE.