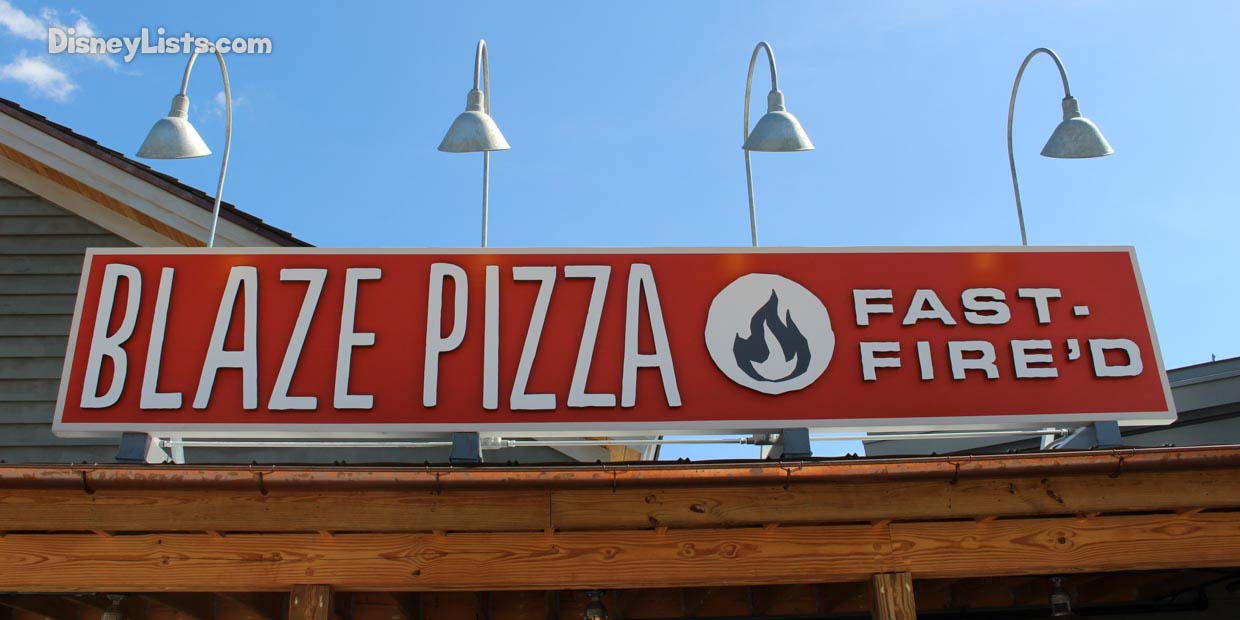 Yep – Blaze Fast-Fire'd Pizza has won over our taste buds and we now have a new favorite quick-service restaurant at Disney Springs! So, what makes Blaze stand out above their Disney Springs competitors and become one of our most highly recommended quick service spots on Disney property? Check out these 6 reasons below.
1 – Loving the Location
Visitors to Disney Springs now have multiple options when it comes to shopping, eating, and entertainment. Amid all the excitement, Blaze finds itself hunkered down in the Town Center section of Disney Springs. An easy walk from both the Lime and Orange parking garages, Blaze sits between the massive Zara merchandise shop and the bridge to Chef Art Smith's Homecoming restaurant. Not only do we enjoy the easy access from the parking garages to Blaze's, but we also love the scenery as Blaze is nestled next to a beautiful strip of water.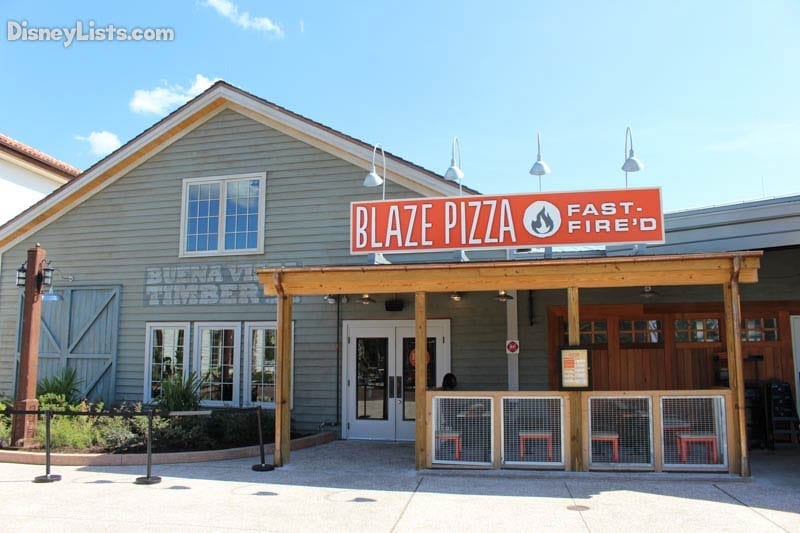 2 – Trendy and Clean Appearance
The exterior appearance of Blaze is the most modern-style pizza joint we've ever seen! With craftsman-style architecture and trendy metal lighting and sign accents, the red Blaze Pizza sign can't be missed. We pulled the wood stump handle to enter and found ourselves even more pleased with the inside. We especially loved the well-organized entrance to order and pay for the food, the visible flames from the ovens, high wood-beamed ceilings and exposed pipes, and a wall of windows facing the water.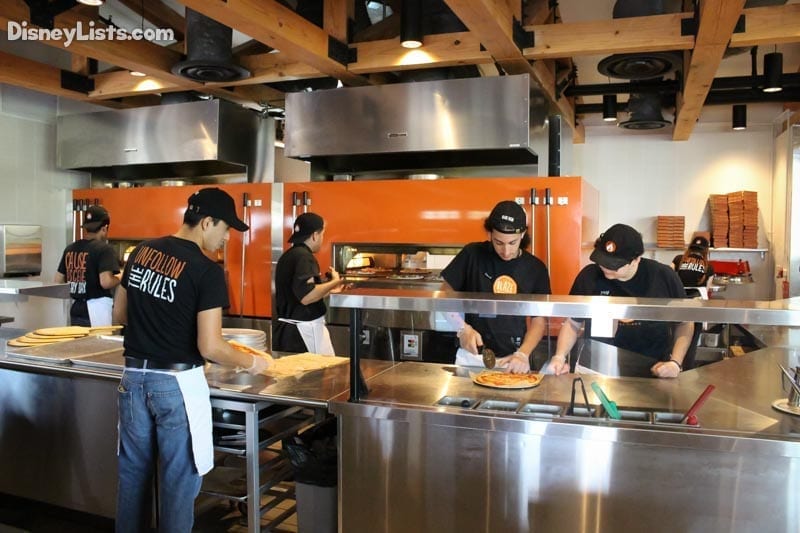 3 – Indoor and Outdoor Seating
Settle down inside at one of the many wooden tables that stretch across the dining area in what looks like shared rows of tables. If you prefer to be seated outside, there is a large wrap-around deck that is covered for shade and rain. The best part about sitting outside is that most of the tables will have you seated just over the water with great views.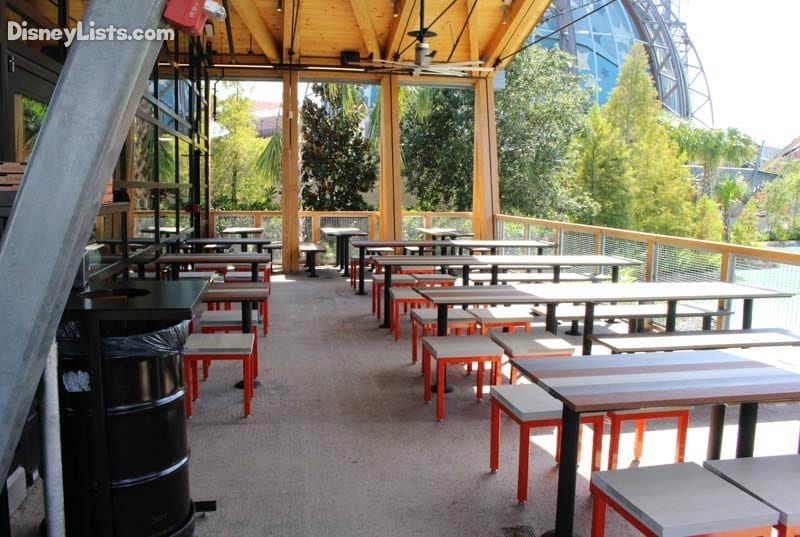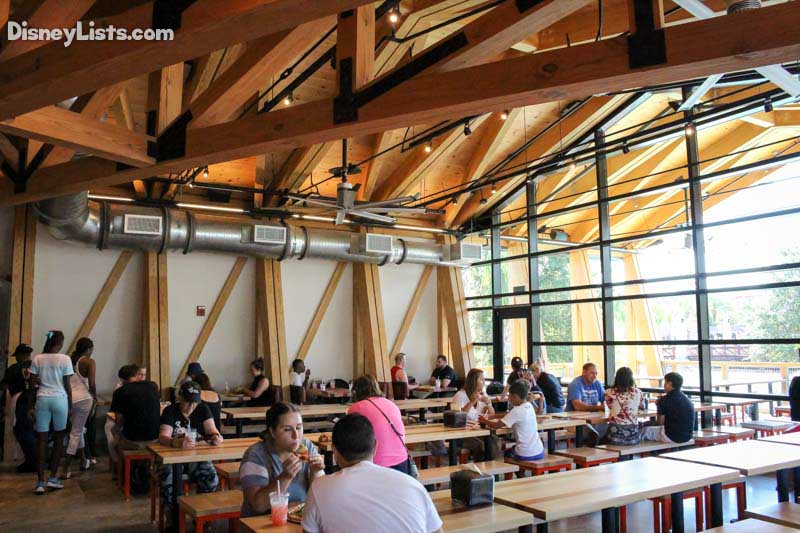 4 – Truly Fast and Friendly Service
Upon entrance, a server will hand you a Blaze menu. You can also look up at the hanging menu as you enter the line, but it's nice to have something in hand to view. We loved that the server explained the menu to us briefly and gave us the rundown of what to do next. It completely alleviated any questions like… are we standing in the right place? What we thought was a lengthy line moved very quickly, and we understood why as we approached the ordered bay. It seemed like there was more staff than able to stand behind the prepping station – and everyone was doing something. Our order was placed in no time, and we were handed a pager to return to pick up our pizzas when it went off. Pick up was easy with once again well-organized service. A couple of servers even checked in on us at our table, which was a surprise being that it is a quick-service restaurant.
5 – Ease of the Menu & How It Works
The menu at Blaze kicks off with "How Do You Blaze?" You can either build your own pizza or choose one of their signature pizzas. They only have one size pizza – 11". Blaze boasts fresh ingredients with dough prepared from scratch daily with a 24-hour fermentation period. You first choose between the original dough, high-rise dough, or gluten-free dough. We especially love that they offer a gluten-free option with a Celiac member in the family. If you build your own pizza, you get to choose sauces, cheeses, meats, veggies, and any special finishes. If you choose one of their signature pizzas you can select from red vine, BBQ chicken, art lover, meat eater, green stripe, veg out, link in, or white top. As you go through the order line, the staff will ask you what you would like at each station (reminded us of something like Subway style ordering). There is a center for bottled drinks, milk, juice, etc. or you can order a fountain drink in which they will provide you with a cup to fill and refill as you'd like. They also have draft or bottled beer and wine. Salads, desserts, and a kid's menu is also available.
Editors Note: If you love thin crust pizza, like Chad, you'll love the standard thin crust. Cindy and the kids prefer the high-rise option, which gives the crust a more traditional thickness. Our friend and Disney cast member, Rebecca, also loves the gluten-free crust and is very thankful for such a great-tasting gluten-free option.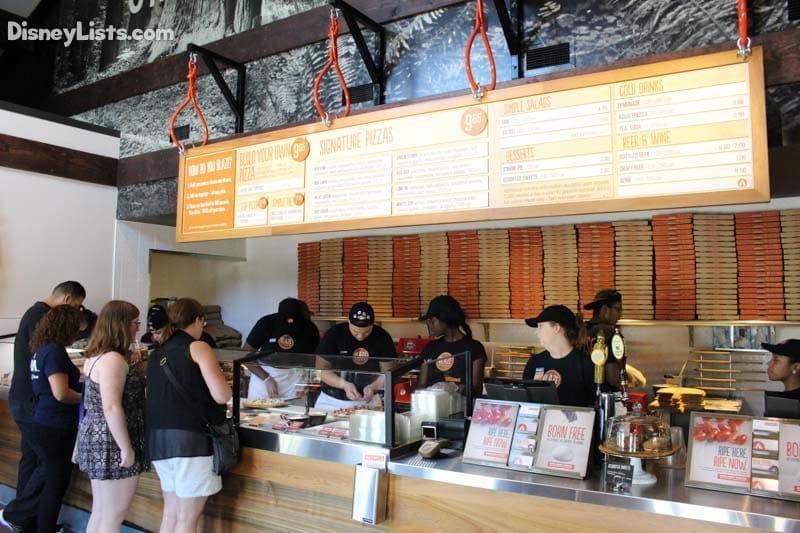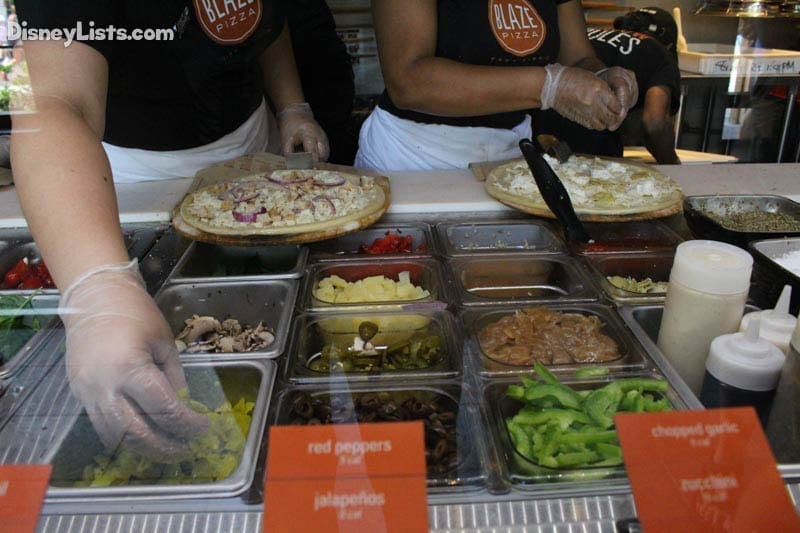 6 – Thumbs Up on Taste
Now the important part – and our favorite part – the delicious taste! We ordered two pizzas for our party of three, which we found was plenty of food for us. If you are really hungry, however, you'll likely be able to eat one of these 11" pizzas on your own because of the thin crust. You can genuinely taste the fresh dough and ingredients with one bite into the pizza. We found the crust to be crisp and holding true to their "light-as-air" signature statement. The sauce, cheese, and toppings all blended perfectly, and we ate in silence for the most part (rare for this bunch) because no one wanted to stop eating! We also ordered their S' more Pie among the brownies and cookies available for dessert. The S'more Pie gets thumbs up from us. We enjoyed the free refills from the fountain machines, which also had a station for all our napkins, straws, and silverware needs. If you are full, you can always get a to-go box and take any leftovers with you. Bottom line – the freshest pizza we've tasted in a long time!
[smartslider3 slider=108]
Our experience with Blaze Fast-Fire'd Pizza was a success to say the least. We already foresee numerous trips to Blaze in the near future, as we can't wait to try more of what they are offering!
For a no obligation, FREE Quote on a Disney vacation package, please contact our travel partner Magical Vacation Planner at 407-442-0227 (407-442-0215 for Spanish). You can also request a FREE quote online by Clicking HERE.