Editor's Note: Sadly, Ample Hills at Disney's Boardwalk Resort has closed. Yes, this was our favorite ice cream anywhere. However, there are still a number of other great ice cream options available around Disney World property. We invite you to check out some of our other favorites here:
Where to Find the Best Ice Cream at Disney World
Top 7 Counter Service Ice Cream Spots in Walt Disney World
I scream, you scream, we all scream for ice cream! Well, if you love ice cream, then you'll need to make a visit to the new Ample Hills Creamery found at Disney's BoardWalk. Why? Well, we're so glad you asked. Here are the six reasons to visit the new Ample Hills Creamery.
6 – Apparently, New Yorkers Know a Things or Two About Making Ice Cream
Ample Hills Creamery is a Brooklyn-based company known for their creative approach to all things ice cream. Opening in the spring of 2011, they made ice cream the old-fashion way, slowly by hand. Their signature flavors are inventive and tasty. The company also prides themselves on using natural ingredients: hormone free milk and cream from grass fed cows and organic cane sugar. Mix-Ins are made in house from scratch.
5 – Turn of the Century Ice Cream Parlor
Disney's BoardWalk, full of charm and a 1930's Atlantic coastal atmosphere, inspired a whimsical take on the turn-of-the century ice cream parlor. The bright, colorful shop is located next to the ESPN Club overlooking Crescent Lake. Inside, the shop has cute murals including a castle and Spaceship Earth. Please note, there is no seating inside. There is just enough space for the queue and two ordering areas. There are also take away cartons if you prefer to grab and go.
[smartslider3 slider=82]
4 – Sample All You Like
Ample Hills Creamery boasts 16 unique flavors. Don't worry if you aren't sure what you want. You can sample as many flavors as you like. Here is a list of their amazing flavors:
Peppermint Pattie Ice Cream: Cool Peppermint Ice Cream with flakes of Dark Chocolate and House-made Peppermint Patties
Sweet Cream n' Cookies Ice Cream: Sweet Cream Ice Cream with pieces of Back-To-Nature Sandwich Crème Cookies
Chocolate Milk and Cookies Ice Cream: Creamy Milk Chocolate Ice Cream with Pieces of Back-To-Nature Sandwich Crème Cookies
Ooey Gooey Butter Cake Ice Cream: the creamiest Vanilla Ice Cream made with Cream Cheese and gobs of House-made St. Louis-Style Ooey Gooey Butter Cake. A staff favorite!
PB Wins the Cup Ice Cream: Vanilla Ice Cream with Peanut Butter Chocolate flakes and House-made Peanut Butter Cups
Cotton Candy Ice Cream: 100% All-Natural Blue Cotton Candy Ice Cream made with no Artificial Colors or Flavors
Coffee Toffee Coffee Ice Cream: Coffee Ice Cream with House made Espresso-Infused Chocolate-Covered Toffee Pieces
Butter Pecan Brittle Ice Cream: Dark Brown Sugar Ice Cream with Pieces of House made Roasted Pecan Brittle
Nonna D's Oatmeal Lace Ice Cream: Dark Brown Sugar Cinnamon Ice Cream with House made Oatmeal Lace Cookies
Vanilla Bean Ice Cream: Vanilla Bean Ice Cream made with Madagascar Bourbon Vanilla Beans
Baked/Unbaked Ice Cream: Vanilla Ice Cream with pieces of House-made Chocolate Chip Cookies and Brown Butter Cookie Dough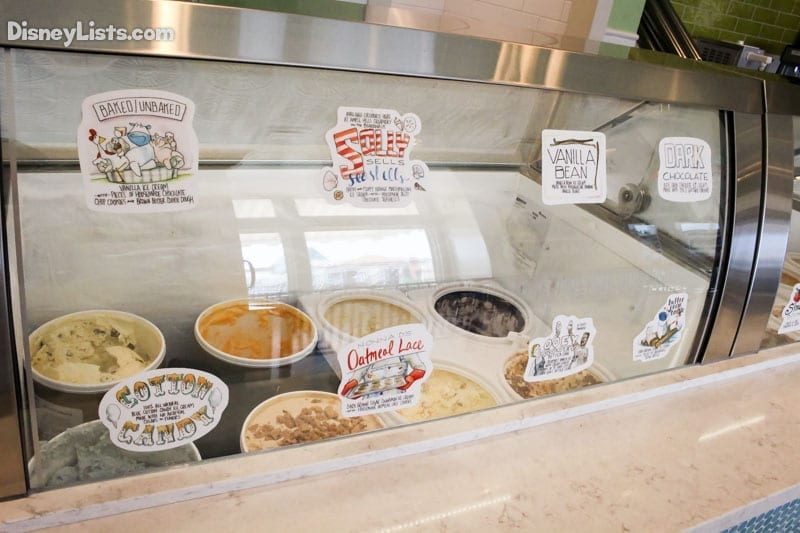 Dark Chocolate Ice Cream: Rich Dark Chocolate Ice Cream made with 72% E. Guiffard Chocolate
Lemon Sky Ice Cream: Light and Billowy Lemon Ginger Sorbet made with a splash of Limoncello. Dairy-free and Vegan
Strawberries and Cream Ice Cream: Smooth and Pure Strawberry Ice Cream
Sally Sells Seashells Ice Cream: Fresh and Fluffy Orange Marshmallow Ice Cream with House-made Salty Chocolate Seashells
Malty Salty Pretzel Punch Ice Cream: Vanilla Malted Ice Cream with Chocolate-covered Pretzel Pieces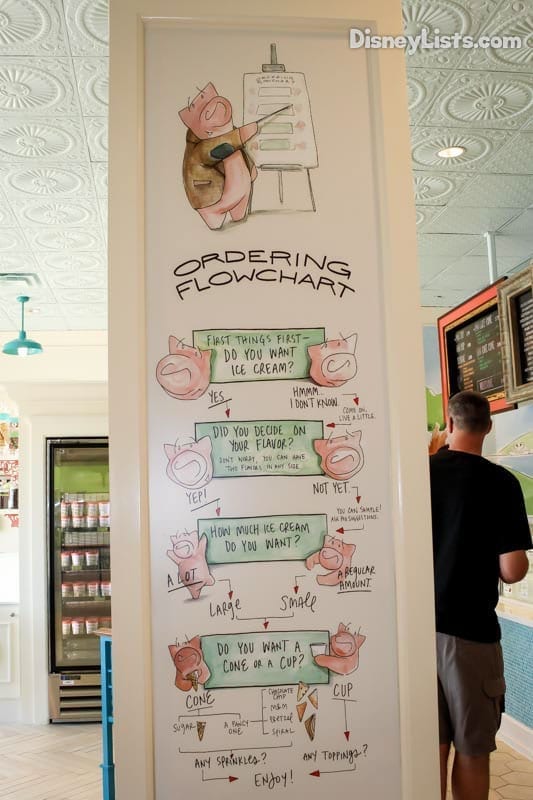 3 – Plenty of Options
If you can't decide on just one flavor, you can have two flavors in any size. You can get your ice cream in a cup or a variety of cones. Cone flavors include cake, sugar, waffle, M&M cones and even a chocolate chip cone. Sizes are small (which would be considered a "regular amount") and large (which is considered "a lot"). Sprinkles, whipped cream and other toppings are available. You can also order a sundae which includes a brownie of Oeey Gooey Butter Cake, hot fudge or caramel, any flavor of ice cream, rainbow or chocolate sprinkles, whipped cream, and of course, a cherry on top!
2 – Reasonable Prices for Hand-Crafted Ice Cream
Of course, one must consider the price and whether or not is a good value. Taste aside, (we'll get to that in just a bit), if it is not a good value, then you'll likely not want to bother. Is it worth, say, to leave Epcot and walk over for an ice cream treat? I believe it is. But then, I love ice cream. Prices start at $6.99 for a small cup and a large cup for $7.99. A waffle cone will cost $1 extra and the specialty cones (cookie, M&M, pretzel and chocolate chip) cost an extra $2. A Sundae is $9.99 and milkshakes are $8.49. This is expensive ice cream to be sure, but not wholly unreasonable for hand-crafted treats.
Let's compare the Creamery to the Plaza Ice Cream Parlor in Magic Kingdom. The Plaza serves Edy's ice cream. While nice, it's not exactly the best ice cream out there and I can get that in my grocery store. A sundae at the Parlor is $6.99. The $3 upcharge at Ample Hills Creamery is well spent on unique, amazing tasting ice cream. A more comparable ice cream shop might be L'Artisan des Glaces found in the French Pavilion in Epcot. Their Coupe du Dimanche, 2 scoops in a homemade waffle bowl, is $8.45. One scoop is $4.69 and two scoops cost $7.04. The creamery's prices are slightly more than the artisan ice cream shop. We feel the value is there when considering the taste and unique flavors. If you love ice cream, the extra dollars charged here will be well spent.
1 – It Tastes Delicious
Make no mistake, if the ice cream wasn't good, then it wouldn't be worth the money. Thankfully, Ample Hills Creamery lives up to its reputation. I know ice cream and I like to spend the extra money to get the best. This was some of the best ice cream I've ever tasted. I tasted the Ooey Gooey Butter Cake in a waffle cone and it was amazing. I purchased the small and was satisfied. I'm certain I could have finished a large, but a small was plenty. On another visit, I enjoyed the Nonna D's Oatmeal Lace in a sundae and it was unique and delicious. The Ooey Gooey Cake that you can add to your sundae is absolutely delicious. It's similar to a butter pound cake in flavor, except it's the best tasting vanilla butter cake I've ever had. Other customers were also pleased with their samples and ice cream. Everyone was remarking on how good it was!
So, whether you want a quick excursion from Epcot or want an excuse to visit Disney's BoardWalk, make sure to visit the Ample Hills Creamery! We're certain you won't be disappointed!
Update from Chad: This place will redefine your understanding of great ice cream. I had the Putter Pecan Brittle ice cream and it was plain and simple the best ice cream I've ever tasted. I also ate some of Cindy's Ooey Gooey Brownie Sunday. The Ooey Gooey brownie was crazy good. I'm pretty sure something illegal is going on here because ice cream shouldn't be this amazing.
For a no obligation, FREE Quote on a Disney vacation package, please contact our travel partner Magical Vacation Planner at 407-442-0227 (407-442-0215 for Spanish). You can also request a FREE quote online by Clicking HERE.