Many guests who enjoy a Walt Disney World vacation love to spend plenty of time in the parks enjoying attractions and exploring lands. In addition to the fantastic attractions and entertainment found in the Disney Parks, there are also some excellent dining options for guests to indulge in. The Magic Kingdom is no exception and is home to some fantastic snack options which guests love to nibble on while enjoying the park. From ice cream treats to seasonal desserts, there is a snack unique to the Magic Kingdom that is sure to please even the pickiest of eaters. Here are the eight best snacks to enjoy while visiting the Magic Kingdom!
Editor's Note: During the phased reopening of Walt Disney World, not all restaurants have reopened. Be sure to check the My Disney Experience app for up to date hours.
1 – Dole Whip
One of the most popular snacks that is exclusive to the Magic Kingdom combines refreshing ice cream and delicious fruit for a treat that is a favorite of many guests. Dole Whips are served up at Aloha Isle in Adventureland and come in pineapple flavor, vanilla, or a mix of the two. This favorite treat is a fantastic way to cool down in the park while still feeling mildly healthy since there is fresh Dole pineapple in each serving. Since Dole Whips are so popular, guests who want to enjoy one should be prepared to wait on a line at Aloha Isle no matter what time of day it is!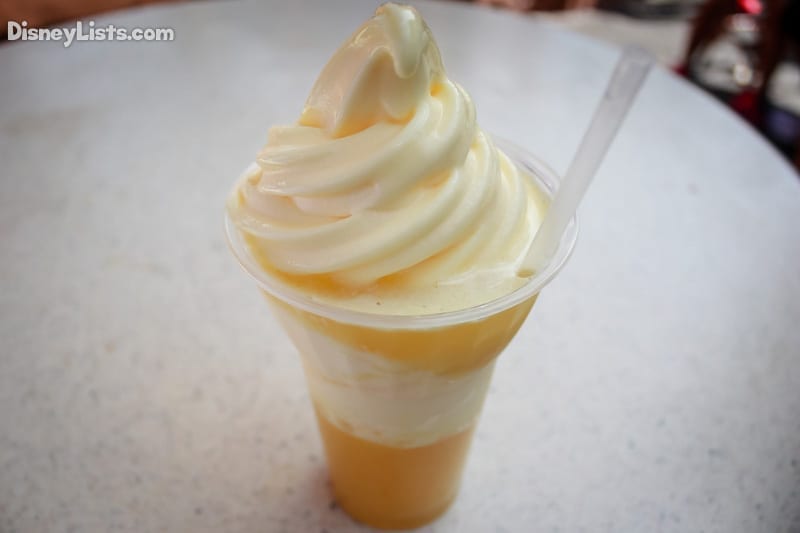 2 – Citrus Swirl
Also found in Adventureland is another location which serves up a tropical ice cream snack that many guests love. The Sunshine Tree Terrace can be found next door to Walt Disney's Enchanted Tiki Room and serves up the favorite Citrus Swirl. This cooling treat combines fresh orange slush with vanilla soft serve ice cream for a tangy and refreshing snack to enjoy while wandering through the land.
3 – LeFou's Brew
While most people consider snacks to be items like ice cream, pretzels, or candy, there is a beverage in the Magic Kingdom, which is both sweet and tart, making it an enjoyable snack to sip on while wandering New Fantasyland. Guests who stop in at Gaston's Tavern can enjoy a masculine setting with plenty of antlers, leather, and images of Gaston himself while enjoying snacks and beverages. Guests looking to try a unique beverage as a snack can order up the LeFou's Brew, which combines frozen apple juice, toasted marshmallow, and passion fruit-mango foam for a drink that is both refreshing and fruity.
4 – Seasonal Cobbler
Columbia Harbour House in Liberty Square is a popular quick-service dining location in the Magic Kingdom, which offers a unique menu focused on seafood. Guests who dine there can enjoy a nautical setting and beautiful details in addition to an absolutely delicious snack. Columbia Harbour House always features a seasonal cobbler on their dessert menu that combines a creamy filling, decadent and flaky crust, and fresh seasonal fruit like peaches, apples, or blueberries.
5 – The Grey Stuff
Fans of the Disney animated classic film Beauty and the Beast must dine at Be Our Guest Restaurant in New Fantasyland. The location allows guests to dine inside the Beast's Castle in one of three opulently decorated rooms that make guests feel as though they have stepped into the film. Named after the song "Be Our Guest," the restaurant also serves up the legendary Grey Stuff, which, believe me, is delicious! The Grey Stuff is a decadent and rich frosting that can be found on an assortment of snack options at Be Our Guest Restaurant, including The Master's Cupcake as well as served by itself as a dessert option on the dinner menu. You'll also find the "Be Our Guest Presents The Grey Stuff Cupcake," at Gaston's Tavern.
6 – Ice Cream Cookie Sandwich
For guests looking to indulge in amazing ice cream snacks, the best place to visit in the Magic Kingdom is the Plaza Ice Cream Parlor on Main Street. One of the most popular items found there is the Ice Cream Cookie Sandwich, which sandwiches any flavor of hand-scooped ice cream between two freshly baked chocolate chip cookies. This perfect ice cream treat is big enough to share, but no guest will want to!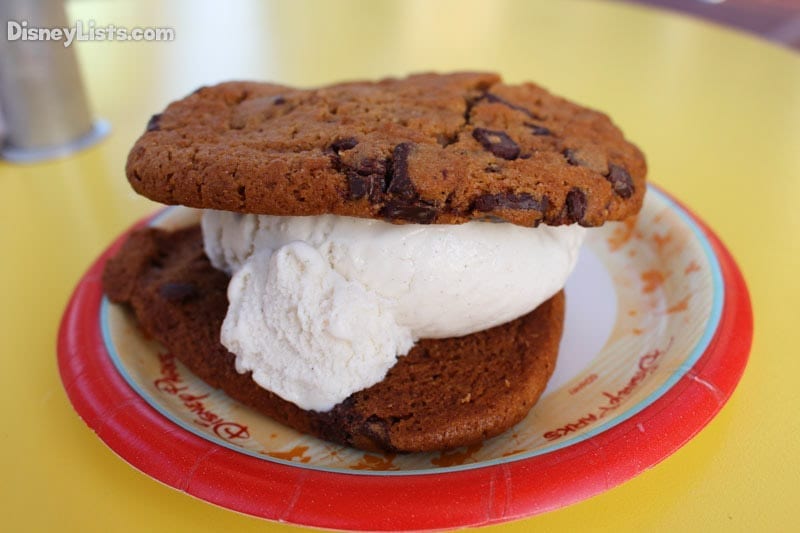 7 – Fresh Fruit Waffle Sandwich with Chocolate Hazelnut Spread
A great location to stop by for delicious and unique snacks in the Magic Kingdom is Sleepy Hollow. The quick-service location is found in Liberty Square between the hub and the Hall of Presidents and serves up delicious waffle options with a variety of fresh fruit and toppings to choose from. Perhaps the most decadent waffle option that guests can enjoy at Sleepy Hollow is the Fresh Fruit Waffle Sandwich with Chocolate Hazelnut Spread. The waffle features sweet chocolate, strawberries, bananas, blueberries, and a warm and rich waffle making it the perfect snack to enjoy in the Magic Kingdom.
8 – Plaza Ice Cream Sundae
In addition to the Ice Cream Cookie Sandwich, the Plaza Ice Cream Parlor also serves up the ultimate ice cream sundae for guests to indulge in while visiting the Magic Kingdom. The Plaza Ice Cream Sundae combines two scoops of any flavor hand-scooped ice cream with whipped cream, hot fudge, and a cherry all served up in a waffle bowl. With so many delicious toppings and flavors, the Plaza Ice Cream Sundae is the ultimate treat to enjoy in the Magic Kingdom!
For a no obligation, FREE Quote on a Disney vacation package, please contact our travel partner Magical Vacation Planner at 407-442-0227 (407-442-0215 for Spanish). You can also request a FREE quote online by Clicking HERE.