The Maharajah Jungle Trek is my favorite of the trails.  I love everything about the theme as well as the tigers and the bats.  These are such cool experiences that only Disney provides.  There are a lot of great facts and little extras that you may not know.  Here are some great facts and secrets about the Maharajah Jungle Trek:
8 – What's in a name?
"Maharaja" is the Indian word for a king or prince in India.  A tiger is a regal animal and highly regarded in the jungles of India as one of the most beautiful creatures. We have seen the tiger appear as a palace pet in Aladdin as well as a powerful villain in The Jungle Book.  They are a big part of the culture in India, which makes the name perfect for this walking trail in the heart of "Asia".
7 – The best time to visit.
There are a couple different strategies for visiting the Maharajah Jungle Trek.  One is to visit during the midday time frame when all of the other guest are at lunch or waiting in line for attractions.  Midday is usually around the busiest time of day for any Disney theme park, so it is a great time to meander the trail instead of waiting in line.  If seeing the tigers in action is your main motive, then you may want to visit the park about an hour or so before park closing.  If you do this then the tigers are more likely to be up and moving around rather than napping in the sun.  It is a great time to spend watching them and enjoying these beautiful creatures.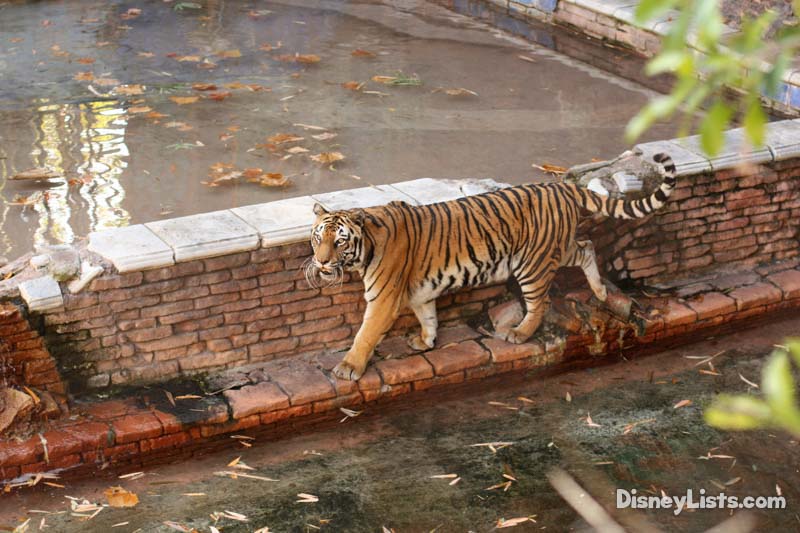 6 – Tigers are endangered.
Tigers are actually endangered animals, and Disney is working to help prevent these beautiful animals from becoming extinct.  It is a grave concern and would be a travesty to lose these animals forever, so Disney is putting a lot of effort into conservation and helping to ensure that the population of these beautiful big cats stay intact.  We have 6 tigers that are on out for guests to see at any given time at the attraction.
5 – No glass between you and the bats.
Yes, you read that right!  You enter into the area with the bats and there are no glass or screens standing between you and the bats.  The walls are open and you have a clear view of all of the bats in their environment.  Bats inherently have no desire to interact with humans and won't try to fly toward them or around them.  This is good for us, so we don't have to be afraid and we get to see them up close.  If you have a fear of bats, you are able to bypass this area and won't have to go in!
4 – Look at the pictures outside of the bat area.
These are real photographs that were taken of bats in real caves in Asia.  These were real photos that were taken for the exhibit.  If you keep looking, you will also spot the famous imagineer, Joe Rhode, with his own camera on the shoot.  He is one of the imagineers that was part of many of the attractions that were created.  He has also appeared in videos and documentaries on their creation and the history.
3 – Indian ruins are the inspiration for the trail.
The entire trail is themed after ancient Indian ruins to perfectly fit the theme of the area as well as the native homes of the animals that live on the trail.  The inspiration for these ruins came from architecture and history from Nepal, Thailand, Indonesia and India.  You can see this through the colors, buildings, animal carvings, etc. as they appear throughout the trail.  It makes the experience feel much more like you have been transported somewhere else and might actually be in this environment.
2 – Malayan Tapir used to be a part of the exhibit.
The Malayan Tapir, which is also known as the Asian Tapir, used to be a part of the trek.  The tapirs are extremely endangered.  They are one of only 4 species that are native to the Asian continent, which makes them extra special to Asia.  Their colorings are very distinctive as it almost looks like they have a white diaper on while the rest of their bodies are more of a black color.  Their coloring actually helps to make them look like rocks to predators when they are lying down. I haven't been able to find why they are no longer features on the trek, but they were there from when the attraction opened in 1999 until 2009.
1 – Interesting insulation.
Disney thinks of every little detail when they develop their attractions.  We love this about Disney attractions.  You will notice that as you enter the Maharajah Jungle Trek, newspapers from Anandapur are being used to line and insulate the building, just adding to the realism of Anandapur as a community and tying the entire area together with the attraction.
For a no obligation, FREE Quote on a Disney vacation package, please contact our travel partner Magical Vacation Planner at 407-442-0227 (407-442-0215 for Spanish). You can also request a FREE quote online by Clicking HERE.