Walt Disney Presents is located at Disney's Hollywood Studios between Voyage of the Little Mermaid and Toy Story Midway Mania toward the right side of the park once you reach the Chinese Theater.  The attraction has multiple parts. The attraction still holds a walking exhibit through various memorabilia and artifacts and another part being a film about the life of Walt Disney. Disney has recently added a meet and greet area as well as an area exclusive previews of upcoming attractions.  It is a must-experience attraction for Walt Disney fans and a great way to provide education to kiddos and teach them that Walt Disney was a real person with real innovative ideas.  Here are 7 facts and secrets about the attraction that you will want to know:
7 – Pay special attention to the clock.
There is a clock inside the walk-through part of the attraction for Walt Disney Presents.  You will notice that the clock isn't moving and is stuck on a particular time.  The clock is actually stopped at the time that Walt Disney was pronounced as dead on that sad day in December.  It was December 15, 1966 at 9:30 AM.  This is a poetic nod to Walt Disney, in that time definitely stood still when he left us and this tribute is in a perfect home within One Man's Dream.
6 – The Legacy Continues.
In 2010, the attraction underwent a refurbishment.  The attraction previously focused on all things Walt and the things that he worked on and contributed to while he was alive.  During the 2010 refurbishment a new section was added called The Legacy Continues that focused on accomplishments and efforts that were completed after Walt Disney's death.  Some of the exhibits that were shown were also changed up during this refurbishment as well.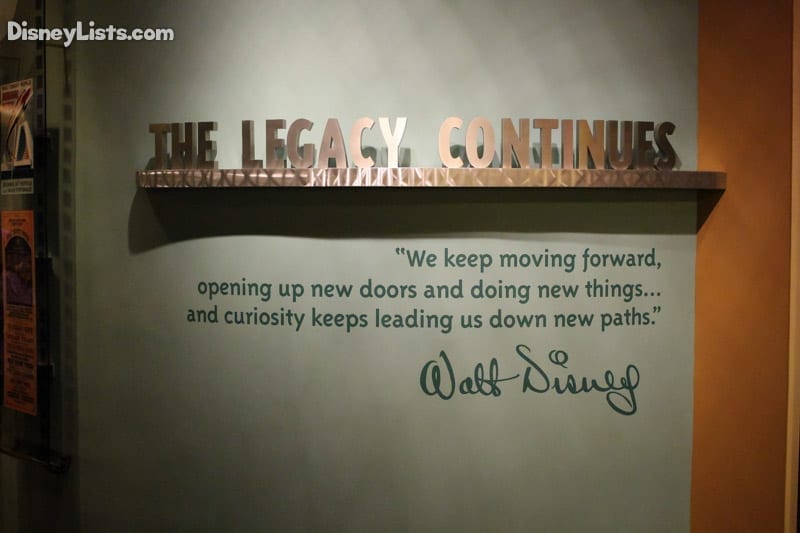 5 – The artifacts are 100% real.
The various exhibits and artifacts that you walk through in the attraction are very real.  These are real artifacts from the life of Walt Disney and the history of the family and company.  Examples of the artifacts that you can find there are the original audio-animatronic Abraham Lincoln figure from the 1964 New York World's Fair where it was first presented, Mickey Mouse club props and costumes, Mary Poppins costumes, videos and sound clips of Walt Disney and much more.  There are also models of various areas like Main Street, USA in Disneyland, Peter Pan's Flight ride vehicles, Sleeping Beauty Castle in Disneyland Resort and Disneyland Paris Resort, Tree of Life, etc.  Every Walt fan will be amazed at all of the great things that you get to see and experience.  You feel a little bit like you got to experience a little more of the man behind the mouse.
4 – Check out Walt's school desk.
If you look closely at Walt's desk, it is the real desk from when he was in second grade.  If you look closely at the desk you will notice that the initials, "W.D." are carved into the desk.  A youthful Walt carved his own initials into the desk and at that time little did anyone know that the desk would end up on display for us to pay respect and appreciate one of the most innovative and successful men in history.  He was successful for so many different reasons, and his perseverance was definitely a huge factor in all of this success.
3 – There is a test!
OK, so don't freak out or start sweating… it isn't a formal test, but there is a little bit of a quiz that you can take if you would like to.  You just have to know to take the quiz.  You can ask one of the cast members at the attraction if you can take the quiz.  The cast member will ask you a series of questions regarding information that you would have been able to learn within the attraction.  If you get them all correct, then the cast member will give you a certificate for successfully completing the quiz and mastering the Disney trivia!
2 – The artifacts and exhibits traveled a long way.
All of the different memorabilia and exhibits that are on display were from the Walt Disney Family Museum as well as from Disneyland in California.  In order to display them at Disney World in the Walt Disney Presents exhibit, they had to all be carefully shipped to the location.  These are priceless irreplaceable items, so they had to be handled with care.  They were all shipped via Federal Express on an Airbus A300.  The airbus was designated as the Spirit of Imagination.  All of the artifacts made it to the location and have been enjoyed by thousands and thousands of guests ever since.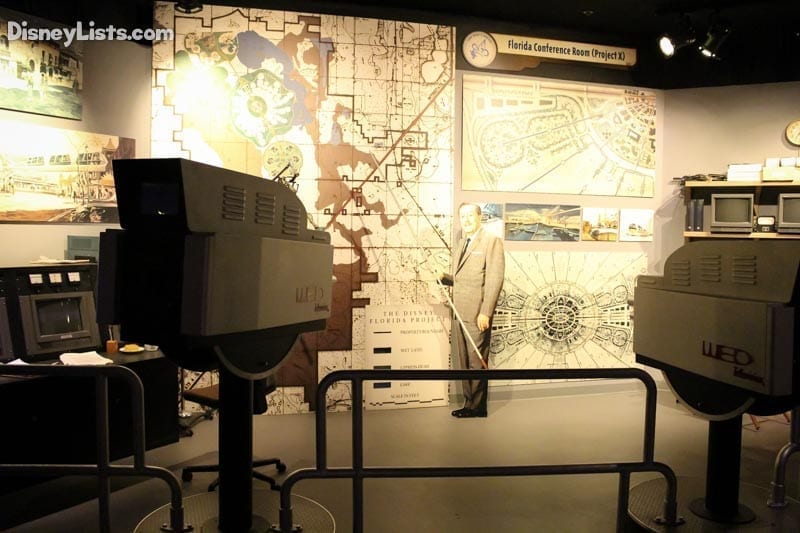 1 – The amazing film at the end of the attraction is a must-see.
It would definitely be a mistake to bypass the film at the end.  I tear up every time hearing about the times where Walt hit rock bottom but wouldn't give up and keep pushing until he reached his dreams.  What's even more amazing is that he wouldn't stop there, he would have new dreams and was constantly an innovator.  The film covers all of this and gives you a lot of the background.  When the film first opened, it was narrated by Michael Eisner, who used to be the CEO for Disney.  It has since been re-recorded and is now narrated by Julie Andrews, which is very fitting since she portrayed the beloved Mary Poppins.  Mary Poppins held a special place in his heart because of a promise that he made to his daughters, and his favorite song in the entire world was "Feed the Birds", which was written by the Sherman brothers for the film.  Definitely don't miss this one!
Editor's Note: this film isn't always playing. Disney will also use the theater to preview upcoming films.
For a no obligation, FREE Quote on a Disney vacation package, please contact our travel partner Magical Vacation Planner at 407-442-0227 (407-442-0215 for Spanish). You can also request a FREE quote online by Clicking HERE.