Huge news! Disney has announced the reimagining of Splash Mountain both at Disneyland and Magic Kingdom! Catch the details below.
Here are all the details from Disney Cast Member Michael Ramirez:
Today we are thrilled to share a first glimpse of a project Imagineers have been working on since last year. Splash Mountain – at both Disneyland park in California and Magic Kingdom park in Florida – will soon be completely reimagined. The theme is inspired by an all-time favorite animated Disney film, "The Princess and the Frog." We pick up this story after the final kiss, and join Princess Tiana and Louis on a musical adventure – featuring some of the powerful music from the film – as they prepare for their first-ever Mardi Gras performance.
Tiana is a modern, courageous, and empowered woman, who pursues her dreams and never loses sight of what's really important. It's a great story with a strong lead character, set against the backdrop of New Orleans and the Louisiana bayou. In 1966, Walt himself opened New Orleans Square when it became the first new "land" added to Disneyland park, so it feels natural to link the story and the incredible music of "The Princess and the Frog" to our parks.
The voice of Princess Tiana and Tony Award-winning actress, Anika Noni Rose, shared, "It is really exciting to know that Princess Tiana's presence in both Disneyland and Magic Kingdom will finally be fully realized! As passionate as I am about what we created, I know the fans are going to be over the moon. The Imagineers are giving us 'The Princess and the Frog' Mardi Gras celebration we've been waiting for, and I'm here for it!"
The approach to retheming or "plussing" attractions (as Walt Disney referred to it) begins with Imagineers asking the question, how can we build upon or elevate the experience and tell a fresh, relevant story? It's a continuous process that Imagineers are deeply passionate about. And with this longstanding history of updating attractions and adding new magic, the retheming of Splash Mountain is of particular importance today. The new concept is inclusive – one that all of our guests can connect with and be inspired by, and it speaks to the diversity of the millions of people who visit our parks each year.
Charita Carter, the senior creative producer leading the project at Walt Disney Imagineering shared, "Like Princess Tiana, I believe that courage and love are the key ingredients for wonderful adventures. I am delighted to be a part of bringing this fun-filled experience to our guests."
For Imagineers, change is rooted in a tradition set by Walt Disney who encouraged new innovations, new ideas, new scenes and current storytelling. And the experiences they create can be enjoyed by guests who visit our parks from all over the world.
As part of the creative development process, conceptual design work is well underway and Imagineers will soon be able to conduct preliminary reviews and develop a timeline for when the transformation can start to take shape.
Stay tuned for more!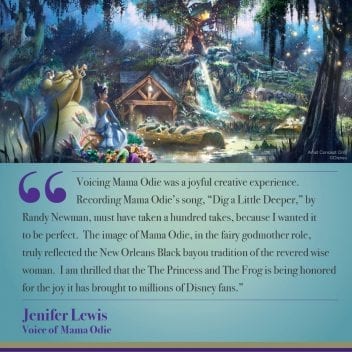 RELATED ARTICLE: 6 Facts and Secrets About Magic Kingdom's Frontierland
by Christy Caby
Frontierland is the area of the Magic Kingdom where you can experience the "wildest ride in the wilderness" and a lot of other rootin' tootin' fun!  The theme taken from the "wild west" is a lot of fun and is an experience that you won't find many other places.  Here are 6 really great facts and secrets about Frontierland:
6 – Frontierland was a concept of Mr. Walt Disney, himself.
Walt was a major driving force behind the creation of Frontierland at Disneyland, which is the same theme and concept that we also have in the Magic Kingdom at Disney World.  "Frontierland.  It is here that we experience the story of our country's past.  The color, romance and drama of frontier America as it developed from wilderness trails to roads, riverboats, railroads, and civilization.  A tribute to the faith, courage, and ingenuity of our hearty pioneers who blaze the trails and made this progress possible."  Walt Disney (1955).  I don't know about you, but I think I appreciate Frontierland even more than I already did!
5 – There are multiple Frontierlands around the world.
Frontierland is in many of the Disney theme parks.  We would definitely believe that this is likely because of the fun nature of the land and the influence that Walt had on its creation.  There is a Frontierland at Disneyland in California, which is the very first Frontierland.  Then we have the one at the Magic Kingdom in Florida.  There is also one at Tokyo Disneyland, Disneyland Paris, and Hong Kong Disneyland.  The attractions and experiences vary from park to park, but the theme for the lands is the same.  It was not a land that was included for the opening of Shanghai Disneyland, but we never know what the future will hold.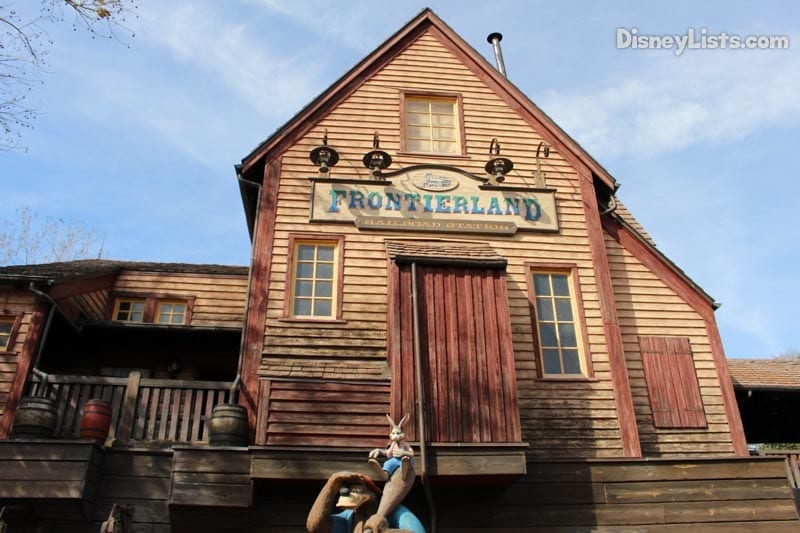 4 – Opening day Magic Kingdom Frontierland attractions.
Frontierland was one of the lands that was part of the Magic Kingdom for the opening in 1971.  When the park opened, Frontierland opened with 3 attractions.  The attractions were the Walt Disney Railroad (a station for guests to enter/exit the land and see more of the land from the train), Davy Crockett's Explorer Canoes and Country Bear Jamboree.  Davy Crockett's Explorer Canoes is no longer in existence and closed in 1994, but the other 2 attractions are still in operation at the Magic Kingdom today.
3 – New attractions were added over the years.
Since the park and land first opened, there have only been a few attractions that have been added.  The first was Tom Sawyer Island, which first opened in 1973.  It took 17 more years before another attraction was added to the area.  Big Thunder Mountain Railroad finally debuted for guests to enjoy in 1980.  It took another 11 years before Frontierland would see another major attraction, which was the addition of Splash Mountain in 1992.  Since then there haven't really been any additions to Frontierland, so maybe now that Fantasyland has received such an overhaul, Frontierland will get a turn for a new attraction for guests to enjoy.
2 – Splash Mountain caused much more construction than just the ride.
When Splash Mountain was constructed there was a TON of work that had to be done in order to prepare the area for the new attraction.  The entire area where the attraction sits had to be demolished, including the Walt Disney World Railroad train station.  The area that was demolished was the entire western end of the land, except for the area where Big Thunder Mountain sits.  The attraction was then built, along with a brand new two-story train station for guests to enjoy the Walt Disney World Railroad.  A new parade road was also built so that parade cars could enter and exit in the land.  This parade route is still used for parades at the park today.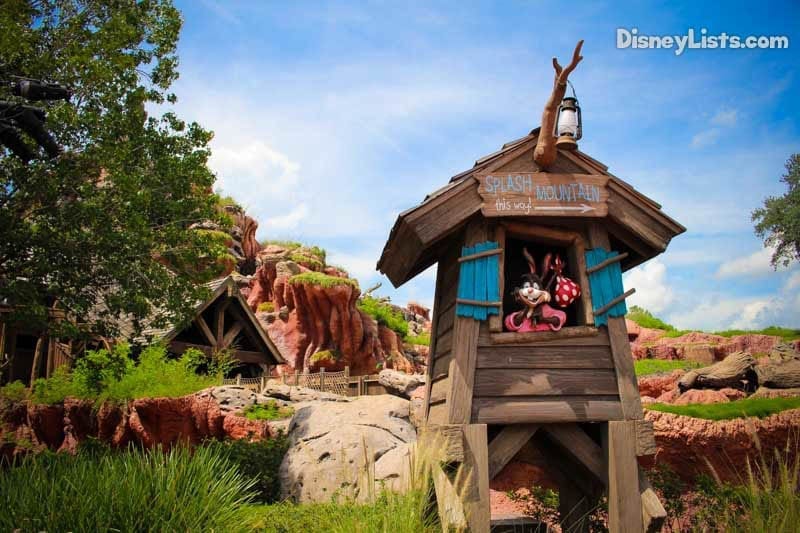 1 – Dining in Frontierland.
There are only a couple of dining locations in Frontierland in existence today.  There is Pecos Bill Tall Tale Inn & Café, which is a quick-service restaurant close to Splash Mountain.  There is also the Diamond Horseshoe, which is a quick-service location for lunch.  The Diamond Horseshoe used to be a dinner show that was Western-style revue-type show that was part of the daily dinner service.  Over the years the restaurant has converted to a seasonal location that offers quick-service for lunch during peak seasons and will also open for a table-service dinner option, but without the Western dinner show.  There used to be a restaurant on Tom Sawyer Island that was very popular, but it has since closed.  It has also opened off and on seasonally, so we expect that it may return at some point in the future.
For a no obligation, FREE Quote on a Disney vacation package, please contact our travel partner Magical Vacation Planner at 407-442-0227 (407-442-0215 for Spanish). You can also request a FREE quote online by Clicking HERE.