No matter how you think about getting to Magic Kingdom, most people would agree–just get me there already! But getting into and out of Magic Kingdom isn't as easy as other parks. The parking lot is a mile away from the main entrance across the Seven Seas Lagoon. Because of its location across the lagoon, guests arriving by car are required to park at the Transportation and Ticket Center then travel by ferry boat or monorail before finally reaching Magic Kingdom. Blame Walt. He wanted it this way. He wanted a transition from reality to the world of fantasy. Some people love this. Some people hate it. Either way, there is a little extra effort involved in getting to this park, and there are lots of options. Particularly for first-time visitors, it's better to have a plan before you go. Over the years we've found some tricks and 'cheats' to use. Here are six tips for getting to and from the Magic Kingdom.
1 – Stay at a Magic Kingdom Area Resort
The easiest way to get in and out of Magic Kingdom is to stay at a Magic Kingdom resort where you have the option of taking the resort monorail, a resort boat or even walking. Note that these resorts, do not offer a bus service to Magic Kingdom. Your best transportation option depends on the resort you're staying at.
Disney's Contemporary Resort
The closest option is Contemporary. You can walk directly from the hotel across the street in just about five-ten minutes. Unless you have physical limitations, we do not recommend riding the resort monorail or taking a boat from the Contemporary resort–walk there. While it's on the resort monorail, we've heard many guests upset that they waited in a long line to get onto the monorail only to head in the wrong direction. The resort monorail goes in a clockwise direction. From Contemporary, it leads to the TTC, not Magic Kingdom. Instead of arriving at Magic Kingdom in about five minutes, it has now taken you thirty or more minutes because you rode the monorail in the wrong direction. Don't let this happen to you!
Disney's Polynesian Resort
This resort offers the benefit of being on the resort monorail line and also provides resort boat service. You'll have to decide which option you prefer. The choice is much like the other conundrum of monorail or ferry boat. Note that the resort boats usually come every 20 minutes, while the resort monorail will stop more frequently.
Disney's Grand Floridian Resort & Spa
This also has the benefit of being on the resort monorail line and also provides resort boat service. Like Disney's Polynesian Resort, you'll have to decide which option you prefer. However, since fall 2020 there is now another option! A pedestrian path was completed and is open so guests can walk directly to Disney's Magic Kingdom. The walk is about ten-fifteen minutes, depending on your pace. This is a fantastic option for guests, especially at night when the park closes and there is a rush for the monorail and boat launches.
Disney's Wilderness Lodge and Disney's Fort Wilderness Resort and Campground
Being located on Bay Lake, these resorts offer a resort boat to Magic Kingdom. Again, these boats usually come every twenty minutes. When leaving Magic Kingdom, riders beware. There are two separate queues at the dock, one for Wilderness Lodge and one for Fort Wilderness Campground. Here is a tip–regardless of what queue you're in if a boat arrives for the other line ask the crew which stops they will be making. Oftentimes, the boats will all make stops at all locations on the lake. The only difference being the order they stop at. If you've just missed a boat, it is usually faster to take the other and make one extra stop along the way.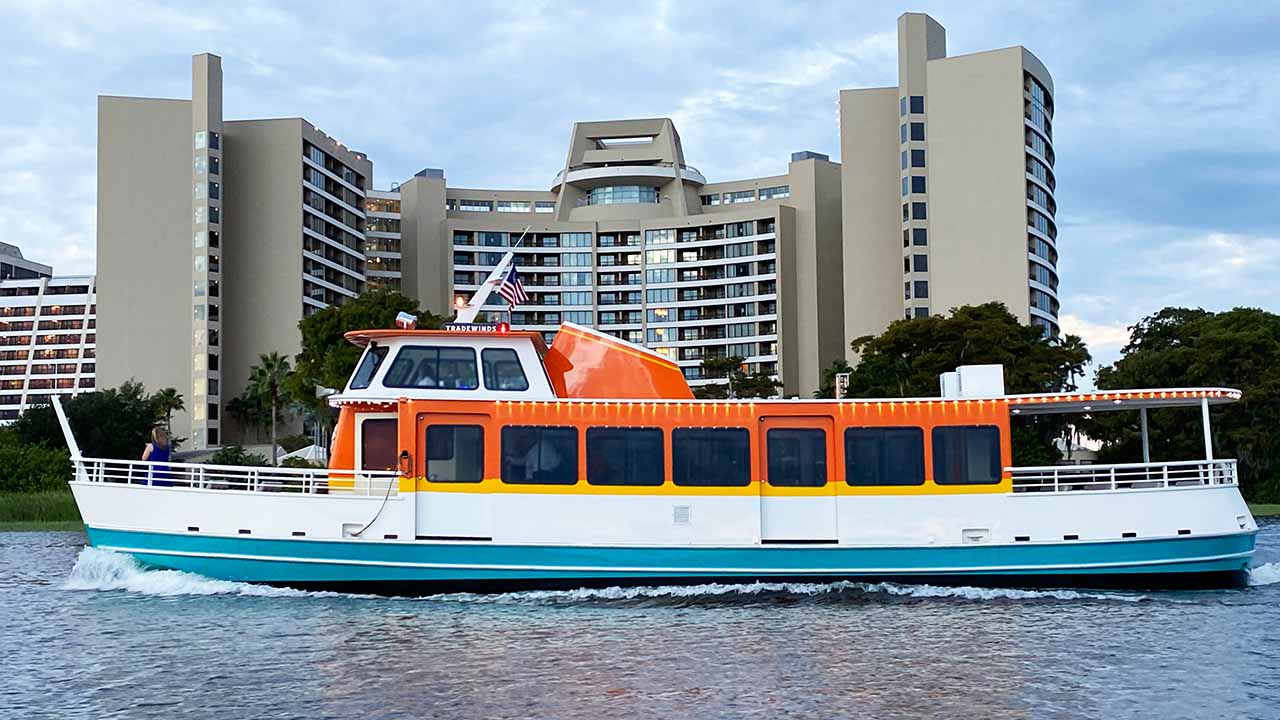 2 – Consider a Dining Reservation at a Magic Kingdom Resort
One "cheat" that many people use is combining a trip to the Magic Kingdom with a dining reservation at a Magic Kingdom area resort.  You are allowed to park in the resort parking for the day and leave for Magic Kingdom after your meal. Chef Mickey's at the Contemporary and Ohana's at the Polynesian there are popular character dining meals. Note that you really do need a reservation to be able to enter the parking lot. The security guard at the entrance will verify your reservation. We are not advocating lying here!
3 – Stay at a (non-Magic Kingdom area) Disney Resort
Disney resort guests can avoid the TTC altogether by using Disney resort buses. Each resort has at least one bus stop, and buses generally come every twenty minutes. If you are staying on property and have a vehicle, driving yourself to most places is usually the fastest option. The exception is Magic Kingdom. Because of the need to take a tram and then a ferry boat or monorail from the parking lot, taking a bus to Magic Kingdom is almost always faster than driving.
At peak exit times (right after the parade or fireworks), be ready to dash to the right bus line for your resort. Lines form fast and get long. The downside to the bus is during high traffic times, they will be especially crowded. Strollers need to be folded up, and many people will be standing. Courtesy seems to be a lost art, but consider offering your seat to the elderly, expectant mothers, and children.
4 – Park at the Transportation and Ticket Center (TTC)
For the rest of the mortals who arrive by car, you will be directed to the Transportation and Ticket Center or TTC for short. After you park, you will likely be directed to a tram that will take you to the TTC. The parking area at the TTC is enormous! Make sure you note what section you parked in and what row. If you have a camera on your phone, as most people do, take a picture of your row number (on the ground at the end of the row). You can quickly check where you parked at the end of a long day. Even if you can't remember where you parked, a parking attendant will help you find your car, if you can remember when you arrived. This is just one of the many ways Disney is awesome. They keep track of what rows they are filling at what times. If you know you arrived around 9:15 am, they will be able to tell you within a row or two where you parked.
TIP: Before you rush off, pause and take a photo of your row number (yes, we are repeating ourselves, but this is the #1 tip to avoid ending your day on a downer).
5 – From the TTC: Getting In – Monorail or Ferry Boat?
Now at the TTC, you have a choice. You can ride the ferry boat or the monorail. There really is no wrong choice here. The attendants will tell you the time is about the same for both options, although it doesn't really feel that way. On both the boat and monorail you may leave your young children in their stroller. There are many things to consider when choosing. Here are some questions to consider:
How long is each line?
Did you just miss the ferry boat? or monorail?
What is the weather like? Do you want to be outside on the boat, even though it's covered?
Do you want a great photo of Cinderella's Castle from the boat?
TIP: If you choose the monorail, be sure you get on the express rather than resort monorail. The resort monorail makes all the stops and is significantly longer. Also, to get the full experience consider choosing one going in and the other coming out.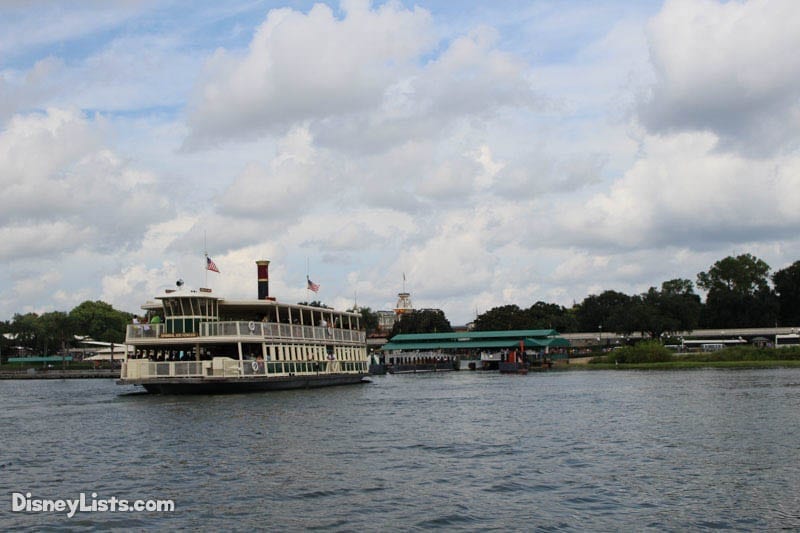 6 – To the TTC: Getting Out – Monorail or Ferry Boat?
When leaving Magic Kingdom, you have to ask yourself the same questions as above. But also consider how busy it is when you leave. If you leave at 5:00, you can pretty much choose whichever option you feel like riding. However, if you leave after the parade, fireworks, or closing, you'll be leaving with many people eager to get out there! Be prepared for long lines, standing room only, and hot tempers. In our unofficial poll, most recommended taking the monorail in and taking the ferry boat out. While the ferry boat line may often look scarier, consider the fact that the boats hold significantly more people. The ferry boat will probably be faster if both lines are about equal.
There are a few "cheats" that you can use to bypass some of the crowd. First, consider taking a resort boat to the Polynesian resort. The Polynesian is only a short walk to the TTC. We have done this in the past and have saved significant time because we were able to board the resort boat immediately. Some people also like to take the resort monorail (as opposed to express monorail which goes directly to the TTC). You'll stop at the Contemporary, but if the express monorail line is crazy long, this can get you to the TTC quicker. Be aware that during especially busy times, Disney cast members may prevent you from boarding the resort monorail if you aren't staying at one of the monorail resorts.
Regardless of how you get there or how long it takes, the trip to Magic Kingdom is worth it. For the record, I'd swim the Seven Seas Lagoon if necessary.
For a no obligation, FREE Quote on a Disney vacation package, please contact our travel partner Magical Vacation Planner at 407-442-0227 (407-442-0215 for Spanish). You can also request a FREE quote online by Clicking HERE.