It's a good thing that calories don't count when you are visiting Walt Disney World because Disney Springs it about to get a whole lot tastier. Disney Springs announced that Gideon's Bakehouse is opening a new bakery in The Landing at Disney Springs. Catch all the details below.
Here are all the details from Disney Cast Member Kelsey Noland:
Like most people I know, I try to eat healthy the majority of the time but treat myself to occasional indulgences when they're worth the splurge! One of my favorite places to find some sweet treats here in Orlando is Gideon's Bakehouse, which is why I'm so excited to share this small, award-winning bakery is opening a new location in The Landing at Disney Springs!
Anticipating to open later this year, Gideon's is best known for small-batch, handmade, almost half-pound cookies (yes, you read that right, half-pound) and cakes. Not only does their size make these cookies so special, Gideon's brings its own spin to cookie flavors like Peanut Butter Crisp, Cookies & Cream and my absolute favorite, Pistachio Toffee Dark Chocolate.
"This opportunity is truly a dream come true and will allow us to flex all of our creative muscle in both desserts and décor. We're passionate, inspired, and ready," said Steve Lewis, owner and creator of Gideon's Bakehouse.
Gideon's plans to bring an expanded menu of cookie and cake slices to Disney Springs, plus add its own line of unique iced coffees, like the Original Peanut Butter Iced Coffee. Of course, guests can expect to find their favorite cookie flavors along with new and limited editions offered during special daily releases. The ever-popular Coffee Cake Cookie (previously only available one month a year) will be on sale every morning, with a Hot Cookie Hour each evening for those looking to cure a sweet tooth after dinner.
"We're also excited to bring more cake flavors to our new location, offering never-before-seen creations like our special line of Double Frosted Cakes." Steve said. "There are more than a few secrets we have up our sleeves that you'll just have to wait to see. It's not Gideon's if it isn't a little dark and mysterious." We aim to even make the wait in line entertaining by immersing everyone in a transformative environment that will share our story as guests progress toward the counter."
Guests can also look forward to collectible art becoming a part of the product packaging at the new bakery, which will be located in The Landing across from Jock Lindsey's Hangar Bar. The new Gideon's location is being created with health-and-safety considerations in mind and its operation will model similar guidelines in use elsewhere in Disney Springs.
Keep an eye on the Disney Parks Blog for future updates. In the meantime, be sure to follow Gideon's Bakehouse on Instagram at @gideonsbakehouse for drool-worthy desserts!
RELATED ARTICLE: Top 11 Bakery Treats at Disney World
by Mike and Jamie Sylvester
Is it just us or does your inner child come out when stepping foot into a bakery? We aren't sure if it's the sweet smell or the enticing appearance of sugary goodness… but yes, we can't contain our joy! Now double that with the fact that it's a Walt Disney World bakery and it's a perfect, sugary fountain of youth. Try to contain the drool on your computer or phone as we check out the top 11 bakery treats at Disney World.
11 – Donuts@ Joffrey Donuts
While it's not technically a "bakery", Joffrey Donuts is a great kiosk to stop by for one of the most popular bakery items around the world… DONUTS! We always make sure to stop by one of the Joffrey kiosks in Epcot – one located outside the main entrance and one on the way to Mission: SPACE. You can't miss these massive and colorful donuts that are literally as big as our children's faces.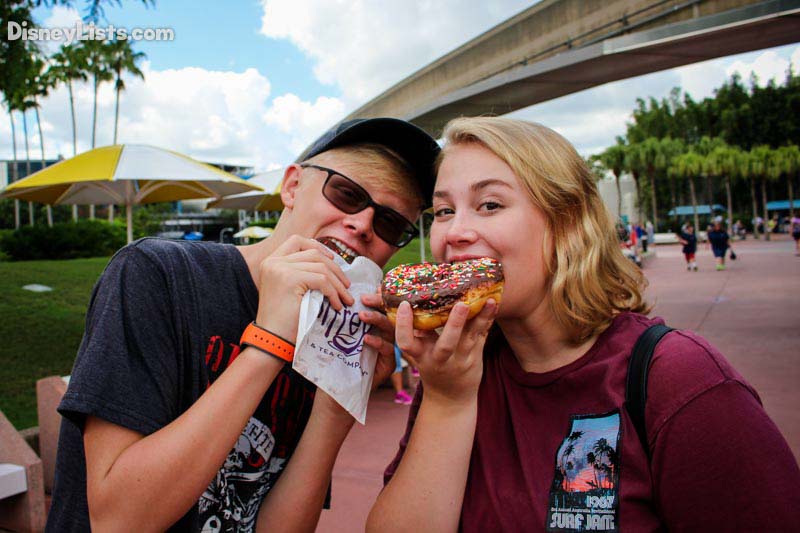 10 – Scones @ Main Street Bakery
What's better than walking down Main Street U.S.A. at Disney's Magic Kingdom? Walking down Main Street U.S.A. with a bakery treat in your hand! Stop by Main Street Bakery which is mostly a Starbucks stop. Don't let the routine Starbucks steer you away from here, however, as the bakery treats alone are worth a visit. Cake pops, cookies, and croissants hit the menu here, but the scones top our list. Scone selections change, but if you get a chance to taste the Blueberry Scone, we'd recommend that one!
 9 –  Sweet Breads @ Kringla Bakeri Og Kafe
Maybe you're a bakery fan, but not always a fan of sweetness overload. Sometimes we tend to lean towards the side of baked bread. Kringla Bakeri in Epcot's Norway Pavilion has exceptional sweet bread options including their popular School Bread as well as delicious Norwegian Kringla (sweet pretzels). Just the right amount of sweetness!
8 – Cinnamon Rolls @ Kusafiri Coffee Shop & Bakery
You've likely had cinnamon rolls, but have you had Disney's cinnamon rolls? There are a few locations to snag this bakery treat including the well-known Cinnamon Rolls at Gaston's Tavern in Magic Kingdom. But, try the Colossal Cinnamon Rolls over at Kusafiri in Animal Kingdom to experience "colossal" taste bud happiness.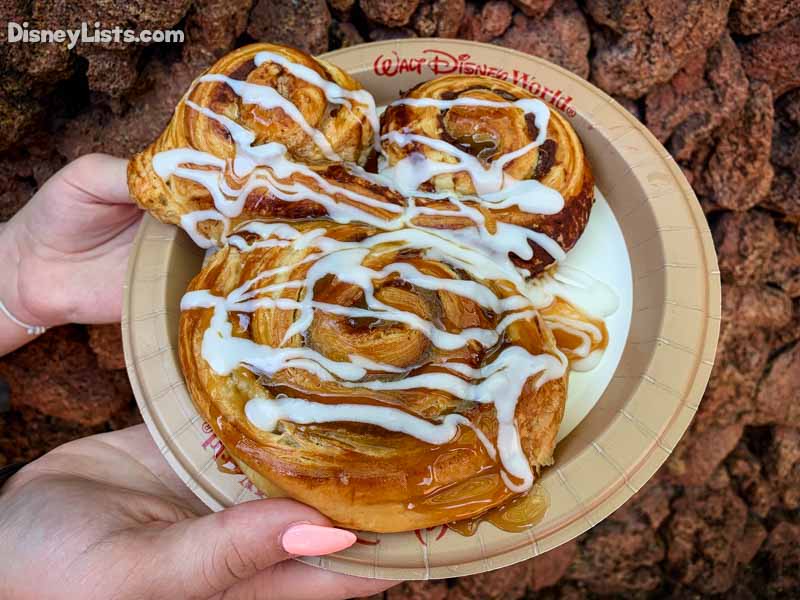 7 – Brownies @ Karamell-Kuche
You can't go wrong with a brownie. Chocolate compacted together for that ultimate richness in every bite – YUM! Brownies can be found at several bakery spots around Walt Disney World but the best bakery to taste these gems is at Karamell-Kuche in Epcot's Germany Pavilion. Of course, their brownie options typically include a twist of caramel in them since that's what Karamell-Kuche is known for… but this just makes it all the better!
6 –  Macaroons @ Les Halles Boulangerie-Patisserie
After such a rich brownie, look for a lighter bakery treat. Keep in mind, Macaroons can be a dangerous treat as they are light enough in taste to make eating several of them an easy task! Our favorite Macaroon stop is Les Halles in Epcot's France Pavilion. This is one bakery stop you don't want to pass up.
5 – Gluten-Free, Vegan & Kosher Treats @ Erin McKenna's NYC Bakery
Prefer to indulge in a gluten-free, vegan and kosher bakery treat? Erin McKenna's NYC Bakery has you covered! It's amazing to taste sweet treats like cupcakes, cookies, donuts, brownies, and breads without all the extra ingredients. For our Celiac member in the family, discovering this bakery was as exciting as Christmas morning!
4 – Cakes @ Amorette's Patisserie
It's Disney, so go ahead and have your cake and eat it too! No visit to Disney Springs is complete without a stop by Amorette's Patisserie in Town Center. Known for being a place where foodies flock, you can't help but immediately spot their case of cakes. Go with a large cake for a celebration with friends and family or enjoy a petit cake perfect for one. Either way you go – this will be a memorable bakery stop your taste buds will be sure to reminisce about for a long time.
3 – Cookies @ Main Street Confectionery
While technically the Confectionery is known as a "candy shop" and not a bakery per say, we must include this sweet treat because cookies are baked treats after all. One of our favorite things about the cookies at the Confectionery at Magic Kingdom is that they are always changing! There is always something new to try that matches the season such as special holiday cookies and even gingerbread cookies. Then, of course, they always have the "regulars" likes chocolate chip and sugar. Main Street and cookies? Sounds like a must-do to us!
2 – Cake Pops @ Big Top Treats
At first glance, Big Top Treats in Fantasyland at Magic Kingdom looks like a gift shop with a great spread of merchandise. But once you enter the circus tent, you'll spot the center of the tent which holds a display case of treats. This location stands out to us as one of the best places to select a cake pop of your choice! There are multiple cake flavors to choose from, each differently dipped in white or milk chocolate. They are then decorated in fun ways, shapes, and some even look like characters. Go ahead and snag a couple!
1 – Cupcakes @ All Throughout Disney World
I scream, you scream, we all scream for CUPCAKES?! Yep, cupcakes are THE must-do bakery treat to have right now at Walt Disney World. They've stolen the show as the trendiest bakery treat by booming in popularity on social media. Many Disney guests even do what is called the "Cupcake Crawl" around the different parks. So, what's the deal with all the cupcake showcasing? Well – for one, Disney's cupcakes taste amazing with their moist cake and sweet icing. Secondly, Disney has been pulling out all the stops by decorating cupcakes to match the trendiest happenings. New Disney films, characters, rides, or even merchandise? You'll likely find a specialty cupcake topped and colored to match it in one way or another. So, go ahead and plan your "cupcake crawl" and enjoy posting those photos to Instagram while you're at it!
For a no obligation, FREE Quote on a Disney vacation package, please contact our travel partner Magical Vacation Planner at 407-442-0227 (407-442-0215 for Spanish). You can also request a FREE quote online by Clicking HERE.