Calling all Princesses! Are you headed to Disney and have a Princess in the family? Check out these 9 things to do for a Princess day or vacation at Disney that will be unforgettable!
Editor's Note: We understand that with the phased reopening of Walt Disney World, some of the advice in this article may not apply if you visit while park hours are reduced, capacity limits and physical distancing are in place, and some of our favorite experiences—fireworks, parades, and character greetings—are temporarily suspended. (You can read everything you need to know about the phased reopening by clicking here). We will continue to share articles that give guidance on a "normal" vacation to Walt Disney World, along with any special changes or instructions you may need to be aware of during the phased reopening to provide the best tips we can regardless of when you are visiting. ~ Chad & Cindy
1 – Royal Invitation
Every princess needs a Royal Invitation for a grand experience! We suggest you begin preparing for your Princess vacation right from the very start. What better way than to let your Princess know about your upcoming trip to Disney than with a Royal Invitation?! You don't have to be fancy… but we can say every Princess enjoys glitter and royal colors! A simple written invitation personalized to your Princess will make her day.
2 – Princess Practice
Of course, your Princess doesn't need practice being a Princess, but why not have some fun preparing for your trip anyway! We suggest you and your Princess watch your favorite Disney Princess movies such as Cinderella, Snow White, Beauty, and the Beast, Princess Frog, Little Mermaid… the list goes on. You may also want to catch up on Sofia the First episodes from the Disney Junior Channel. Princess practice can also include dancing with a Prince (such as Dad, Grandpa, or a close friend) while listening to all your favorite Disney Princess songs!
3 – Royal Guest Rooms
Sorry, Cinderella's Castle is likely booked. However, where better to stay for a Princess than a Royal Guest Room? Check out Port Orleans Riverside for their availability and pricing to stay in one of their Royal Guest Rooms. These rooms feature royal colors, decorative headboards and pillows, elegant furniture, canopy drapes, genie lamp faucets, magic carpet designs on the floor, and even pictures of all your Princess's favorite Disney Princess friends. Your Princess will enjoy resting her sweet self for a little beauty sleep after a busy day at the park.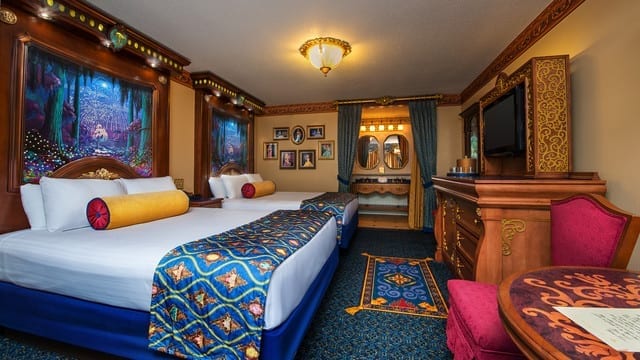 4 – Presenting Your Royal Princess
You have the resort room figured out, now it's time to have the Fairy Godmother declare your Princess as an official Royal Princess! Check out DisneyFloralandGifts.com for "Presenting Your Royal Princess" package. This package will be delivered and set up in your resort room at the time/date of your request. The package includes a Princess door banner, a personalized letter from the Fairy Godmother, and a large pink box with princess treasures inside – such as a tiara and magic wand! This specific package is around $425, but don't fret if you aren't looking to spend that kind of money. There are several packages from DisneyFloralandGifts.com that might be precisely what you are looking for to surprise your Princess!
5 – Bibbidi Bobbidi Boutique
Editor's Note: During the phased reopening of Walt Disney World, Bibbidi Bobbidi Boutique remains closed.
Surely, you knew this was coming! The all-time Disney must-do for your Princess is an experience at Bibbidi Bobbidi Boutique. Offered at three locations (Disney Springs, Magic Kingdom Park, and Grand Floridian), these boutiques provide your Princess with the ultimate Princess transformation experience. This beauty salon offers several Princess packages for you to select from for your 3 to 12-year-old. Hair, dress, make-up, and/or nails – select a package that works best for the budget and your Princess. The fairy godmothers in training are ready to make your Princess's dreams come true, then send them off with a little bit of fairy dust and a memory that will last a lifetime. While reservations are not required, we suggest you plan ahead and make reservations 180 days in advance by calling 407-939-7895. There are several Princesses out there, and we wouldn't want yours missing out on this experience due to a lack of a reservation.
6 – Princess Attractions
Editor's Note: During the phased reopening of Walt Disney World, character greetings and the Festival of Fantasy parade are temporarily suspended.
One of our top Princess attractions would have to be Enchanted Tales with Belle at Magic Kingdom. Join Belle and her enchanted friends for story time through a transformed space! Also at Magic Kingdom, you'll want to take a ride in a clamshell through Ariel's Under the Sea – Journey of the Little Mermaid, soar like Princess Jasmine on the Magic Carpet of Aladdin, and even ride on the Prince Charming Regal Carrousel. If she's a "brave" Princess (of course like Princess Merida!), snag a FastPass for Seven Dwarfs Mine Train and be sure to spot Snow White dancing with her friends at the end of the ride. You'll also want to catch Magic Kingdom's Festival of Fantasy Parade as well as "Mickey's Royal Friendship Faire" stage show in front of Cinderella Castle to see several princesses. Beauty and the Beast Live on Stage at Hollywood Studios is one of our favorites and surely your Princess will love it! Hollywood Studios also has The Voyage of the Little Mermaid show. Schedule time for your Princess to chat with all her favorite Disney Princess friends! Magic Kingdom and Epcot have most of the Princess Meet and Greet options so plan accordingly (including those FastPasses). And don't forget about meeting the beautiful Pocahontas at Animal Kingdom.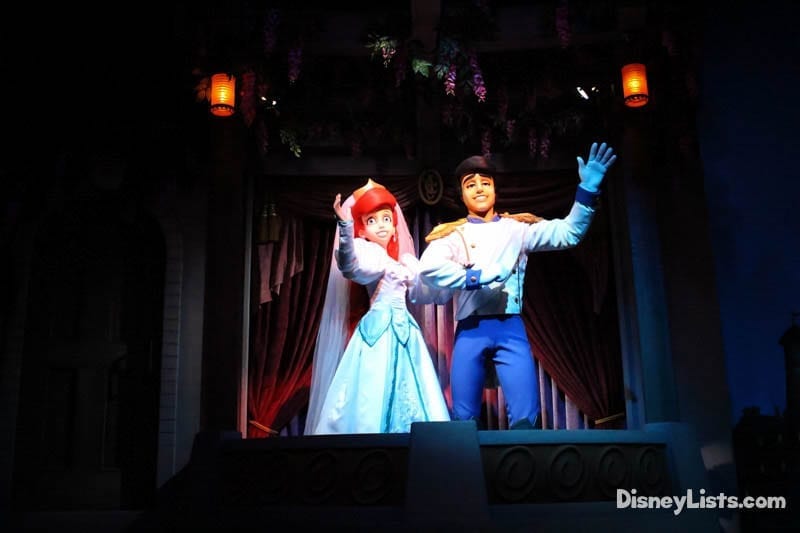 7 – Princess Dining
Editor's Note: During the phased reopening of Walt Disney World, the princess dining options listed below are temporarily unavailable. 
Cinderella's Royal Table is our top pick for the full experience of dining like a Princess! Located in Cinderella Castle at Magic Kingdom, this dining experience is like no other at Disney. Being in the castle, meeting several princesses, and eating this royal food is incredible. Book your dining reservation as soon as possible as Cinderella's Royal Table does fill up fast! We also enjoy Akershus Royal Banquet Hall located in Norway at Epcot. This is a bountiful buffet and of course, you are surrounded by princesses! Bon Voyage breakfast at Trattoria al Forno at Disney's Boardwalk is a fantastic option because it features not only princesses but also their princes. Last but not least – located in the Garden View Tea Room at the Grand Floridian, you're Princess has an unbelievable opportunity to enjoy Perfectly Princess Tea! Storytelling, Princess packages, and elegant tea and treats await your Princess at this location. There are so many options out there for your Princess to experience dining in a royal way!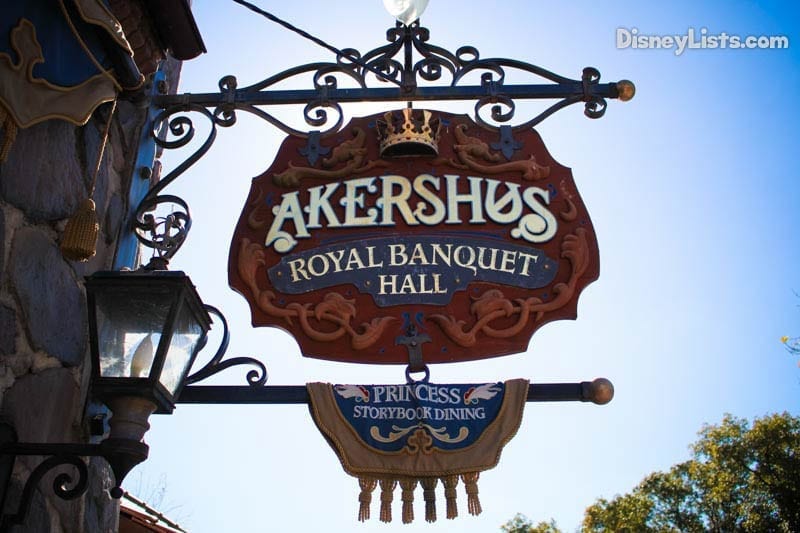 8 – Princess Shopping
Wands, jewelry, shoes, dresses, tiara, dolls… where does it all end? Well, it doesn't! Every corner you turn at Disney, you'll spot something your Princess would love to have. Check out Magic Kingdom gift shops for a numerous supply of Princess accessories and toys. Disney Springs is another great place to go shopping and get lost in what seems like miles of Disney Princess items! There is no shortage here – just remember, unfortunately, the Fairy Godmother doesn't use her pixie dust to pay off that credit card when you return home! A unique Princess gift idea – Disney Princess Trading Pins. You'll find several options for a Princess lanyard, and Princess pins at any location pins can be purchase. It's just something besides the typical princess gear.
9 – Your Carriage Awaits
End an evening or even your Princess vacation with a horse-drawn carriage ride! Carriage rides are available at Disney's Fort Wilderness Resort & Campground as well as Disney's Port Orleans – Riverside. Sit back, relax, and listen to the clomping of the beautiful horse's hooves as you explore the sights. Princesses will love this experience, but this one is for the parents as well! And no worries, no carriages have turned back into pumpkins as far as we know.
We hope some of these Princess vacation opportunities inspire you to have a magical and charming time at Disney World!
For a no obligation, FREE Quote on a Disney vacation package, please contact our travel partner Magical Vacation Planner at 407-442-0227 (407-442-0215 for Spanish). You can also request a FREE quote online by Clicking HERE.