Heading to Hollywood Studios? We have just the place for you to dine and enjoy some entertainment all at the same time! Check out these 5 things you need to know about Sci-Fi Dine-In Theater Restaurant.
1 – Atmosphere
Once inside Hollywood Studios, head towards Commissary Lane. Located on the corner, next to the quick service location, ABC Commissary, you will find a colorful and retro Sci-Fi Dine-In sign. There is a small atrium with a hostess stand upon entrance. The Cast Members are dressed in comfortable, casual clothing with an apron wrapped around their waste – much like you would see a carhop dressed. When your table (car) is ready, you will be guided down a long hall. It's as if you're entering a time machine! The Sci-Fi Dine-In Theater will take you directly back to a drive-in movie theater during the 50s. Dim lighting and starlit scenery provide the allure of the night, making you forget about the time of day. You'll understand why as you can't miss the enormous theater screen! Clips of movies from the 50s era are what's on tonight. You'll see black and white shows, spooky thriller-style movie previews, a comedy skit here and there, and a few music clips. Watch out for aliens as they seem to come to life on the big screen – keeping the "Sci-Fi" Dine-In true to its' name. The noise level is slightly loud from movie clips playing, but we were surprised that you don't hear many voices in the restaurant. Either the movie is loud enough to cover the sound, or folks are merely interested in the shows! We didn't find the volume or screeching monsters to be an issue when listening to our friendly server when placing our orders.
2 – Seating
50s style cars, of course! Most of the seating is facing forward towards the screen within a vehicle that has three booth seats (instead of the typical 2 benches you find in a car). If you are a family of four, you may be seated in one car – two in the front seat, and two in the next seat or back seat. Talking to one another can be tricky at this restaurant, so we don't recommend it if you are dining with a friend you are trying to catch up with conversation wise. It is, however, a fantastic restaurant if you are seeking a tasty meal with a show. Also note, if you are a party of two, you will likely be seated in a car with other couples or families. Just no kissin' back there! Towards the back of the restaurant, there are a few tables that stand on their own much like a normal diner-style table. Some of these tables provide seating to face one another but still have that 50s car style look. If you have a large group dining as Sci-Fi (more than 8), you should expect to be seated at separate tables as they may need to seat your family in different cars. Small side note – we've heard complaints that the car booths may be a little tight on the stomach area for some folks. If you think this may be an issue for you or someone in your party, request a table towards the back upon check-in at the hostess stand. This was you will be able to move your chair away from the table for more comfort.
3 – Food Selection
Delicious American cuisine with dine-in flare! The lunch and dinner menu are almost identical and include burgers, ribs, sandwiches, salad, steak, and more. We love that we can choose if we'd like to eat heavy or light at Sci-Fi although the portions are bountiful. The burgers are typically the way we go – it just matches the atmosphere perfectly. Of course, the onion rings appetizer is always on our must-order list. And our favorite part – dessert! We recommend the home-made Sci-Fi Candy Bar or the Glazed Donut. We love how unique both of these are! Adults – Sci-Fi has a great variety of adult beverages such as the Orbiting Oreo. Ok, we'll stop there… what else can we possibly say about food to follow Orbiting Oreo!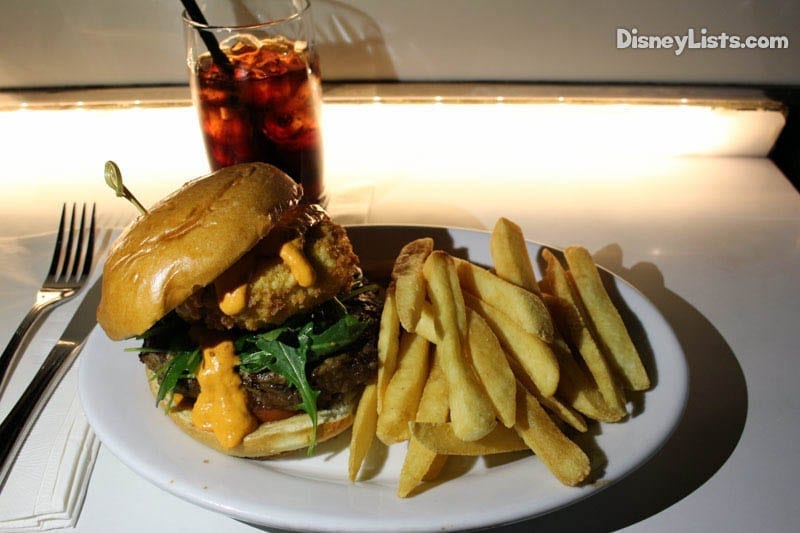 4 – Advance Dining Reservations
Located in Hollywood Studios theme park, you must have a valid park ticket to dine at Sci-Fi Dine-In Theater. Whether you are planning on dining for lunch or dinner, we highly recommend making an advanced dining reservation. If possible, book the morning your 60-day advanced dining reservation opens (online at 6:00 am or by phone at 7:00 am). The sooner you make your reservation, the better chance you have at getting in for the day and time you are seeking. We've personally experienced that Sci-Fi can be tricky to make a reservation for a larger party. Use that advance dining reservation window and book as soon as possible.
5 – Tips
We've dined at Sci-Fi Dine-In Theater multiple times, and each experience is slightly different. There are a few tips we'd like to offer that seem to be reasonably consistent. First, once you've checked in at the hostess stand for your reservation, expect to wait, possibly even past your reservation time. This restaurant is always busy, and while they turn tables quickly, it is understandable that sometimes the timing doesn't work out perfectly. Second, if you have a young one, encourage them to sit in the driver's seat of your car if possible. Your server may just offer him or her their very own Sci-Fi driver's license! Another note for young ones – the large aliens, blobs, and monsters may be slightly scary for them. If this is the case, you can always keep them distracted somehow while the short clip finishes up. Just let them know it's all pretend, silly fun! Our last tip would be regarding the bathrooms. Sci-Fi Dine-In shares a bathroom with the quick service restaurant, ABC Commissary. This setup definitely isn't our favorite, as these bathrooms are almost always busy and rather small. If you have to go, give yourself plenty of time to wait in line to use a stall. This may be a random tip, but we strive to keep you informed about even the littlest of details!
We hope this article helps you get the most out of Sci-Fi Dine-In! Pull-on in, grab a bite, tremble in monster fear, and speed back out to enjoy the rest of your day at Hollywood Studios.
For a no obligation, FREE Quote on a Disney vacation package, please contact our travel partner Magical Vacation Planner at 407-442-0227 (407-442-0215 for Spanish). You can also request a FREE quote online by Clicking HERE.