Planning
Smart Phone Know How for Your Disney Vacation
It's time. You've done your planning, you've made your reservations, you've traveled from near and far, and now you're ready to embark on your days around the resort and the parks. While there are many things to pack in your backpack to take with you, your smartphone is one of the best tools at your disposal.  We do advocate minimal screen time while on vacation so you can focus on family and relaxation, but Disney all but requires access to certain apps and tricks that will make your adventure a little easier.
Apps
Let's get right to it. There are an almost infinite number of Disney-related apps that you can use before and during your trip, but we'll share our favorites.
These apps are central command, so to speak. Disney's come a long way in developing this app and even provides free Wi-Fi in the parks to connect to it. This is the first app we go to when we need Disney information during our trip. You have park maps, can make dining reservations, organize/alter your FastPass selections, view PhotoPass photos, buy tickets and merchandise, and much more. This app is a must for anyone visiting the happiest place on earth. We highly recommend becoming very familiar with it before arriving on-site, so you're ready to go when you get there.
They say if you don't like the weather in Florida, wait five minutes. Especially true in during the spring and summer months, the weather can change on a moment's notice, but with The Weather Channel app, you'll be one step ahead before you even leave your resort. If you see the sky looking ominous, double-check the hourly forecast for your best chance to stay dry!
As we mentioned above, there are countless apps that you can use for park maps, wait times, food menus, etc. but most everything is now consolidated into the official Disney World app. You'll do a lot more downloading and use a lot of screen time switching between apps that do the same thing!
Charging Stations
…Aren't worth being tied down. Now, don't unfollow us because of such a blatant statement, but think about it – we've gone wireless for a reason! Find opportunities if you need them during meals (you can usually find an outlet if you get a table near a wall) or take advantage of the outlets in the baby care centers if you are already using those locations. Also, check with a Cast Member for a specific charging location. The Tangled bathroom area has some excellent charging stations if you are going to be resting for a while. However, we've found charging stations change fairly often, which is another reason we've cut the cord, so to speak. Otherwise, we don't recommend putting yourself on a leash. For about $10, you can buy a portable battery charger that will enable you to remain 'wireless' throughout the day. Using the Disney World app to change FastPasses during the day will wear down your battery quickly, so it's great to have portable power on the go!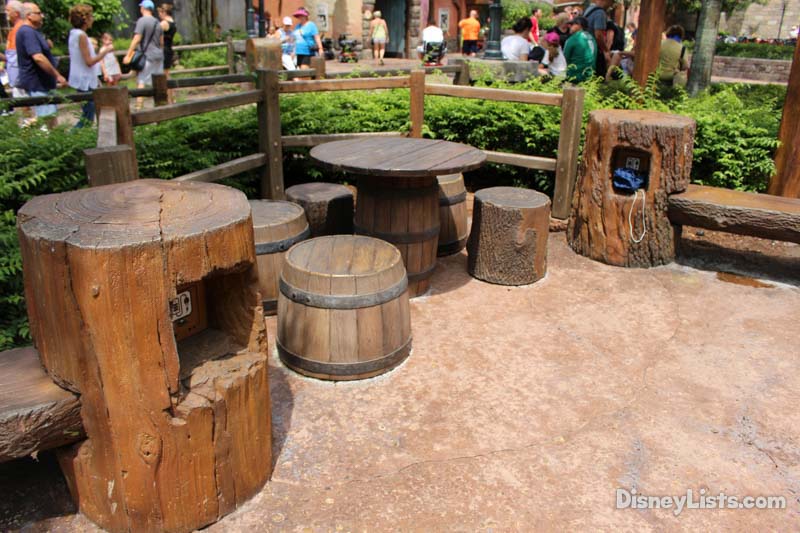 Cases
We are so torn on this we'll present both sides. First, for clumsy people like me (Mike), I always recommend protection over fashion. I recently upgraded my smartphone to a slimmer model and added a thin yet protective case. There are too many times I've almost dropped or have dropped my phone on the transportation systems or in the parks that I've appreciated the protection. My phone goes in and out of my pocket multiple times throughout the day using the various apps listed above, so it makes sense for me to go with a more protective case. Disney now allows you to customize phone cases with names, characters, logos, and attractions! Every time we visit the parks, I try to convince myself that I can take care of my phone enough to go with a more fashionable case (versus the OtterBox case I have now). This decision has to be left up to the individual – and I believe with some of the new Star Wars cases, I'll switch to the dark side soon! Have you customized your phone case? Share a photo and let us know!
Other Tips
Wi-Fi
All Disney parks and resorts now offer complimentary Wi-Fi access. Even the campsites at Fort Wilderness have Wi-Fi hotspots throughout the grounds.  Take advantage of the free data while using your apps – but don't be afraid to use your cell data for a quick dining reservation if the apps are running slowly.
Family Map or Find My
This may sound a bit creepy, which is why we didn't list it in the other apps, but Family Map is an app that can connect family members so you can locate them on a map. We've used this many times while in the parks to meet back up with people we've been separated from. This will also use data, so make sure you're on Wi-Fi when using it. The locations are usually very accurate and will help locate a family member. If you have an iPhone, you can use the Find My app that will locate any "friends" you've added to your list.
Again, there are countless apps and resources that can be used to enhance your Disney Vacation. These are just a few tips and tricks that help us get the most out of the technology in our hands. We take great effort to stay off our social media apps, away from work emails, even text messages that can wait until later. We recommend the same if you can. Use the time away to focus on family and fun. Are there apps or tricks that you find particularly useful? Please share – we're always looking for new ways to navigate the digital Disney!
For a no obligation, FREE Quote on a Disney vacation package, please contact our travel partner Magical Vacation Planner at 407-442-0227 (407-442-0215 for Spanish). You can also request a FREE quote online by Clicking HERE.