It should come as no surprise that as an entertainment company the Walt Disney World Resort is home to some of the best live performances around. If you're looking for Broadway-style musical performances, or maybe something a little more education about the world around us, there are plenty of options for different live performances at the theme parks. From classic family experiences to epic nighttime finales, read on to discover my top five picks for the best shows at Walt Disney World.
Editor's Note: During the phased reopening of Walt Disney World in 2020, the following live shows might have adjusted showtimes, and reduced capacity, or may not be operating.
5 – Beauty and the Beast Live on Stage
Hollywood Studios' live performance of Beauty and the Beast is one of the best family attractions in the park. For a park where thrill rides and shows are the name of the game, it can be tricky to find something that interests each member of the family. While I do not believe that Beauty and the Beast is the best live show at Walt Disney World, hence its location in the number five spot on this list, I do think that it is one of the best family attractions at Hollywood Studios. The show is a mix of classic Disney theme park entertainment and Broadway-style performances. It's a re-telling of the story from the film, so it has a sense of familiarity for guests, and can easily be entertaining for each member of the family. While it is an excellent performance, the primary reason why I've placed it at number five is simply because it's dated. If you saw the show in the 1990s when it first debuted, chances are it has not changed much over the years.
4 – UP! A Great Bird Adventure
There's a new show in Animal Kingdom, and we're wild for it! Senior Wilderness Explorer Russell and his furry pal Dug from Disney•Pixar's animated hit film UP join bird experts on a new adventure featuring encounters with birds from around the world. UP! A Great Bird Adventure replaces Flights of Wonder and provides a nice upgrade that should make the show more engaging for younger visitors. The birds perform tricks and beautiful flights for the two hosts who aim, along with Up stars Russell and Doug, to teach guests about the importance of conservation and preservation.UP! A Great Bird Adventure is truly a fantastic show that can't be missed in Disney's Animal Kingdom!
3 – Finding Nemo: The Musical
Finding Nemo: the Musical is one of the most surprisingly great shows at Walt Disney World. When I first learned of the show, and how they were going to take a non-musical movie and add original songs for the park's re-telling, I was worried the songs simply wouldn't work. To my surprise, the songs are excellent, so much so that I've actually purchased the soundtrack. The unique style of the show, including allowing the puppets and the puppeteers to be seen by the audience is another reason why this show is so special and unique.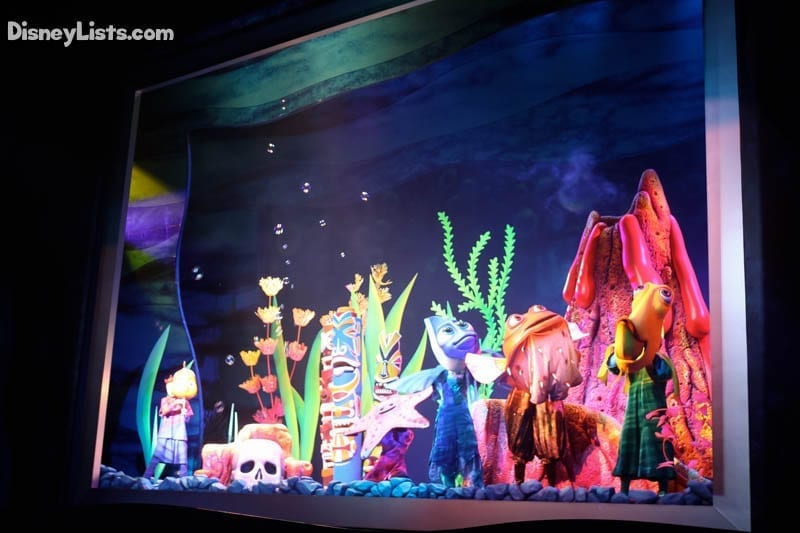 2 – Festival of the Lion King  
Festival of the Lion King has repeatedly been a fan favorite for live shows at Walt Disney World since its opening at Disney's Animal Kingdom. One of my favorite things about this show is that it is not a simple re-telling of the movie; instead, it is an entirely different celebration featuring some of the well-known characters from the film that we've all come to know and love. Another great feature of this show is the level of audience participation that is involved, which makes this an active experience for guests watching the show. As opposed to many other live stage productions, this show also features a wider variety of performers including fire breathers, and acrobats.
1 – Fantasmic!
Fantasmic! is the ultimate nighttime entertainment experience that is sure to wow everyone in your family. The original storyline, combined with water and pyrotechnic effects, and an excellent soundtrack makes this the best show in Walt Disney World. Whether you've spent the day in Hollywood Studios, or you're just showing up to catch that last performance of Fantasmic! there is no better way to end a day at Walt Disney World than relaxing and enjoying the epic finale in this performance.
Editor's Note: During the phased reopening of Walt Disney World in 2020, nighttime spectaculars, including fireworks shows, are temporarily suspended.
[smartslider3 slider=25]
For a no obligation, FREE Quote on a Disney vacation package, please contact our travel partner Magical Vacation Planner at 407-442-0227 (407-442-0215 for Spanish). You can also request a FREE quote online by Clicking HERE.