Disney World has some of the best theme parks, water parks, attractions, entertainment, and dining options in the world! However, there is so much more to do that tends to go unnoticed. Some of the very best memories we have of our Disney vacations fall under the recreational activities we took part in. Check out these top 8 underrated recreational activities at Disney World that shouldn't be missed!
8 – Walking/Jogging Trails
Ok, some of you are thinking – we've been walking non-stop while at Disney, why on earth would we want to do more! We hear ya, and for some, this is a recreational activity that might be one chosen to forego. We simply throw this one out there on our underrated recreational activity list because it really is a beautiful experience to explore the Disney Resort trails. Sightsee unmatched landscaping and gorgeous architecture that make Disney Resorts so unique.
7 – Surrey Bikes
Chances are you've spotted a surrey bike cruise by with a family behind the wheel if you have ever stayed at a waterfront Disney Resort. While most resorts have bike rentals available we suggest if you have the option, rent a surrey bike as a family! It's a fun (and somewhat hilarious if you are like our family) experience. 2, 4, 6-person surrey bikes are available. The BoardWalk Inn has surrey bike rentals, and we mention this resort specifically because of the vast space available for a surrey bike to explore the BoardWalk. Keep in mind you don't have to be staying at the resort to rent a surrey bike.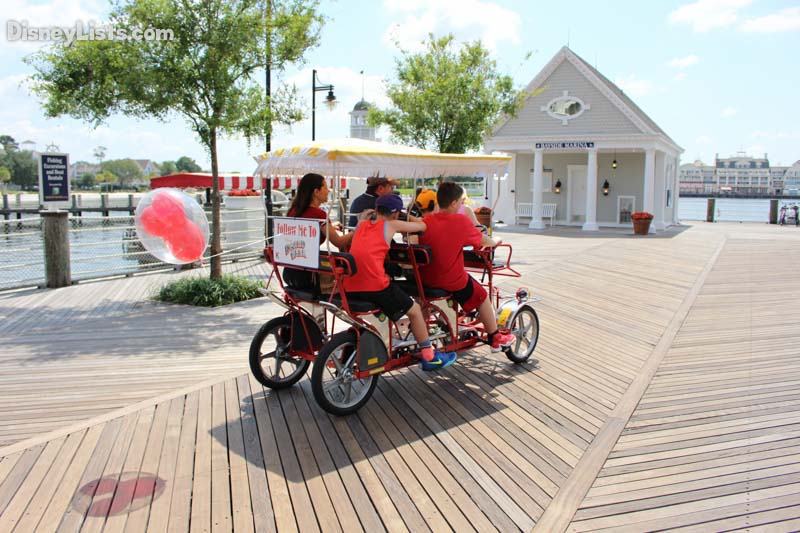 6 – Community Halls
Several Disney Resorts have what is known as a Community Hall. Some Community Halls are larger than others, but most all of them have roughly the same activities offered within. Resort guests are welcome to enjoy a variety of games that may be offered such as board games, foosball, ping pong, air hockey, or darts. Our children particularly enjoy the arts and crafts areas with markers, crayons, necklace making, and sculpture painting. Most crafts are free, but if there is a slight charge we've always felt the prices were reasonable. One of our favorite moments as a family was getting some resort food, heading back to our room, and watching a rented DVD from the Community Hall. It was the perfect thing to do as a family to rest on a rainy day!
5 – Beach Volleyball
Feel the sand beneath your toes as you spike the ball over the net! There are a total of 8 sand courts among the Disney World Resorts. A volleyball can be rented from the resort, all you need to do is find some friends or bring the family and have a great time. Some of the best memories are made in the small things you'll do as a family!
4 – Horseback Riding
Tri-Circle-D Ranch at Disney World's Fort Wilderness Resort holds sweet and stunningly beautiful horses that await your arrival to trot through some of Disney's vast forest areas. Trail rides, pony rides, carriage rides – all with some of the same horses used for grand entrances from Princesses during special events at Disney! We've personally had the opportunity to horseback ride at Disney, and we kept telling ourselves over and over again – we can't believe we are riding a horse at Disney World! It was an incredible experience and a great memory that will stay with us forever.
Editor's Note: During the phased reopening of Walt Disney World in 2020, reservations for extra experiences like trail rides are temporarily suspended. Reservations will resume at a later date. 
3 – Canoeing
Another underrated recreational activity at Fort Wilderness Resort that is worth the time is canoeing. Paddle down inlets throughout the resort and take in some breathtaking views! This is a great way to spend time with someone special while enjoying the sights of the inlets, bays, and lagoons.
2 – Miniature Golf
Disney World has two miniature golf options available on property – Fantasia Gardens and Winter Summerland. Both have awesome themes that keep the spirit of Disney within the miniature courses. Both locations have two 18-hole courses to select from. At Fantasia Gardens keep an eye out for Sorcerer Mickey. If you are visiting Winter Summerland, you may spot Santa and his elves! The courses are a bit challenging but it's still a great family fun activity that often goes missed!
1 – Resort Pools
The top of our list is the resort swimming pools! Disney has two fantastic water parks with splash pads, slides, and pool galore. But don't miss what is already complimentary to you at your resort! Disney Resorts have incredible pools, slides, hot tubs, and kiddie areas all with fun and clever themes to match the resort. We purposely plan for a resort day on our vacations so we have the opportunity to enjoy the pool and other resort recreational activities.
While planning your unforgettable Disney World vacation, don't forget about these 8 underrated recreational activities that we feel are worth the time!
For a no obligation, FREE Quote on a Disney vacation package, please contact our travel partner Magical Vacation Planner at 407-442-0227 (407-442-0215 for Spanish). You can also request a FREE quote online by Clicking HERE.