In addition to the four theme parks at Disney World there are also two water parks, Typhoon Lagoon and Blizzard Beach, each with their own distinct theming and attractions. During a Disney vacation it can be difficult to find the time to do all that you want, so if you can only visit one water park, which park should you visit? There is no right answer, and no one park is better than the other. It all depends on you, and which park you will enjoy more and will fit your vacation best. Here are five things to consider when picking which water park to visit.
Editor's Note: One of the water parks is usually closed for refurbishment. However, one will remain open to guests. 
5 – Theming
Typhoon Lagoon and Blizzard Beach, in some ways, have completely opposite theming. Both parks were hit by a storm, a typhoon, and a blizzard, but the outcomes were quite different. One has a tropical atmosphere, while the other has a wintery feel, but both themes are fantastic! Typhoon Lagoon was hit by just that, a big typhoon that tossed everything around and left things topsy-turvy, hence the boat suspended on the mountain. Blizzard Beach was the only ski resort in Florida that melted away into a water park but left behind remnants of the winter wonderland, like a chairlift and snow-capped mountains. Consider which theming sounds like more fun to you. Do you want to feel like you're in a tropical lagoon as you zoom down slides, or do you want to feel surrounded by snowdrifts?
4 – Typhoon Lagoon Activities
Typhoon Lagoon boasts the world's largest outdoor wave pool, the Surf Pool, which has 6-foot swells. You can either dive into the waves, float on them, or surf! Guests can book private/small group surfing lessons before and after regular hours. Miss Adventure Falls, Typhoon Lagoon's newest water attraction, is a family-friendly water adventure that replaced the popular Shark Reef. In a first for a water attraction in Florida, guests are transported in their rafts to the top of the slide. While traveling up to the top, guests will pass Mary's wrecked ship, where her parrot is talking alongside their treasures. This allows for a longer ride time and saves guests from climbing to the top of the attraction. From the top, the water adventure takes twists, turns, and dips. You'll see deep-sea artifacts that Oceaneer collected on her treasure hunts around the world! With a ride time of two minutes, it is the longest attraction at Typhoon Lagoon. This new attraction is a huge plus for Typhoon Lagoon.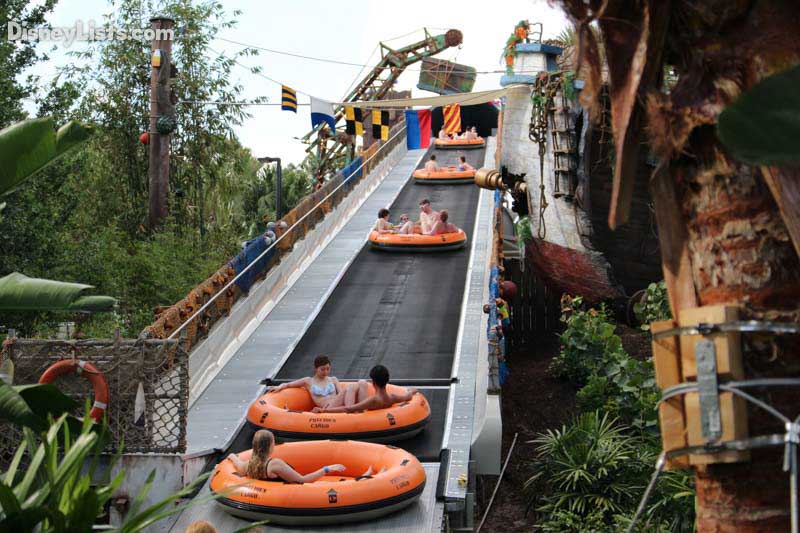 3 – Blizzard Beach Activities
Blizzard Beach has an amazing area for kids. At Blizzard Beach, kids and preteens can play in an interactive water park, the Ski Patrol Training Camp. They can challenge themselves to walk across floating chunks of ice while holding onto nets above for balance, race down four waterslides, or tackle the zip line!
2 – Food
Both water parks have a number of quick-service locations, but you won't find any table-service restaurants at either park. Both have very similar American cuisine, such as hot dogs, burgers, salads, and wraps, and they both serve beer, wine, and frozen beverages. Blizzard Beach does have one tasty snack that Typhoon Lagoon doesn't, and that snack is mini donuts! You can even get raspberry, chocolate or white chocolate dipping sauces. If fun and delicious snacks are important to you, you may want to give Blizzard Beach a point based purely on those mini donuts!
1 – Thrill Slides
Both Typhoon Lagoon and Blizzard Beach have amazing water slides, but some slides are unique to each park. For example, Typhoon Lagoon has an amazing 'water coaster' called Crush 'n' Gusher, which is made up of three slides that offer a different route down to the pool below. You can hop on board a double tube so you don't have to tackle this one on your own. The Crush 'n' Gusher has a water rafting feel to it as water jets propel you up and down the slides. Guaranteed, you won't find slides like this anywhere else, not even Blizzard Beach. But Blizzard Beach does have its own thrilling slide. Summit Plummet is one of the world's fastest and tallest free-fall body slides. This one you have to do all on your own, but you can celebrate surviving the big drop with your friends and family at the bottom. A good question to ask yourself is, which thrill is your more your style? If the water coaster appeals to you more, Typhoon Lagoon might be the right choice, but if conquering heights is what you crave, consider Blizzard Beach.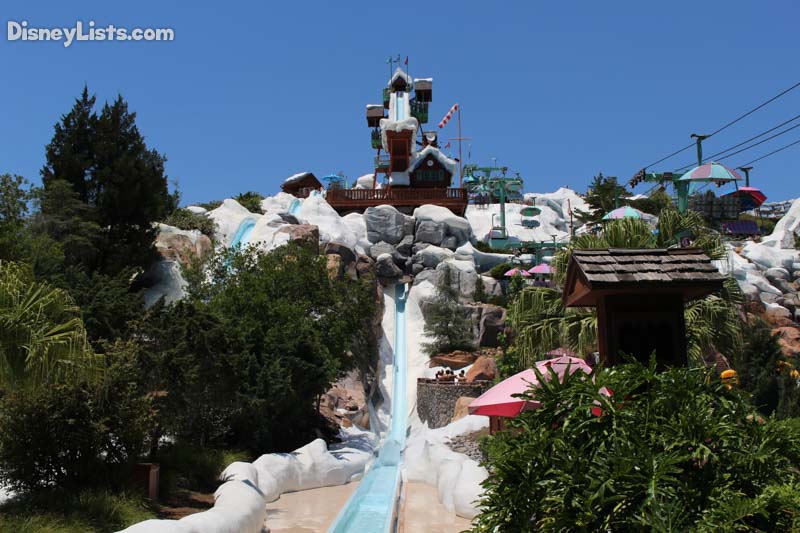 Verdict
Both parks have so much to offer guests. Both have numerous waterslides, tube slides, and body slides, and both have a group raft-style slide, their version of a lazy river, and a wave pool. It essentially comes down to your personal preference, which theme appeals to you more, and which unique attractions are calling out to you. Whether you visit Typhoon Lagoon or Blizzard Beach, you will find fun and Disney magic.
For a no obligation, FREE Quote on a Disney vacation package, please contact our travel partner Magical Vacation Planner at 407-442-0227 (407-442-0215 for Spanish). You can also request a FREE quote online by Clicking HERE.