There are so many guests out there that plan way in advance and get up super early to make their dining reservations the first day that they are available for them to book. (There is absolutely nothing wrong with this, and I definitely encourage it if you can.) This may not work for some of you for various reasons, but all hope is not lost. If you enjoy Disney dining and like to enjoy table-service meals instead of waiting in line at quick-service restaurants, you will likely be able to find something delicious to enjoy. In case you are skeptical or not sure what to expect, here are some of the best restaurants for last-minute reservations.
Editor's Note: At this time, not all restaurants have reopened. Be sure to check the My Disney Experience app for up-to-date hours.
9 – Landry's-owned restaurants
There are a few restaurants that are owned and operated by Landry's on Disney property. These are TREX and Rainforest Café at Disney Springs as well as Yak & Yeti and Rainforest Café at Disney's Animal Kingdom. These restaurants usually only put a certain percentage of their inventory in the reservation system that Disney uses. Many times you can call the restaurant directly and get a reservation, especially if you call a little early. Consider becoming a Landry's Club Select member (which costs $25, but you get it right back as credit on your next meal), and you get seated right away and move ahead of the line when you dine at a Landry's restaurant. We are VERY glad that we became members for this very reason!
8 – Disney Springs restaurants
Disney Springs has added so many amazing restaurants! This creates a lot of options outside of the parks. There are so many options that you usually don't have trouble finding a reservation for most of these options last minute, or even getting in on a walk-in. If you don't see availability online, then try calling the restaurant directly, and they may be able to add you in.
7 – Kona Café – Polynesian Village Resort
This is a favorite of ours since we love the food and can typically always find a same-day reservation. The restaurant is open for breakfast, lunch, and dinner, which are all amazing. The location is great, too, since Epcot and the Magic Kingdom are only a monorail ride away, so you can get right to the fun or take a small break from the parks without going really far out of your way from these parks.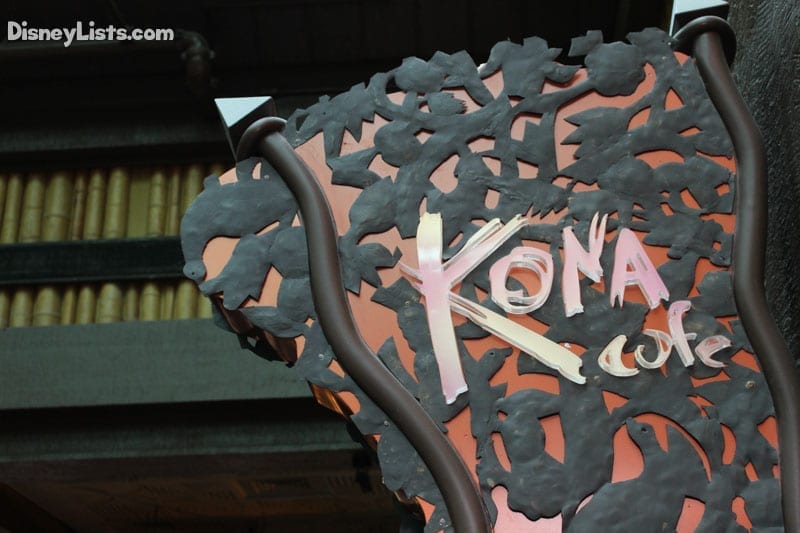 6 – Maya Grill – Coronado Springs
If you like Latin-inspired food, then you will definitely appreciate this location. The sweet corn casserole they serve with most entrees is AMAZING! The restaurant is only open for dinner, and you can usually find a reservation. There is even musical entertainment at dinner that makes dinner more like a show and romantic experience while you are serenaded.
5 – Sanaa – Animal Kingdom Lodge
This restaurant is so much fun and a very unique experience, but we never seem to have much of a problem finding a reservation here, especially at lunch, when we want to visit. The restaurant overlooks the savanna at the resort, so you get to peek on the beautiful animals of the savanna while you dine. You MUST order the bread service, as the naan is made fresh in the kitchen and served with a wide variety of African spreads to enjoy it with. You could fill up on this by itself!
4 – Olivia's Café – Old Key West Resort
The restaurant is charming and always easy to get into. The menu for the restaurant if very fresh and Florida-inspired, since the entire resort is themed after the Key West region of the Florida Keys. The resort doesn't have a ton of other entertainment to offer, but the restaurant is worth a visit over to the experience. The resort is beautiful, so take a stroll around the grounds and explore while you are there!
3 – Trail's End – Fort Wilderness Resort and Campgrounds
Many guests that venture over to Fort Wilderness Resort to dine (if they aren't staying there) are making their way over to Hoop Dee Doo Revue. Why not go over and check out Trail's End? You will find all of your comfort food favorites, and everything is all you care to enjoy. You could even try to get in and then check out the campfire at Fort Wilderness, which is a ton of fun!
Breakfast and Dinner are now served family-style, both offering a variety of foods. The breakfast offerings have been pared down, but still include Mickey waffles, fresh pastries, smoked brisket and eggs, cheesy potato casserole, and berry-granola yogurt parfait. Plant-based options are also available.
Dinner now consists of all-you-care-to-enjoy skillets featuring pecan-smoked brisket, rotisserie chicken, andouille, fingerling potatoes, corn on the cob, and green beans. For dessert, guests can enjoy a covered-wagon sundae—featuring a wagon-load of ice cream, brownies, cookies, and chocolate-covered bacon.
2 – Grand Floridian Café – Grand Floridian Resort & Spa
You can especially find openings fairly easily for breakfast and lunch at this location. The food is delicious and feels very high-end with moderate prices (for Disney anyway). The restaurant is open for all three meal services and is on the first floor of the Grand Floridian Resort in the main building. It is easily accessible from the monorail and provides a variety of options. Each member of your party is sure to find something that they will enjoy, plus you get to look around the most prestigious resort on property!
1 – Restaurant Marrakesh or Spice Road Table – Epcot, Morocco Pavilion
Depending on the time of the year, several of the restaurants in Epcot's World Showcase will be reasonably easy to get into, and you are very likely to get lucky and find something. Still, you can almost always find openings at the restaurants at the Morocco pavilion. The spices and flavors at these restaurants aren't loved by all, so sometimes there are passed over. This would definitely be a mistake. There are many options for all palates, and it is a great way to taste the amazing flavors and native dished from Morocco. The entertainment at Restaurant Marrakesh is also a lot of fun and an extremely unique experience.
Bonus Pro Tip:
No matter what restaurant you are looking for, you still have a chance to find it on last-minute reservations. I just did a quick search for dinner tonight and found Be Our Guest and Cinderella's Royal Table (two of the most popular restaurants on property) with an available reservation option! I always recommend that you try to book your reservations as early as possible, but if for some reason you can't, don't give up! Keep trying the weeks and days leading up to your vacation, including even the day of. You never know when you might get lucky and find exactly what you are looking for!
For a no obligation, FREE Quote on a Disney vacation package, please contact our travel partner Magical Vacation Planner at 407-442-0227 (407-442-0215 for Spanish). You can also request a FREE quote online by Clicking HERE.