Animal Kingdom is full of adventure, so get ready to set out and explore wilderness Disney style! Maybe it's been a while since you've visited Animal Kingdom, or maybe you've never been – you might just find yourself in need of these helpful explorer tips. Here are our top 10 Do's and Don'ts for Animal Kingdom.
Editor's Note: We understand that with the phased reopening of Walt Disney World, some of the advice in this article may not apply if you visit while park hours are reduced, capacity limits and physical distancing are in place, and some of our favorite experiences—fireworks, parades, and character greetings—are temporarily suspended. (You can read everything you need to know about the phased reopening by clicking here). We will continue to share articles that give guidance on a "normal" vacation to Walt Disney World, along with any special changes or instructions you may need to be aware of during the phased reopening to provide the best tips we can regardless of when you are visiting. ~ Chad & Cindy
Click here to learn more about visiting Disney's Animal Kingdom during the phased reopening. 
1 – DO Understand the Lay of the Land
It seems simple enough to browse a park map in advance, but many times we just assume we will easily catch on to Disney's theme park layouts and skip through the park with no worries. Animal Kingdom, however, is slightly different than the other theme parks. It's the largest theme park and, in our opinion, the trickiest to navigate. Broken down by "lands" like the other parks, Animal Kingdom is still spread out. Getting turned around is rather simple. For example, right as you enter the entrance gates, you are greeted with a decision to go left or right? Check out the park map in advance and have a handle on the layout.
2 – DON'T Skip Pandora – The World of Avatar
The newest land, the largest expansion in the history of Disney's Animal Kingdom, is based on Oscar-winning filmmaker James Cameron's record-breaking box-office hit, Avatar, which was released in 2009. The film was insanely popular, mostly due to Cameron's amazing special effects. Animal Kingdom's lush world of Pandora is set a generation after a great conflict, the Na'vi and humans are at peace, and the land is experiencing a rebirth. Pandora now welcomes Disney guests as eco-tourists. The land is an amazing spectacle of Disney Imagineering, creativity, and story-telling.
We'll admit, we've always been skeptical about the success of this land given the fact that the film is over a decade old. Also, while the movie was popular at its release, the film does not have the cult following of say, Star Wars or Harry Potter. However, Disney has pulled off an amazing experience that will stand on its own regardless of what has or will happen with the Avatar movie franchise. The short answer to "should I visit" is an absolute yes. Whether you are an Avatar fan or not, the new Pandora expansion is stunning. If you choose to skip the Pandora land because you aren't a fan of the movie, you will really be missing out.
3 – DO Appreciate the Culture
Editor's Note: During the phased reopening of Walt Disney World, street performers will not be performing.
Animal Kingdom is SO much more than just the rides and attractions! Disney's Imagineers have done a superb job making each area stand out from the other. From Africa to Asia, to DinoLand U.S.A. – there is so much to see. Be sure to look for the unique street performers, take photos of the incredible buildings, and even pause for a moment to appreciate the Cast Members with backgrounds from a variety of different continents.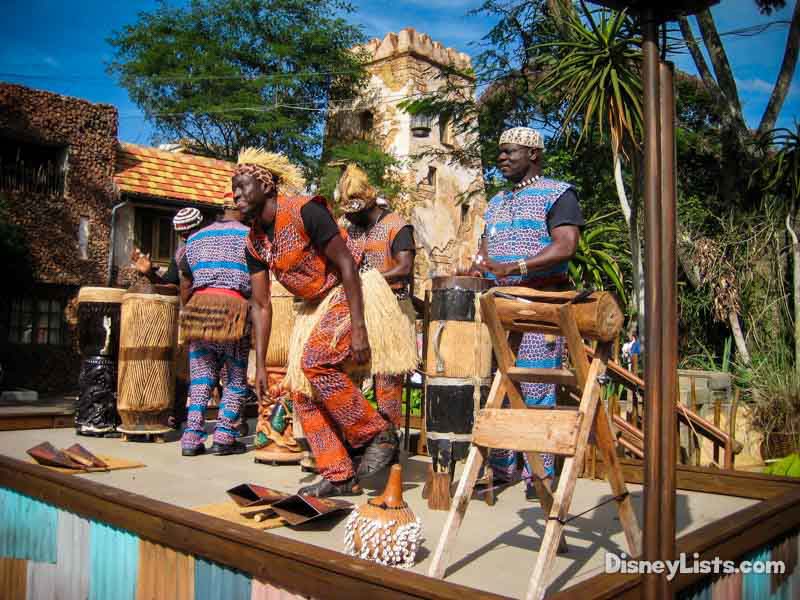 4 – DON'T Eat the Status Quo
It's tempting to stick with the usual macaroni and cheese and hamburger – but STOP… you are at Animal Kingdom! Give your taste buds the shock they are craving and change up your usual menu selection. Try the multiple flavors from around the world all within steps from one another. We can't say you'll absolutely love everything you try, but you are sure to taste a celebration of flavors at Animal Kingdom! Yak & Yeti Local Food Cafes and Satu'li Canteen in Pandora both feature food that is way beyond normal park fare.
5 – DO Stick Around 
Editor's Note: During the phased reopening of Walt Disney World, the Tree of Life Awakenings is temporarily suspended.
Enjoy evening entertainment Animal Kingdom style! Sure, they can't terrify the animals with fireworks, but that doesn't mean they won't make an evening show worth the wait. Stick around for a day at the park for the special nighttime sites and sounds such as the Tree of Life's Nighttime Awakening. As if the Tree of Life wasn't beautiful enough, see animals and colors glow on the huge icon. Also, a visit to Pandora – The World of Avatar in the evening is the perfect way to end the day at the park.
6 – DON'T Forget to Set the Alarm Clock
Yes, it's a vacation, and the thought of sleeping in is oh so tempting! Don't hit snooze on the early morning hours at Animal Kingdom. Arriving at park opening is a great way to beat the rush, the heat, and catch animals while they are the most active. It's also the best time to visit Pandora – The World of Avatar since you should see shorter wait times for the two new attractions: Avatar Flight of Passage and Navi River Journey. After you've explored through Pandora, we suggest heading over to Kilimanjaro Safaris. This way, you'll avoid major crowds and see the animals waking and eating – ready for the day!
7 – DO Reserve Table Service Restaurants
Editor's Note: During the phased reopening of Walt Disney World, Tusker House is temporarily unavailable. 
Dining reservations are important anywhere at Disney World, but we especially recommend them at Animal Kingdom. We've experienced more than once some of the table service restaurants accepting reservation guests only. With only four table service restaurants – Tusker House, Yak and Yeti, Tiffins, and Rainforest Café – making an advanced reservation will be helpful for an enjoyable table service meal at the park.
8 – DON'T Skip the Shows
Editor's Note: During the phased reopening of Walt Disney World, The Festival of the Lion King is temporarily suspended. It is set to return in summer 2021. Editor's Note: Unfortunately, the Finding Nemo cast are among the cast members who have been laid off. Disney retains the rights to call them back. We hope and expect at some point in the future when conditions permit they will be called back and the entertainment that is critical to making the parks magical will return. If you feel that the entertainment staff are a big part of making the magic happen, we encourage you to let Disney know how important the entertainers are to your experience.
It's tempting to ride Expedition Everest over and over again, but don't forget about the shows! We aren't necessarily a show type of family, but Disney's Animal Kingdom has yet to disappoint us. Festival of the Lion King and Finding Nemo – The Musical are absolutely fantastic. As many times as we've seen them, we just can't get enough! It helps to have a game plan of what showtimes you would like to hit so you can squeeze all of them in.
9 – DO Allow for Travel Time
Animal Kingdom is the furthest park from most of Disney's on-site resorts and most off-site hotels. It's worth the small amount of extra travel time, but just be smart about it and plan your time accordingly. A few extra minutes on the bus or by car won't be such a big deal if you don't have to rush in for your first FastPass or dining reservation.
10 – DON'T Ride Kali River Rapids First
We've made this mistake, so warn against it! Kali River Rapids is a fun water attraction that is definitely worth getting wet for. BUT – we highly recommend if at all possible, save this ride for the afternoon or evening. It's a great way to cool off, plus you won't be soaking wet at the start of your day! If this is a ride you know you are going on, you can plan accordingly by wearing a poncho on the ride, or plan to bring a change of dry clothes with you.
We hope these Do's, and Don'ts help make your day at Animal Kingdom an incredible one!
For a no obligation, FREE Quote on a Disney vacation package, please contact our travel partner Magical Vacation Planner at 407-442-0227 (407-442-0215 for Spanish). You can also request a FREE quote online by Clicking HERE.