Walt Disney World has renowned awareness of guests visiting with disabilities. From their DAS (Disability Access Service) for guests unable to tolerate standing in lines, to their support in renting an ECV (Electric Conveyance Vehicles) or Wheelchair… Disney thinks above and beyond their competition to best accommodate guests with disabilities.
We visited Disney World with an incredible friend of ours that has needed a wheelchair since she was young due to polio. We learned so much from our vacation with her, as she was in the "non-transferring" Disney category. Non-transferring simply means she is unable to get out of her wheelchair to walk a few steps to a ride or seat. She must remain in her motorized wheelchair.
1 – "The Royal Carriage"
One of the most interesting things we learned about our experience with our non-transferring friend was the way Cast Members would address her. We are sure Cast Members never meant this unkindly, but several times our friend was referred to as a wheelchair. Rather than addressing the human inside the motorized wheelchair, the wheelchair itself was addresses. For example, a Cast Member would say, "The scooter needs to be at the front of the party". An easy fix to this would be, "Ma'am, please be sure you are at the front of your party." The other side to that was having Cast Members ask the rest of us if our friend is able to transfer, instead of just asking her directly. While Cast Members have a load of work at hand, we wish they would focus on the person's personhood rather than the wheelchair that is an extension of them. Our favorite name for the wheelchair by a Cast Member was "The Royal Carriage" when we were dining at Cinderella's Royal Table. That was the best we heard all week! Again, it would have been great to refer to the Princess in "the Royal Carriage", instead of just the Royal Carriage.
2 – Resort Accessible Room
We stayed at Disney's Old Key West this visit and had no complications with receiving a wheelchair-accessible studio. The studio itself was the same size as the standard studio, but the bathroom had a roll-in shower instead of a tub. The bathroom felt small with a wheelchair in it and moving to the toilet wasn't as easy as it could have been constructed. One odd feature at Old Key West is its push-button to flush the toilet on the top of the tank lid. While this might be fun and creative for some guests, it was hard to reach from a handicap perspective. We were pleased with the second peephole in the room door at wheelchair height and the abundant handicap parking in front of our resort room.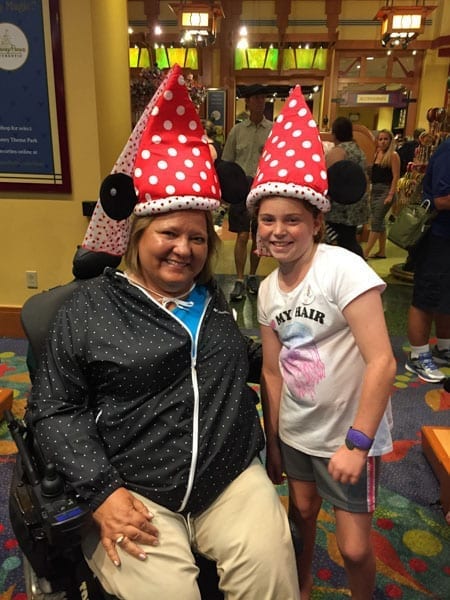 3 – Transportation Perks
Transportation for non-transferring guests was rather impressive! We took a boat ride to Disney Springs, bus ride to Magic Kingdom, and parked at Hollywood Studios, Animal Kingdom, and Epcot… handicap access was superb. The Cast Members were super helpful with loading and unloading on the bus and boat. It was especially helpful that they load handicap guests first. We were even impressed that the handicap parking spaces had room for the van ramp when we drove to different locations.
4 – Be Prepared for Security
We love and support the Disney Cast Members in Security! They do their job to keep all of us safe, and we greatly appreciate it. Some Cast Members took their time and checked every nook and cranny of the wheelchair while others didn't search as detailed. We recommend planning a little extra time to go through security for those traveling in wheelchairs.
 5 – Backpack Removal
We had a small backpack situated on the back of our friend's wheelchair. Depending on the Cast Member, it was requested that we remove the backpack before loading any of the attractions. We understood this request, but the backpack was not easy to remove unless the wheelchair was taken apart. It was in a sense, attached to the wheelchair. Most Cast Members understood and didn't fuss with the removal of the backpack as it wasn't bulky. If you do have a backpack on the back of your wheelchair, we recommend you have a small one or be prepared to remove it upon request.
6 – Non-Transferring Attractions
Editor's Note: During the phased reopening of Walt Disney World, not all attractions, such as live entertainment, have reopened. Be sure to check the My Disney Experience app for up to date hours and availability.
Accessible attractions at Disney World's four theme parks that our non-transferring friend could ride while remaining seated in her motorized wheelchair were as follows:
Animal Kingdom – It's Tough to Be a Bug, Kilimanjaro Safaris, Festival of the Lion King, Finding Nemo – The Musical, Flights of Wonder, Rivers of Light, Wildlife Express Train, plus the many trails and character meet and greets.
Epcot – The Circle of Life, Gran Fiesta Tour, Impressions de France, Journey into Imagination with Figment, Living with the Land, The Seas with Nemo and Friends, Turtle Talk with Crush, plus the World Showcase shows such as American Adventure and Voices of Liberty and character meet and greets.
Hollywood Studios – Muppet Vision 3D, Toy Story Mania, Walt Disney: One Man's Dream, Beauty and the Beast – Live on Stage, Disney Junior – Live on Stage, Fantasmic!, For the First Time in Forever – A Frozen Sing-Along Celebration, Indiana Jones Epic Stunt Spectacular, Voyage of the Little Mermaid, Star Wars Launch Bay, plus the character meet and greets.
Magic Kingdom – Buzz Lightyear's Space Ranger Spin, Country Bear Jamboree, Jungle Cruise, it's a small world, Liberty Square Riverboat, The Many Adventures of Winnie the Pooh, Enchanted Tales with Belle, The Hall of Presidents, Mickey's PhilharMagic, Monsters, Inc. Laugh Floor, Under the Sea – Journey of The Little Mermaid, Walt Disney World Railroad, Walt Disney's Carousel of Progress, Walt Disney's Enchanted Tiki Room, plus the parades, shows, and character meet and greets.
We especially loved that Kilimanjaro Safaris and Toy Story Mania were wheelchair accessible! Even though these two attractions have a designated wheelchair access loading space, you'll still have to wait in the standby line for access. We recommend a FastPass for both of those attractions.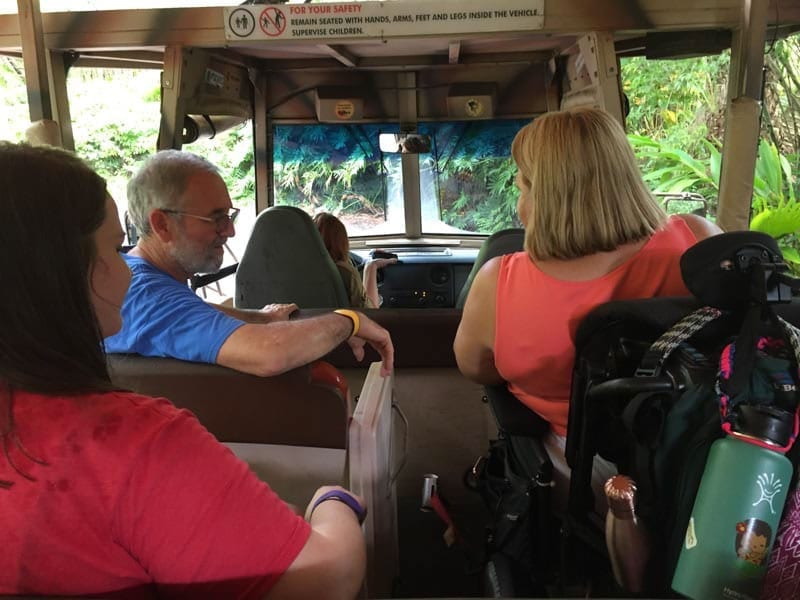 We are greatly disappointed that Na'vi River Journey, in Animal Kingdom is not accessible. For what reason, we aren't sure, but we believe this would be an easy one for Disney to make accessible. The other disappointment was when the American Adventure elevator was out of order in Epcot. While we could have gone through the exit into the show, it was pouring rain so Cast Members discouraged this route. We had to skip that one.
7 – Accessible Dining
Having personally tried multiple Disney restaurants, we knew which ones may feel too tight for someone in a motorized wheelchair. With that being said, our friend has always wanted to dine at Cinderella's Royal Table. Despite the small dining space, we were very impressed at how accessible Cast Members made it for us! Our friend rode her wheelchair up an elevator, right to the dining room. We especially enjoyed the space at Be Our Guest restaurant. Overall, we were pleased with all the places we dined from quick service at Backlot Express to character dining at Tusker House.
8 – Special Viewing Locations
Editor's Note: During the phased reopening of Walt Disney World, parades and fireworks are temporarily suspended.
Keep in mind that Disney has special handicap viewing locations in all their parks for fireworks and parades. Epcot Forever at Epcot, Star Wars Galactic Spectacular at Hollywood Studios, Happily Ever After and/or the Festival of Fantasy Parade at Magic Kingdom, and even Rivers of Light at Animal Kingdom have reserved wheelchair locations. Cast Members can point you in the right direction if you can't locate them on the park map. The only negative we've learned about these is that they go very fast, so plan to get a spot super early if possible. We recommend checking out dining packages for reserved seating or even FastPasses if available, simply to alleviate the concern of getting a good spot to view the fireworks/parade.
9 – Companion Bathrooms for the Win
Disney's many companion bathrooms are heaven sent! With plenty of space to spread out and move the wheelchair as needed, we highly recommend being on the lookout for companion bathrooms. With two young children, we've often used companion bathrooms but are personally staying out of them from now on to save them for guests with wheelchair accessibility needs. We can manage everything we need to in the regular bathroom, while these guests simply can't. It was an eye-opener for sure!
10 – Misuse and Impatience
Our new pet peeve is what we've never really paid attention to before but now see clearly. Unfortunately, it's the misuse of handicap accessible spaces and services. For example, if you need to use an ECV, please don't park it in a handicap viewing location then go sit down. Your ECV will likely be taking the viewing spot of someone that can't transfer from their wheelchair. Rather, park your ECV in the appropriate location and move to your seat from there. We also wish guests were more patient with wheelchair guests. While wheelchair guests need to do their part in moving when possible, there are times they can't move because of a curb or because they too are trying to move through the crowd of people without hitting someone. We really don't want to take your seat on a bus. We don't want to slow you down. We want to enjoy our Disney vacation just like everyone else!
Overall, our friend says Disney was incredibly wheelchair friendly, even for non-transferring guests. She may not have been able to ride all the attractions or see all she wishes she could – but she did a lot and she was thankful for what she could experience. Plan ahead with these tips and take your Princess or Prince and their Royal Carriage on the Disney trip of a lifetime!
For a no obligation, FREE Quote on a Disney vacation package, please contact our travel partner Magical Vacation Planner at 407-442-0227 (407-442-0215 for Spanish). You can also request a FREE quote online by Clicking HERE.