Magic Bands are all the rage at Walt Disney World.  The technology is impressive and really does simplify your Walt Disney World resort stay.  If you aren't familiar with how they work, you definitely want to read this.  Here are ten great tips and tricks for using Disney's Magic Bands:
10 – Set up a My Disney Experience account and link your vacation.
Be sure that you set up your My Disney Experience account and link all of your friends and family to the account where applicable.  You will also want to link all of your reservations and park tickets.  This is how you will be able to access these events and such by using your Magic Band on property.
9 – You can get a discount on MagicBands and MagicBand+ if you pre-order before your arrival.
Disney discontinued the complimentary MagicBand offering for resort guests. However, they offer guests the chance to order and customize a MagicBand before an upcoming trip at a discounted pre-arrival price. Basic color MagicBands are $10, and specialty MagicBands range from $15-25. The specialty MagicBands are usually $20-40 at the park. You can also purchase MagicBand+ at a discounted price. For MagicBand+, the solid colors are $24.99 (a $10 discount), and specialty bands at $34.99 (also a $10 discount). So while you can't get a free band, you can get a discount if you take the time to select a band before your trip.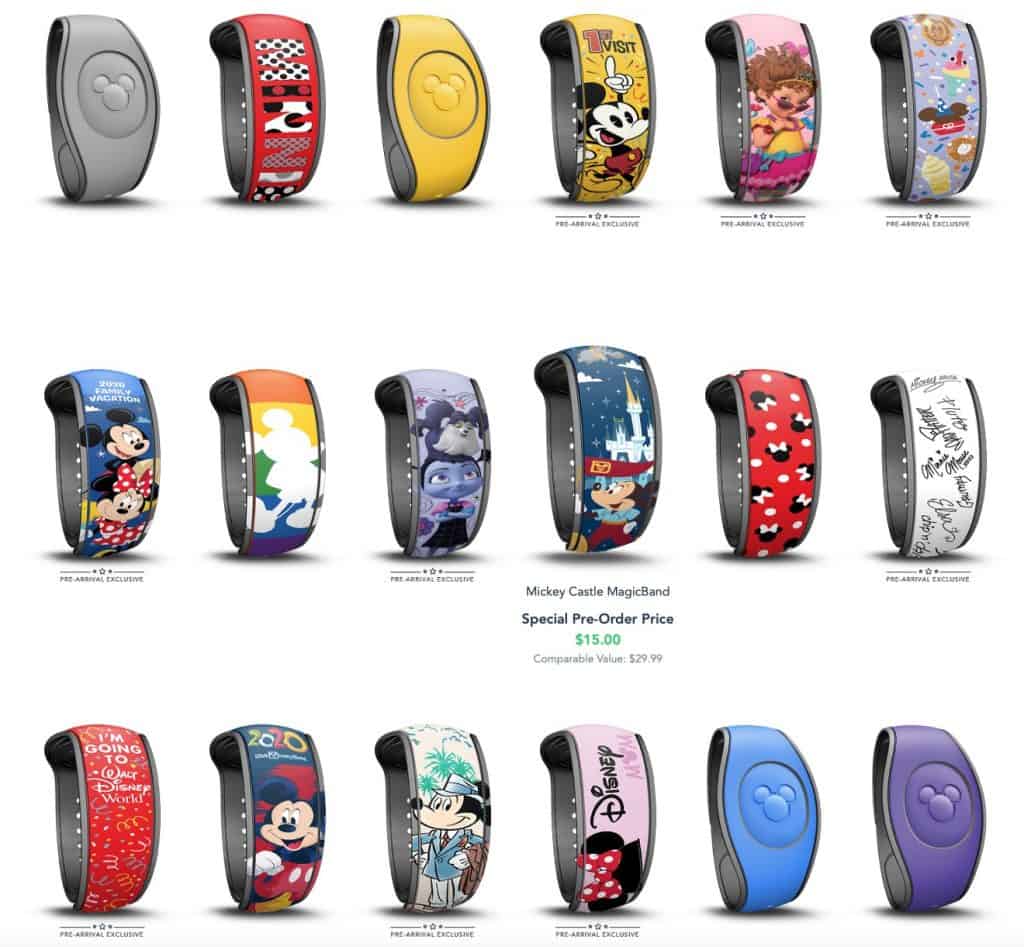 8 – Customize your Magic Band colors, designs, and names.
From your My Disney Experience account, when you pre-order your bands, you will be able to customize the Magic Bands for each member of your party that is linked to the reservation if you are staying at a Walt Disney World resort.  You will be able to select the band that you want from the available options and put in a name for each party member.  This can be a nickname or your actual name.  It can't be anything vulgar, as Disney won't allow that since the Magic Band names sometimes appear within certain attractions or for cast members.
7 – When you line up your band, line it up to Mickey to Mickey.
Anytime you need to tap your Magic Band to enter the park, you will save a lot of time if you go ahead and make sure that you line up the Mickey on your Magic Band with the Mickey at the touchpoint.  Touching the two Mickey heads together is what activates the system.  If you have your band ready and help ensure this lines up, it will save you and your group a lot of time!
6 – Purchase Magic Band accessories.
You can purchase various Magic Band accessories while you are at Walt Disney World.  You can purchase Magic Band covers to personalize your bands with your favorite characters.  You can also purchase various sliders and other accessories, too.  They are a ton of fun, and you can change them to suit your tastes, the season, the park you visit that day, etc.
5 – Design your own custom Magic Bands in the parks.
There is a location in Tomorrowland at the Magic Kingdom and one in Disney Springs where you can actually create your own custom Magic Band to purchase.  You can pick the base color and the images on the band.  You can also have whatever name or nickname you want added to them, too.  There are hundreds of designs to pick from, so you can find something you love.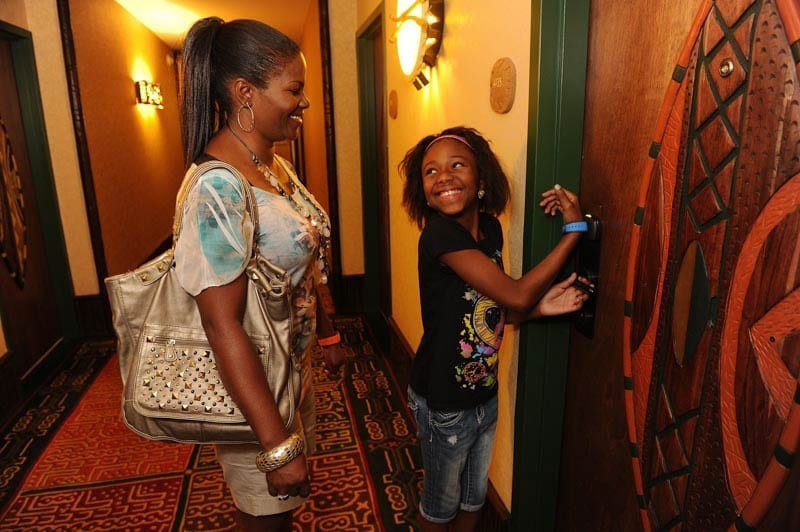 4 – Use your Magic Band for everything.
Editor's Note: At this time, the Disney Dining Plans are temporarily suspended.
Your Magic Band is actually your access to your entire vacation package.  Your Magic Band gets you inside your resort room, access to the parks, dining plan entitlements, resort room purchases, etc.  It is so convenient since you can manage everything from your My Disney Experience account and link all of your reservations there so that all you need to have with are your Magic Bands.
3 – You don't have to tap for ride photos.
When you ride one of the attractions with a ride photo, your photos are automatically linked to your My Disney Experience account in your PhotoPass photos.  You don't have to tap your band as you exit the attraction.  If you want to be doubly sure, or if you want to snag pictures from others in your party that aren't linked to your account, you can still tap your bands.  You just may find some duplicates in your account if you do that.
2 – There are limited edition Magic Bands.
Disney has gotten big on limited-edition merchandise and collectibles.  This is especially true for the ever-popular Magic Bands.  Limited edition bands are released for various events, seasons, parties, and attractions.  These bands are sold in limited quantities and usually make a special noise or sound when they are used at the park entry points. They are a lot of fun and extra special.  My Very Merry Christmas Party Magic Band is my absolute favorite!
1 – Learn About the Extra Features of MagicBand+
MagicBand+ was released in mid-2022 and gives guests extra magical experiences in the theme parks. After a guest enters a theme park, MagicBand+ will come alive at various times with color-changing lights, haptic vibrations, and gesture recognition, enhancing the environment's storytelling. The wearable will allow guests to engage with favorite Disney moments in new ways and discover new interactive experiences, including:
Guests can embark on the "Disney Fab 50 Quest," a scavenger hunt throughout the four Walt Disney World theme parks using MagicBand+ to help spread pixie dust and interact with the golden character sculptures. With the Play Disney Parks app, guests can dive deeper into the experience to find hints and keep track of sculptures which will unlock digital achievements, including an augmented reality feature.
In the "Star Wars: Batuu Bounty Hunters" experience, guests can join the Batuu Bounty Hunters' Guild in Star Wars: Galaxy's Edge at Disney's Hollywood Studios. Using their MagicBand+ to find numerous virtual bounties hidden throughout Black Spire Outpost, guests will follow the band's light patterns and haptics to complete their mission. Then they will return to the local guild master, who will reward them with galactic credits. Guests can also use the Play Disney Parks mobile app to help them reveal their virtual bounty using the app's built-in augmented reality thermal viewer**.
Guests can experience nighttime spectaculars in a new way as they see their bands light up and complement the magic in the skies, including "Harmonious" at EPCOT and "Disney Enchantment" at Magic Kingdom Park. MagicBand+ will also engage as all four theme park icons transform into Beacons of Magic!