Alright, ladies – let's chat! We think you deserve to get yourself a great Disney souvenir, so what do you pamper yourself with? Or maybe there's a lady in your life (Wife, Girlfriend, Daughter, Mom, Sister, and of course, don't forget the Mother-In-Law) that needs a special something from Disney. Well, here are our top 11 picks for the best Disney souvenirs for women.
1 – Purses and Handbags
Well, no surprise here! Of course, purses and handbags are listed as number 1. Purses seem to be the new craze at Disney these days. Huge name brands such as Vera Bradley and Dooney & Burke have girls oohing and aahing over their incredible designs. With so many different sizes and themes to bags – it's nearly impossible to pick just one! Mickey, Tinkerbell, Minnie, Star Wars, Marvel, Haunted Mansion, Princesses… the list goes on as does our love for purses!
2 – Jewelry 
Diamonds may be a girl's best friend – but diamonds in the shape of Mickey are a girl's dream come true! Disney has plenty of incredible jewelry to select from. We especially like Disney's Pandora Charm selections and the Alex and Ani items. Earrings, rings, necklaces, watches, bracelets… you can't go wrong. Jewelry is sold in almost every gift shop but look for trendy, high-end shops for the great selections for these souvenirs.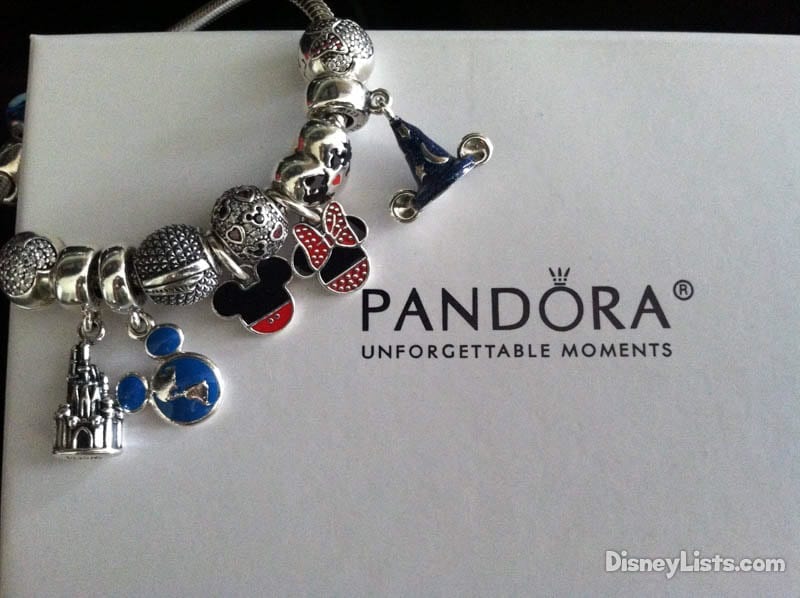 3 – Sweets and Wine
Us girls can never get enough sweets! Chocolates, candies, and all sorts of delightful treats are scattered throughout Disney parks, resorts, and Disney Springs. Pick up some unique treat items from shops such at the Main Street Confectionary at Magic Kingdom, Zuri Sweets Shop at Animal Kingdom, or even Ghirardelli Chocolate Shop or the Ganachery at Disney Springs. These are just a few of our favorite shops, but really it's not hard locating tasty treats. Don't forget to grab a bottle of unique wine at Zuri Sweets Shop at Animal Kingdom or at several locations within Epcot. If the temperature is right and you have an excellent plan to get these treats home, this is one souvenir the ladies in your life will thank you for!
4 – Scarves
A slightly inexpensive gift, but useful and very trendy, would be a Disney scarf. Whatever your preference may be, scarf designs are available in bright, colorful, sophisticated, romantic, and even elegant styles. Anywhere women's clothing is sold, you'll likely find a large selection of scarves. Unsure of what color to get? Maybe get the color that matches her eyes – or just buy two or three of them!
5 – Tops
Trendy, fun, beautiful, flirty, simple – just about any women's tops imaginable are available at Disney! Especially check out Marketplace Co-Op at Disney Springs for their trendy themes while keeping true to the Disney designs. We love the simple Mickey tops and can't get enough of the cute tees with Star Wars and Marvel sayings on them throughout the parks. Or, maybe you are looking for the standard Disney designs with select characters such as Tinkerbell or the Princesses. Either way, you decide to go, women's tops are easy, yet fun souvenirs.
6 – Bath and Body Items
Ok, this one may sound strange, but they are excellent sellers at Disney because they allow us to bring a piece of Disney home with us and use it every day! The sense of smell is linked so closely to memories, that it's no wonder when we use the Disney Resort Bath Collection, we find ourselves remembering back to our Disney vacation. Check out Bath Aquatics and Blushing Orange shampoo and conditioner or Grapefruit Bergamot shower gel and body location. While you're at it, be on the lookout for a Disney towel and washcloth set for the full package!
7 – Picture Frame
That's right, you can't go wrong with a Disney picture frame. Take this souvenir one step further and have the frame personalized with names and/or dates of your vacation. You can even head to one of the PhotoPass purchasing centers and have a picture printed and framed right then and there! Go ahead and surprise your special lady with this souvenir before you even set off for your departure home.
8 – Kitchen and Home Décor
Décor, yes, please! The kitchen and home décor is probably some of our favorite souvenirs at Disney because it's putting Disney into our everyday lives. Wall art, throw blankets and pillows, figurines, trendy bowls and plates, mugs, vases… we could go on and on! Whether you are looking to spend a lot or a little, this category is your best bet for great variety to fit everyone's taste. The hardest part is narrowing it down to just one souvenir!
9 – Ornaments
Most women like the holidays. Ok, most women LOVE the holidays! If you haven't had a chance, check out Disney's Day of Christmas at Disney Springs, which offers a huge line up of ornaments to decorate the tree with. Better yet, look into getting an ornament personalized for your loved one! And of course, we must mention that collectible shoe ornaments. These shoes are in the colors and style of specific characters and princesses. Let's just say they are incredibly addictive and fun to collect. Who else is up for early Christmas shopping?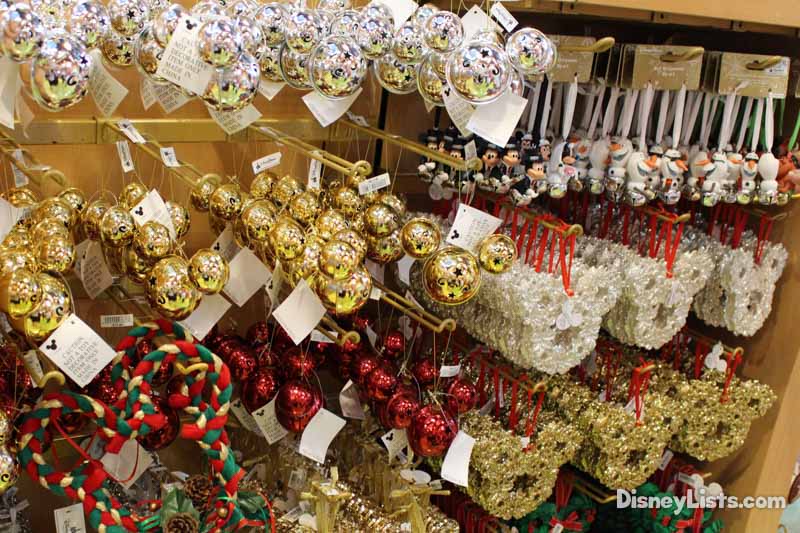 10 – Tech Accessories
For those techie gals out there – we have some excellent souvenirs for you! Customizing MagicBands, cell phone cases, USB flash drives, mouse pads, MacBook pro or iPad sleeves, and our favorites – the cute crossbody smartphone wallets or table cases. Check out the Tomorrowland Light & Power Co. gift shop located next to Space Mountain in Magic Kingdom for some great techie accessories or shop till your heart is content at Market Place Co-Op D-Tech on Demand at Disney Springs.
11 – Experience
Editor's Note: During the phased reopening of Walt Disney World, spa services are not available.
This may be last, but it's still our most recommended souvenir – an experience. Let's be honest, we can buy stuff till our heart is content, but chances are we'll forget what it was we bought for ourselves or for someone else a couple of years down the road. An experience is something you'll hold on to – a souvenir that will stick with you! For the ladies, we recommend checking out the many Disney Spa options, such as the Grand Floridian Spa. Whether you are looking for a massage, manicure, pedicure, hair styling, or makeover, Disney has some memorable selections.
In a perfect world, we'd say pick all 11 of these souvenirs, plus the MANY other incredible items out there just ready to make a gal smile! Let's hear from you ladies – what is your all-time favorite Disney souvenir?
For a no obligation, FREE Quote on a Disney vacation package, please contact our travel partner Magical Vacation Planner at 407-442-0227 (407-442-0215 for Spanish). You can also request a FREE quote online by Clicking HERE.