Main Street USA is the first sight that you encounter when you first enter the Magic Kingdom at Walt Disney World. This is also the street area that you see on both sides as you look down upon the view of Cinderella's Castle. It is no doubt that the area would be impressive since this is your first impression of the park. I love Main Street and could spend a ton of time enjoying the shopping, treats, entertainment, and views. Here are 6 fun facts about Main Street USA:
6 – The smellitizers.
No, this isn't just a crazy word that I made up, it is actually a real thing! The smellitizers were created and put in place to pump amazing scents into areas. This is why you smell amazing cookies, sweets, and other goodies when you are on Main Street. Yes, you can find these things as well, but the fresh baked scents are also be pumped in so that you associate Main Street USA with these intoxicating smells as you walk through. It's OK if it makes you want to sample a delicious treat! You're on vacation, right?
5 – There is so much entertainment that is overlooked.
Editor's Note: During the phased reopening of Walt Disney World, character greetings and certain entertainment offerings are temporarily suspended. You'll see characters come through each park in short parades. Click here for more information on how to see characters during the phased reopening.
If you didn't check your Times Guide or aren't familiar with the various entertainment that occurs on Main Street, you may breeze right past Main Street to get to the rides and end up missing out big time! There are the Dapper Dans, which is a fantastic barbershop quartet that performs throughout the day. You also have performances like the Main Street Trolley Show, the Main Street Philharmonic show, and the Move It! Shake It! MousekeDance It! Street Party that performs regularly throughout the day. There are also various character appearances throughout the day to take pictures and autographs. There is so much going on that you could actually spend a lot of time enjoying the Main Street area, which so many guests miss out on.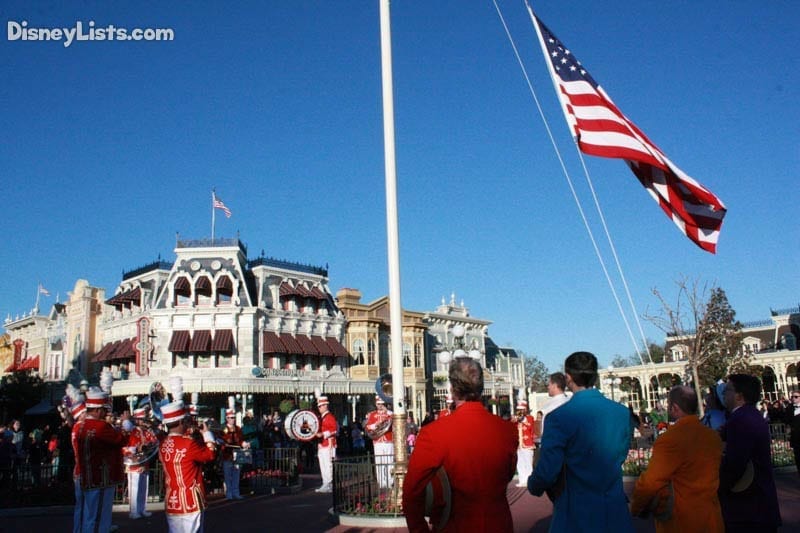 4 – The daily flag retreat.
This is a really touching ceremony that takes place every single day around 5 PM at the flag pole in the front of the park.  Cast members select a veteran to participate in the ceremony.  The Dapper Dans perform and sing patriotic songs.  The flag is lowered, folded, and presented to the veteran of the day.  It is awesome to witness and shows a lot of respect to our country and veterans.
3 – Designed after Marceline, Missouri.
The concept for Main Street USA was a vision of Walt Disney to model the street after his hometown, Marceline, Missouri.  He wanted the feel of a comfortable, beautiful main town street where you would find beautiful buildings and a friendly atmosphere.  He was very proud of his hometown and wanted to bring some of that to life at the Magic Kingdom.  Walt didn't live long enough to get to see the Magic Kingdom open and see Main Street finished, but the imagineers and stakeholders for the effort did him proud.  What resulted is beautiful and has maintained this concept since the park opened.
2 – Forced perspective make the buildings look taller.
Disney imagineers love using forced perspective to help buildings and structures appear to be the desired size regardless of how big they were built to be. They do this for various reasons, and it really does force the eye to see things the way they wanted you to see them. The buildings on Main Street were all built using forced perspective. The imagineers want the buildings to appear larger than they actually are. The buildings are actually 4 buildings total but were built to look like there are many independent buildings among these. The buildings couldn't be built so tall that they took away from the view of the castle or made the castle look too small, so forced perspective is used to make the buildings appear larger than they are without actually building them that tall.
1 – Look at the second-floor windows.
Just about every inch of Disney World is planned, themed, and done with purpose. The imagineers try to use all available space to help transport guests into the area or theme that they want the guests to be in. Main Street USA definitely received a lot of care and detail, you just have to know where to find it. As you are walking down Main Street, be sure to look up and check out the windows (just be sure to not stop in the middle of walkways as you might get run over). You will notice nods to Walt Disney, Roy Disney, and even their father, Elias Disney, in the names of companies on the windows. We always love the reminders and nods to the Disney family, since we really wouldn't have all of this magic without Walt and his family.
For a no obligation, FREE Quote on a Disney vacation package, please contact our travel partner Magical Vacation Planner at 407-442-0227 (407-442-0215 for Spanish). You can also request a FREE quote online by Clicking HERE.