When most people think of Animal Kingdom, they tend to think of spotting animals on Kilimanjaro Safaris, singing along to the live entertainment show at Festival of the Lion King, or conquering the Yeti on Expedition Everest. But, really these is so much more to Animal Kingdom that sometimes gets overlooked! Check out these 8 reasons we love Discovery Island and The Oasis in Animal Kingdom.
1 – Tree of Life
Well, of course! We couldn't place anything as our number one but the Tree of Life! The Tree of Life is Animal Kingdom's icon and it most certainly can't be missed as it stands stately in the center of Discovery Island. 145 feet tall, 50 feet wide, and designed with over 300 animal carvings – this masterpiece is top of our list! The lush landscape and interesting caves in the Oasis leading up to the Tree of Life as you cross over into Discovery Island really sets the stage for what you can expect out of your fantastic day at Animal Kingdom. Don't forget to explore the Discovery Island Trails which allow you to get up close and person with the Tree of Life and all its' beauty!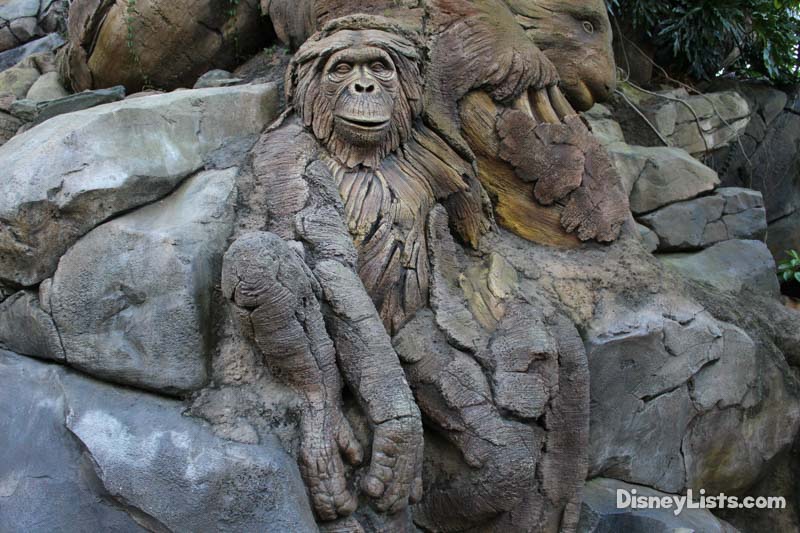 2 – Unique Characters
Editor's Note: During the phased reopening of Walt Disney World, character greetings are temporarily suspended. You'll see characters come through each park in short parades. Click here for more information on how to see characters during the phased reopening.
Some of the most unique characters are found on Discovery Island that can't be found at any other park! Meet Pocahontas on the Discovery Island Trails. You can meet Tomon and Rafiki at the Character Landing just before entering DinoLand U.S.A. Sweet Russell and Dug from the movie "Up" are available for a meet and greet before you reach the attraction, It's Tough to Be a Bug. Plus, maybe not unique characters, but unique in their safari costumes is Mickey and Minnie at Adventurer's Outpost.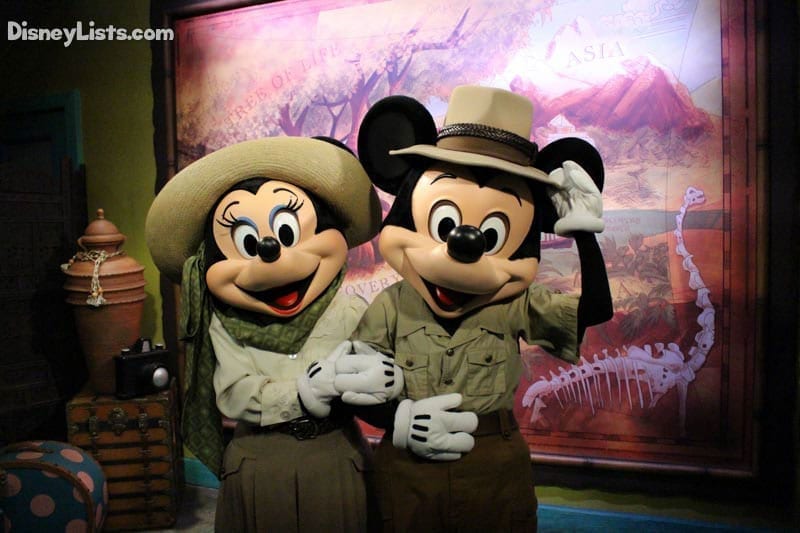 3 – Animal Encounters
From the moment you step into Animal Kingdom, you are surrounded by the beautiful habitat of many animals among the lush greenery. The Oasis Exhibits offer many animal encounters before you even have a chance to get very far in the park! Birds, fish, lizards, and even spiders are among some of the fascinating creatures you will notice in their own habitat or being presented by a Cast Member. If you are looking for more animal encounters, you'll want to check out the Wilderness Explorers kiosk as you cross the bridge from the Oasis to Discovery Island. Become a Wilderness Explorer and start exploring all of the animals and awesome nature experiences Animal Kingdom has to offer!
4 – DeVine
Have you ever noticed some of the lush landscape surrounding the Oasis begin to move? Especially as you enter the park, hang a right and shortly after the last shop, you may just spot nature moving! You've just encountered "DeVine". Animal Kingdom brings nature to life with this beautiful woman in perfect camouflage and harmony with her surroundings. She moves slowly as if the breeze was moving her and she will even reach her vines down for you to touch. She has been spotted in other parts of the park, so be sure to get the insider scoop from a Cast Member when entering the park.
5 – Viva Gaia Street Band
Editor's Note: During the phased reopening of Walt Disney World, Viva Gaia Street Band is not performing.
Listen out for the sounds of celebration taking place in Discovery Island! Located just across from Flame Tree Barbeque, you won't be able to miss the spectacular Viva Gaia Street Band. Dance along, clap and stomp your feet in rhythm, or simply sit back and enjoy! Drums, guitars, singing, and costumes make for a vibrant and entertaining street show. Check for performance times, as this street band performs throughout the day, with roughly 6 shows performed in 30-minute durations.
6 – It's Tough to Be a Bug!
It sure is tough to be a bug! Get up close and personal with some of your favorite critters from the Disney animated feature, "A Bug's Life". It's Tough to Be a Bug attraction is nestled right under the Tree of Life in Discovery Island. This unique 3D show gives you the opportunity to see what being a bug is really all about – with bug-eyed 3D glasses, strange sights, odd smells, tingling sounds, and even creepy-crawly feelings! While this attraction is one of our favorites, it may be a little scary for young ones. Just ask our 1-year-old… he's not a fan. We'll try again when he gets older!
7 – Dining Options
Ok, so we mentioned Flame Tree Barbecue in Discovery Island above and our mouths started watering so we thought we most definitely should put it on the list! The aroma coming from this quick-service location can be smelled almost the moment you enter Discovery Island. Great menu, great food, great seating – you'll want to check this dining option out. In fact, their barbeque sauce is so delicious that it is actually sold by the bottle in several of the Animal Kingdom gift shops! If you aren't into barbeque, another quick service location in Discovery Island is Pizzafari. Pizzafari has some neat décor inside and out, plus you can't go wrong with pizza and/or a salad.
Tiffins – a table service restaurant is also a great option for those looking for a signature dining experience in the park. It's located behind Pizzafari, on your way to Pandora – The World of Avatar. On the menu – globetrotting dishes inspired by world travelers. "Tiffins" refers to a light lunch meal prepared for working men in India. The food is delicious!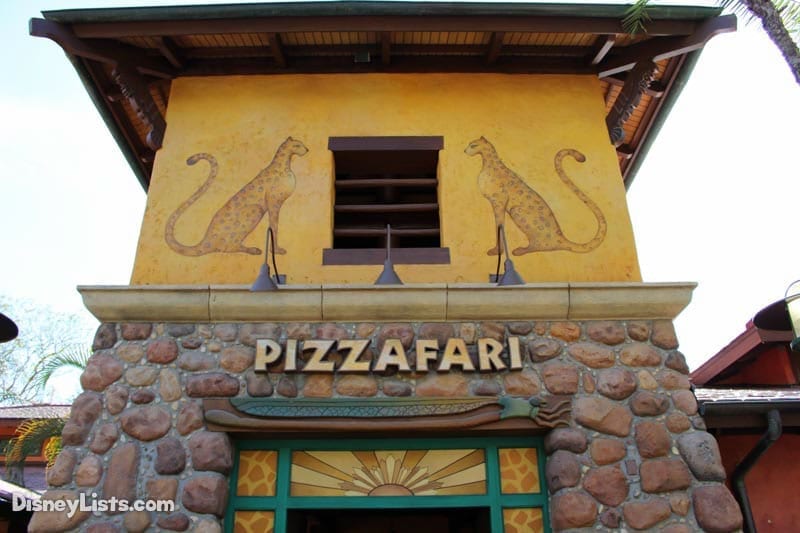 8 – The Gift Shops
Start your day off at Animal Kingdom with some shopping, or grab some great souvenirs on your way out of the park. In Discovery Island, you will find two very large gift shops just across from one another – Island Mercantile and Disney Outfitters. Both of these locations hold many Animal Kingdom specific souvenirs, plus some of the Disney favorites you'll find at other parks. You'll easily be able to find something for everyone on your shopping list!
We'd love to hear what your top reasons are for loving the Oasis and Discovery Island at Animal Kingdom!
For a no obligation, FREE Quote on a Disney vacation package, please contact our travel partner Magical Vacation Planner at 407-442-0227 (407-442-0215 for Spanish). You can also request a FREE quote online by Clicking HERE.