Sure, Olaf may enjoy the heat, but we don't have that personal snow cloud provided by Elsa like he does! Until Disney can make that magic happen for all of us, here are our top 8 tips on how to deal with the crazy Florida heat.
1 – Non-Stop H2O
Tip number one is to drink plenty of water! Pack some water bottles in your bag, become frequent visitors of water fountains, or get a free cup of water from any quick service location. Don't forget about your kiddos as well. They may be enjoying sugary drinks while on vacation, but be sure to focus in on their water needs as well. The more you hydrate, the better you will feel!
2 – Keep it Light
When you pack for your trip, check the weather and plan for the heat with the correct clothing. White, breathable t-shirts are excellent choices and shorts are a must! Light sneakers or comfortable walking sandals are helpful. Whatever you wear, just remember to keep it light. Don't forget the hats, sunglasses, and sunscreen. Sunburns and vacation just don't mesh well! 
3 – Cooling Accessories
Sold throughout Disney, you will find what looks like a spray bottle with a foam fan on the end of it. This mist bottle is worth the money on those exceptionally hot Florida days. Plus, they make for neat souvenirs and are great for soccer practice when you get home! Baby in tow? Purchase a stroller clip-on fan before arriving at the park (Babies-R-Us). Don't forget to bring some extra batteries along with you in the parks. We've also brought along one of those cooling snap towels available at sporting department stores. You'll be happy you have it mid-day!
4 – Water Recreation
Of course – we must mention Disney's incredible water parks! Typhoon Lagoon and Blizzard Beach are just waiting to cool you off in the midst of the hot and humid Florida summer. Lastly, but probably one of the easiest way to cool off outside of the park, would be at your Disney resort pool. Disney's pools are simply incredible! Enjoy the slides, the lounging areas, the kid's zone – the perfect way to beat the summer heat.
Editor's Note: During the phased reopening of Walt Disney World in 2020, the water parks are temporarily closed.
5 – Tasty Refreshments
You are at Disney after al! What better way to cool off than enjoying a tasty treat! It seems like every corner you turn in the parks there is an ice cream stand. We love all of the ice cream selections but especially enjoy the traditional Mickey Ears Ice Cream Bar. It's so good! We also recommend frozen lemonade or even a Dole Whip. Keep in mind whatever you eat to cool off shouldn't be a supplement for how much water your body needs you to keep drinking.
6 – Mist, Squirt, and Splash!
There are a few ways to cool off in each of Disney's theme parks. Magic Kingdom has the awesome attraction, Splash Mountain, that will get you a little wet. Plus, Fantasyland has Casey Jr. Splash 'N' Soak for kiddos! Epcot has a great mist machine "car wash" area near Test Track. Plus, on your way in to the World Showcase, check out the squirting fountains that come up from the ground – kids love these. Animal Kingdom has the perfect water ride for hot days – Kali River Rapids! While Hollywood Studios doesn't have a water ride, if you sit in the front rows at Fantasmic you may get a tad wet. Sure, you might look like a wet mouse walking around the park after some of these activities, but you'll be feeling refreshed!
Editor's Note: During the phased reopening of Walt Disney World in 2020, Casey Jr. Splash 'N' Soak is temporarily closed.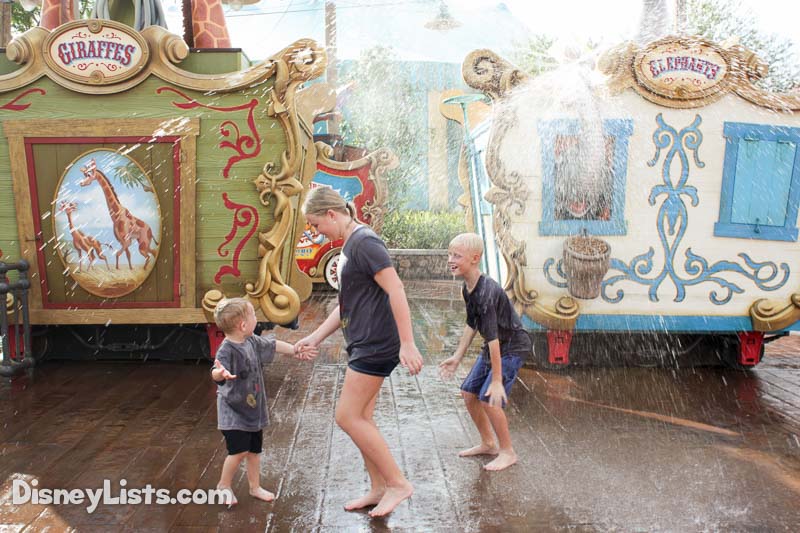 7 – Seek Out Air Conditioning
Anytime you have the opportunity to cool off inside a gift shop, attraction, or even the bathroom – we say go for it! Don't wait around outside for your group to get off an attraction. Instead, head towards the exit of the attraction and typically you can find an air-conditioned space and sometimes even seating. Do you have a young one? Take advantage of the air-conditioned baby care centers located at each park. Your baby/toddler will thank you! Lastly, we understand and agree that a view of the parade is important. We suggest trying to find a shady spot if at all possible. There is a lot to think through when enjoying a busy day at the park, but keep the focus of protecting yourself and family and take advantage of cool moments whenever possible.
8 – Time of Day
Are you an early bird and/or night owl? Good! We like to keep in mind that mid-day is the hottest time of day during the summer. If possible, head to the park as early in the morning as possible, before the humidity gets too unbearable. Once mid-day rolls around, head back to your resort for a time of relaxing in your air-conditioned room, or even for some swim time! When evening hits, you can make your way back to the park as the sun starts to sets. Yes, this may cut out some of your park time, but we'd rather spend our time at Disney with Happy than with Grumpy!
What are your tips for beating the Florida heat? We'd love to hear from you!
For a no obligation, FREE Quote on a Disney vacation package, please contact our travel partner Magical Vacation Planner at 407-442-0227 (407-442-0215 for Spanish). You can also request a FREE quote online by Clicking HERE.