Disney Water Parks are absolutely amazing! They are not like your typical community pool or water park that you may be imagining. These are still perfectly themed and full of Disney magic, just like every other experience on property. If you are considering a visit to one or both of the water parks on your next visit, here are several great things that you definitely need to know:
10 – There are two different water park options.
At Walt Disney World, you actually get two different waterpark options to choose from. First, you have Typhoon Lagoon, which is themed to be a waterpark that was hit by a colossal Typhoon, so it intentionally looks like things are disheveled and out of place as part of the theme. You'll love the massive ship on top of the mountain as the primary focal point for the park. Then you have Blizzard Beach, which is a waterpark that received a ton of snow, and you are experiencing the park as the snow is melting. You look out among mountains that are snow topped with a vast "ski slope." It looks like it is cold, but on a hot summer day, you will be wishing that snow was real! The choice is yours, and you won't go wrong either way!
9 – Either arrive early or wait until later.
Typically the best advice is to arrive at least thirty minutes prior to opening so that you can handle getting tickets if necessary and then be among the first to get in and scope out a great spot on the beach and get everything situated for the day and then get right to the fun. If it is a hot summer day and you can't get there early, then it may be better to plan to go for the end of the day. If you wait until around the usual summer afternoon rain, this will usually clear the park out, and it won't be as crowded. You can enjoy fewer crowds, and it usually cools off a little bit after the rain.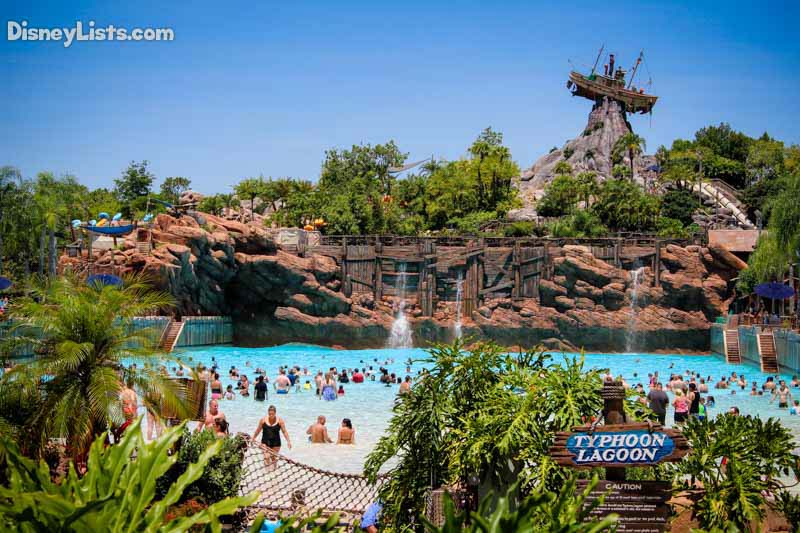 8 – Locker rentals.
I would try to minimize the amount of expensive personal belongings that you bring with you to the park. If you do need a locker, the locker rentals there are small and large lockers to rent for a fee. The locker can be accessed throughout the day using a personalized PIN that guests set when purchasing the rental, so no keys are required.
7 – Refillable drink mugs.
The waterparks offer refillable drink mugs for the day. You can purchase the mug for around, and you will get the mug plus free soda refills all day. You can also use the mug at either waterpark if you plan to change parks midday. Or if you are planning on visiting a different waterpark later in your stay, be sure to bring your mugs with you. For a small fee, you can reactive the same mugs to use during another day at the waterpark!
Note: Your refillable resort mug will not work at the water park soda fountains.
6 – You can bring in your own food.
This is definitely a way that you can save money. The food that is available for purchase at the park is mostly your stereotypical theme park food and nothing overly unique or exclusive to the waterparks. For that reason, we typically like to save money and bring in our own food. They allow coolers to be brought in with food and picnic items, bottles of water, etc. Just remember that they won't allow you to bring in your own alcoholic beverages, so you will have to purchase those within the park while you are there if you want a beer or another beverage.
5 – Cabana or umbrella rentals.
There are private cabanas and umbrellas available for rent. They can be pretty pricey, but they do guarantee that you get a private and covered place to enjoy your day at the waterpark. You also get various amenities included in each option. The cabanas are the most luxurious experience of them all, so if you want it all, then definitely look into those! The umbrella rentals come with chairs and towels for a group of 4 under an umbrella in a designated area. You can call and make reservations and review the pricing for your dates by calling Disney Recreation at 180 days prior to your trip. They book up fast in the summer months, so you will want to book as soon as you can, but you will have to pay the fee at the time of booking.
4 – Don't forget the towels and sunscreen.
Don't forget to bring your own towels. If you need towels, you will have to rent them, and there is no return deposit when you turn the towels back in. The towels are also much smaller and thinner than the average towel or beach towel would be, so you would be much happier with your own towels. However, you can rent a towel for a small fee. Also, don't forget the sunscreen! You can buy it there at the park if you need it, and you will definitely need it. The Florida sun is much warmer than the sun is at many other places, and you can burn easily. You also have to be sure to apply sunscreen every hour or two as it wears off after a little while.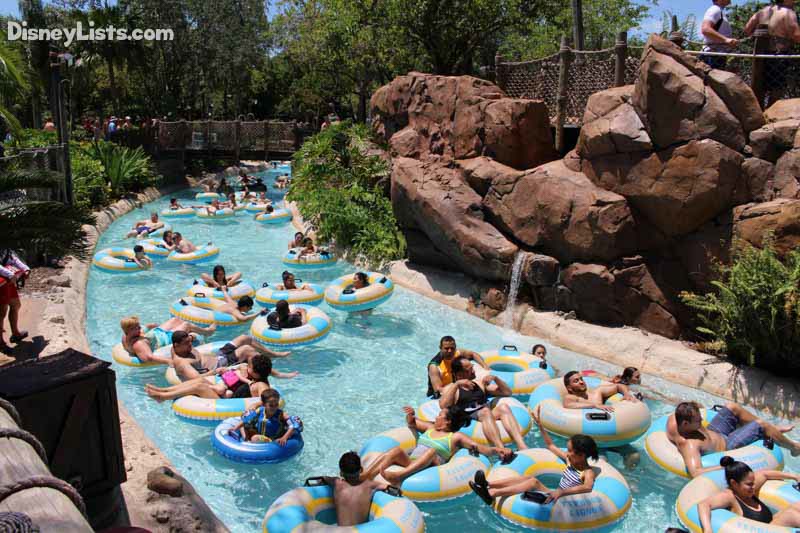 3 – Water tubes and life vests are free to use.
The tubes for the wave pool, lazy rivers, slides, etc. are provided free for guests to use. There are even tubes with bottoms in them for smaller children so that they won't fall through. The life vests are also free to use. You'll find them on racks throughout the parks.
2 – There are PhotoPass opportunities.
At various attractions and spots in the waterparks, there are PhotoPass photographers that are taking pictures during the summer months. This is great for those of you with Memory Maker since these photos will be included for free. Even if you don't have Memory Maker, you can still buy the pictures and downloads. So keep your camera safe at home and take advantage of these picture options.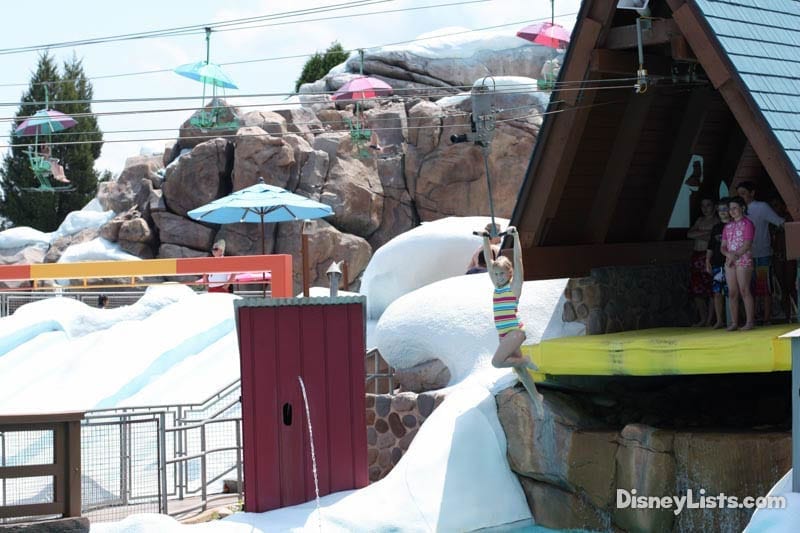 1 – Consider one-piece swimsuits and water shoes.
Women and girls should consider wearing one-piece swimsuits.  On many of the slides, you may just lose your top if you aren't careful.  It is easier to just have a one-piece suit on and not have to worry about it.  It is also a good idea to consider water shoes if you have sensitive feet.  They will keep your feet safe from the hot concrete and any sand or other debris that you might walk on.
For a no obligation, FREE Quote on a Disney vacation package, please contact our travel partner Magical Vacation Planner at 407-442-0227 (407-442-0215 for Spanish). You can also request a FREE quote online by Clicking HERE.