Since we can't be in the parks this year to celebrate Independence Day, we're thrilled to share that Disney has released a virtual viewing of Walt Disney World's amazing Fourth of July fireworks. Catch the video below.
Here are all the details from Disney Cast Member Thomas Smith:
In honor of the national holiday, we're revisiting an unforgettable night of magic at the Walt Disney World Resort for a special virtual viewing of our spectacular Fourth of July fireworks.
For tonight's #DisneyMagicMoments viewing, prepare for patriotism at its finest as we take you back to 2018 to experience a night of breathtaking fireworks orchestrated to festive, toe-tapping melodies.  Watch as the sky above the iconic Cinderella Castle illuminates with colorful, bright, and sparkling fireworks.
RELATED ARTICLE: 5 Reasons We Love the American Adventure Pavilion at Disney's Epcot
by Mike and Jamie Sylvester
The World Showcase at Epcot is spectacular and one of our favorite parts of Disney World! As we walk through country after country and partake in the endless supply of food, drinks, shops, and cultural settings, we find ourselves drawn to one pavilion specifically – the American Adventure Pavilion. Here are 5 reasons why we love the American Adventure Pavilion at Disney's Epcot!
1 – Patriotic and Proud
The spirit of America comes to life through at the American Adventure Pavilion located in the middle of the World Showcase! We are always in awe of the grand and majestic building that holds the American Adventure show, Regal Eagle Smokehouse, and more. The red, white, and blue flags, the stately columns, the fountain, the clock tower, the golden eagle, and all the special scenery exudes patriotism! Maybe it's just us, but we feel like the sights and sounds at the American Adventure Pavilion provide us with an excellent reminder of how proud we should be to be standing on American soil.
2 – America's Past in the Present
Sometimes in the American Adventure building and other times on stage at the American Gardens Theater, you will hopefully have the opportunity to catch the Voices of Liberty performing. This a cappella group sings patriotic music which echoes beautifully when inside of the American Adventure building underneath the dome. Their attire and their song choices provide a sweet reminder of America's past. Step up your patriotism a notch and visit the theater for the 30-minute American Adventure film which typically follows the Voices of Liberty performance. Outside of the building, fun musical series takes place in the American Gardens Theater and Gallery such as Sounds like Summer, Eat to the Beat Concert Series, and the American Music Machine. Thankfully, with all of these other performances offered, it's easy to find something entertaining and worth the time!
Editor's Note: During the phased reopening of Walt Disney World in 2020, live entertainment may be modified or temporarily unavailable.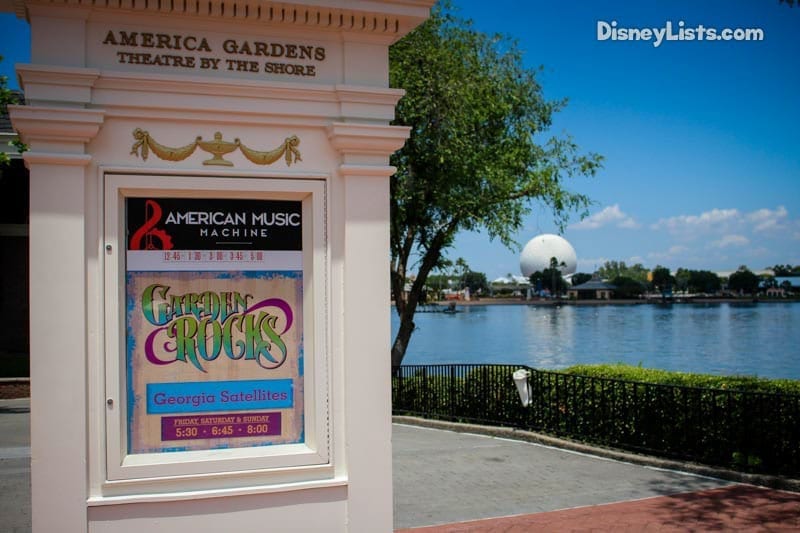 3 –  American Cuisine
Get ready to eat some delicious all-American style food! If looking for a simple and tasty snack, you'll want to stop by the Fife and Drum Tavern which is a snack stand. Fife and Drum offers turkey legs, popcorn, soft-serve ice cream, and slushies. Plus, don't forget the all-American funnel cake at the Funnel Cake cart. Our mouths are watering just thinking about it! Finally, be sure to check out the newest addition to the Epcot counter service line up, Regal Eagle Smokehouse. When it comes to food, nothing is more American than barbecue, and this new restaurant is a HUGE upgrade over Liberty Inn. Check out our full review by clicking here.
4 – Souvenir Time!
Something we've noticed about the American Adventure Pavilion is that the gift shop is rather small in comparison to some of the other countries/pavilions around the World Showcase. No worries though, as the small Heritage Manor Gift shop offers a variety of awesome American souvenirs such as red, white, and blue pillows, blankets, clothing, and accessories. We especially love their Mickey-themed American patterns! Books, games, ornaments, cards… fun souvenirs for everyone in the family.
5 – Kidcot!
A fun spot in the American Adventure Pavilion is the Kidcot Spot, located at the exit of Heritage Manor Gift shop (near the restrooms). Let your children (or adults!) enjoy a moment to sit down and color a free ziplock souvenir that will allow them to collect stickers from each of the 11 countries around the World Showcase.
With so much to look at, taste, and experience, we find it easy to love all the American Adventure Pavilion has to offer. We'd love to hear about your favorite experiences at the American Pavilion!
For a no obligation, FREE Quote on a Disney vacation package, please contact our travel partner Magical Vacation Planner at 407-442-0227 (407-442-0215 for Spanish). You can also request a FREE quote online by Clicking HERE.