Strollers are a necessity for many of us at Walt Disney World.  For the past almost 6 years of Disney vacations, we have had a stroller with us for one or both of my boys.  We look forward to the day where we are stroller free, but they do serve an important purpose….. to get your children safely and efficiently from place to place while you enjoy your vacation!  If you are a stroller family, then this is definitely for you!  Here are the top 10 things that you should know about using strollers at Walt Disney World:
10 – Bring your own.
You are definitely able to bring your own stroller, and if you would like to save a little bit of money, I would definitely recommend it.  I would also recommend that you bring your own stroller for convenience.  If you have it with you then you are able to use the stroller in the airport, which can help a lot with getting around more efficiently.  You are also likely to already be comfortable with your stroller.  The way it moves and performs, the hand grips, how to fold it up, etc. won't be new for you, so it may be more comfortable to use.
Note there are restrictions in place that limit the size of strollers used in Walt Disney World parks. Strollers larger than 31" (79 cm) in width and 52" (132cm) in length are not permitted. Stroller wagons are also not permitted.
9 – Rental options.
There are also valid reasons to rent a stroller while you are there, which is also perfectly fine.  You have two basic options for rentals.  You could choose to rent from Disney at a particular park.  The cost for this is $15 per day for a single-stroller and $31 per day for a double-stroller.  You can save a couple of dollars per day if you rent for multiple days. You also have to pay a $100 refundable deposit for the rental.  This seems kind of expensive, right?  You can rent from a ton of different stroller rental companies in the area.  They will deliver the stroller to the bell stand at your resort and then will pick it up from the bell stand after you leave.  The prices are usually much cheaper and the strollers are more comfortable with more storage.  If you can't decide, then consider that if you rent a stroller from Disney, you must leave it in the park, which means that you have to get back to the resort without a stroller.  If you rent from another company the stroller comes with you everywhere that you go.
8 – Keep your receipt.
If you rent your stroller from Disney, then be sure to hold onto your receipt.  If you will be changing parks, you won't have to pay again to use the stroller there if you have your receipt on you in order to show that you have already paid.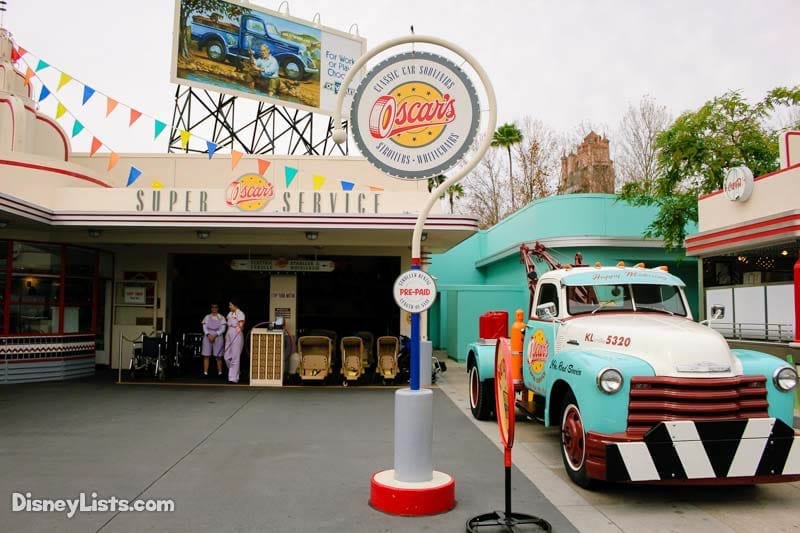 7 – Help identify your stroller in the crowd.
Many of the strollers look very similar, especially if you are using one of the rentals.  It would definitely be in your best interest to tie a bandana or something brightly colored to your stroller so that you can easily pick it out of the crowd if you think it is going to easily blend in.  This will help save you time and worry when you exit an attraction and are trying to locate your stroller.
6 – Don't leave anything valuable in your stroller.
This probably goes without saying, but it is a good reminder for everyone!  We, personally, have never had any issues with anything getting stolen from our stroller (knock on wood) and Disney has security that try to keep an eye on such situations.  That being said, it is still a good idea to bring your cameras, purse, etc. with you when you can, or at least bury them under other things so that they are hidden and not easy to grab and keep walking.
5 – A rain cover will be extremely helpful.
During the summer, it typically rains every afternoon in Central Florida. Even during other seasons, rain is a common occurrence.  It would definitely be advisable to either purchase a rain cover for your stroller or even buy a couple of cheap ponchos that could be draped over the stroller to prevent rain from soaking your stroller and your kiddos if the rain should start.
4 – You may need to collapse your stroller.
Pay attention and listen for instructions regarding your stroller.  If you are attempting to catch a Disney bus or tram you will ALWAYS have to take your child out of the stroller and collapse it in order to board. In order to save time and help keep things moving, collapse your stroller while you are waiting so that you are ready to board and won't hold everyone up.  You'll definitely feel less stressed and rushed if you do.
3 – Watch for stroller parking areas.
Just because you see an open curb doesn't meant that it is an approved parking area for strollers.  There are stroller parking locations all over Disney parks that are conveniently located next to the attractions so that you can easily drop them off and pick them up afterward.  Don't park your stroller in random places, or you will likely find that it will be gone when you come out.  Cast members are watching for strollers in non-designated areas and will move them to stroller parking.  You will also notice that your stroller may not be in the exact same location within stroller parking as cast members scoot them around in order to help guests find parking easy and keep things organized.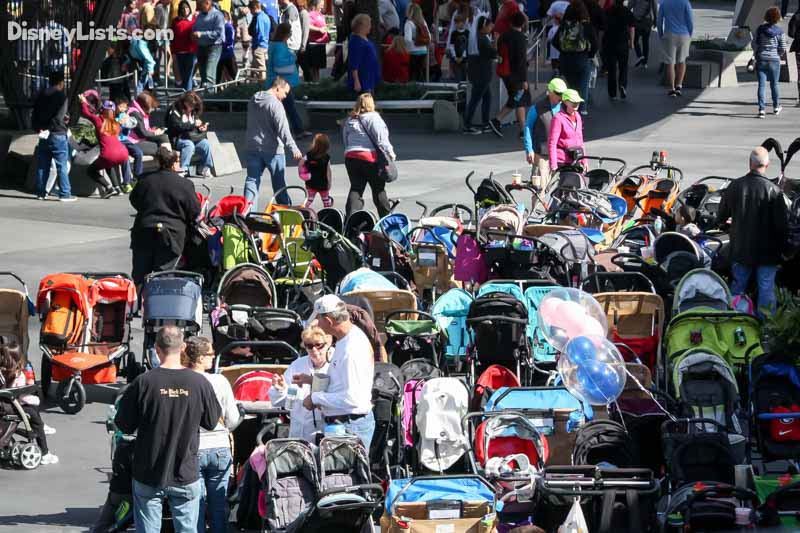 2 – Stay out of the center of walkways where possible.
It typically works best if strollers stay to the right of walkways.  Should you need to stop for some reason, you are already over to the side and able to stop without disrupting the flow of traffic.  Traffic can be frustrating, so it is better to not add to the chaos and try to keep it organized and let other guests move around.
1 – Don't use your stroller as a weapon.
Sometimes I have been tempted to do this, but we have to refrain!  Guests can sometimes be inconsiderate and frustrating, since they don't tend to want to let strollers through or make it difficult for strollers to merge or cut across traffic, but try to remain calm.  Just edge where you need to go and try to be polite to others.  Ultimately everyone just wants to have a good day at the park, so try not to ruin your day from frustration related to traffic issues.  Take a deep breath and make your way carefully where you are going!
For a no obligation, FREE Quote on a Disney vacation package, please contact our travel partner Magical Vacation Planner at 407-442-0227 (407-442-0215 for Spanish). You can also request a FREE quote online by Clicking HERE.