Disney's Cast Members are by far some of the most highly trained employees on the globe. Disney specifically names them Cast Members instead of employees, because they indeed are a part of the Disney Cast. When they step out on the job (or even off the job but on Disney property), they are taught to perform as if they are on stage – at the highest level of excellence possible. Besides their task at hand, their primary focus is to keep Disney's guest experiences paramount to anything guests have encountered elsewhere. In our opinion, they do precisely that. So, let's show them we appreciate them! Here are our top 10 ways to show kindness towards these awesome Cast Members.
1 –  Say Thank You!
This is one anyone can do. It's those two simple words that, in a nutshell, provide gratitude and kindness towards someone. It can be as simple as saying "thank you" when the Tower of Terror Cast Member asks you to step on a specific number. Or maybe when a Cast Member tells you to have a magical day! It takes very little to say thank you, but for the sometimes exhausted and Florida sunburnt Cast Member – it could be precisely what they needed to hear.
2 – Follow Their Requests
If a Cast Member is requesting that you move, follow them, stop, or go – please follow their requests. Just keep in mind that Cast Members are not only there to provide excellent service, but to maintain the safety of the guests a top priority. Despite how innocent something looks in our eyes – we trust that they need for us to follow their requests for our safety as well as others.
3 – Look Them in the Eyes
Ok, not in a creepy way – but you get what we are saying! The other day we were in a quick service location at Magic Kingdom. The pleasant Cast Member was trying to assist someone to where they might find the nearest Mickey Mouse for a meet and greet. From the moment they asked the Cast Member, through the Cast Member's directions, to the time they walked off without even a thank you – they never once looked up at the Cast Member but instead were staring at their phone. Multi-tasking looks excellent on a resume, but not so much when making human contact. Look at the Cast Member when speaking with them as they aren't the same as Disney's animatronics.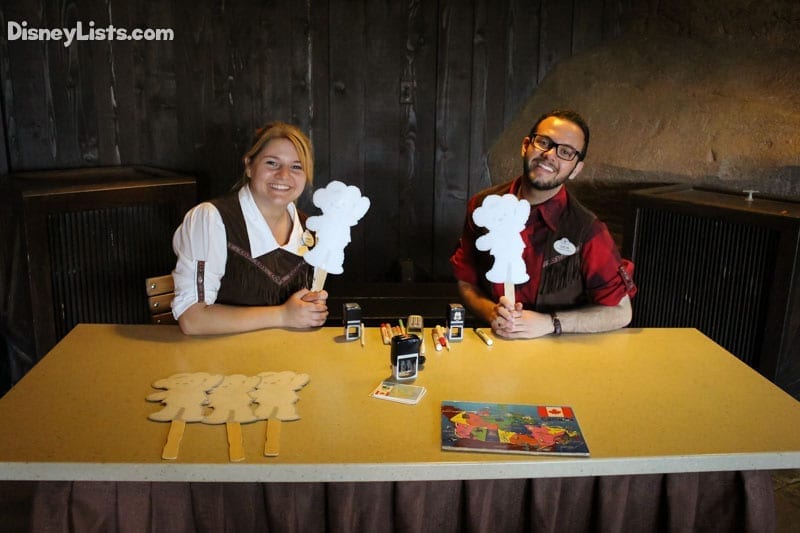 4 – Clean Up After Yourself
Another simple act of kindness that goes a long way is our mama's old rule of cleaning up after ourselves. As you walk through Disney's parks, you'll likely be impressed at the cleanliness despite the mass amount of people. Help Disney keep this reputation up by throwing your paper towels away when in the restrooms or even picking up that piece of trash that just dropped out of your pocket.
5 – Be Prepared
We know Cast Members must repeat "How many are in your party" over and over again in their sleep! Show them a little kindness by being prepared with the number of guests in your party and by having your full party together. From restaurant host/hostess Cast Members to attraction support Cast Members, you'll want to make their life a little easier by being prepared and anticipating what they may need from you.
6 – Include Them 
Have you ever noticed the Cast Members that stand next to your beloved characters? They are usually somewhat behind the scenes, and it's easy to ignore them as we rush off to hug characters! Or as you take off on It's a Small World and other attractions, do you ever think to look up at the Cast Members conducting the ride? It's these behind the scenes type Cast Members that you can show kindness to by simply including them with a simply wave or a brief hello, and thanks!
7 – Provide a Compliment
One Cast Member stands out specifically, as we were in line waiting to use the restrooms at Hollywood Studios. This Cast Member was rushing all about the restroom trying to pick up trash as it was dropped, puddles of water from sinks, and all the while she was smiling at the guests. This isn't the most luxurious job surely, but we saw more Disney magic in her spirit then in some of the characters we just had sign autographs! If you see someone like this, let them know just how great they are! Provide them with a compliment about how they are what makes Disney awesome, and you could just make their day.
8 – They Are Just Doing Their Job
Keep in mind that there are times when Cast Members may do something that you don't particularly like. For example, they may move a stroller when it wasn't parked in the spot it was supposed to be. This can be confusing for parents as they search for their screaming child's vehicle! But keep in mind that there is no need to raise an argument with the Cast Members responsible. They are simply doing their job, and we can show them kindness by letting them do so.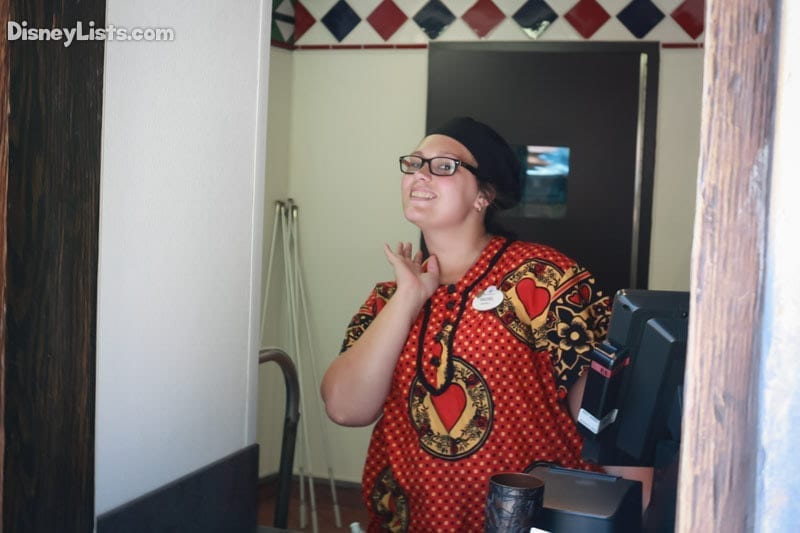 9 – Hand Written Thank You Notes
We aren't saying write a thank you note for every Cast Member you bump in to, because that would be just about every moment of your vacation. But, providing a thank you note for a Cast Member that went above and beyond their call of duty, could be the perfect way to say thanks! For example, we had a sick one on one of our family trips. The Mousekeeping staff were informed by the Front Desk conversation we had, and a balloon and some fun Mickey Mouse activities were delivered to the room. This one deserved a handwritten thank you!
10 – Tell Their Manager
Ask that superb Cast Member that stands out what their Manager's name is and where you can find him or her. If they are not available, take their name down and check with Guest Services. Letting a Cast Member's Manager know about their excellent service can make a huge impact on both the Cast Member and on the Manager's day! Disney World used to have "Great Service Fanatic Cards," but it doesn't seem like they provide those much anymore. Write a message on anything you can make a note on and ask that it gets into the right hands so this Cast Member can be recognized.
We'd love to hear your ideas of ways to be kind to Disney Cast Members!
For a no obligation, FREE Quote on a Disney vacation package, please contact our travel partner Magical Vacation Planner at 407-442-0227 (407-442-0215 for Spanish). You can also request a FREE quote online by Clicking HERE.