As parents, we have great plans and an excellent schedule to keep to as we plan the ins and outs of our Disney World trip. But, have you ever asked your child what they think about the vacation? We've checked with our 7-year-old and a few other kiddos, and here's what they wish us parents knew about their Disney vacation!
1 – It's My Vacation Too.
We absolutely love planning our Disney trips! To us, it's all part of the excitement of the vacation to book those resort and dining reservations. But, when we stopped for a moment and looked at our vast plans, we realized we really didn't include our daughter's ideas at all. It's not that she didn't have ideas, but we simply didn't listen. Sit down with your kids for a Disney planning night! Have a few snacks, turn off the TV, put down the cell phones, and go over some plans with your kids. Talk about resorts, restaurants, attractions, and entertainment. You may find that some of the things you thought they would be really excited about the most don't intrigue them at all! Of course, parents have the final say because it's coming out of our bank account. But, it's awesome family time and a self-confidence boost for your child to share their opinions and to be included in such important planning.
2 – I Love Swimming! 
We like to ask any kids we've taken to Disney, what was your favorite part of the whole Disney vacation? Many, many times, we've heard the same thing – the POOL! Mickey Mouse, the Princesses, Dumbo, and even the Tea Cups seem to be forgotten… but not the pool! We highly recommend if you can work it into your plans, try to schedule a resort day for swimming, or just take a half-day to enjoy the pool. We aren't sure if it's Disney's incredible resort pools or if kids just love the fact that you can swim practically year-round at Disney – but swimming is a kiddo must-do.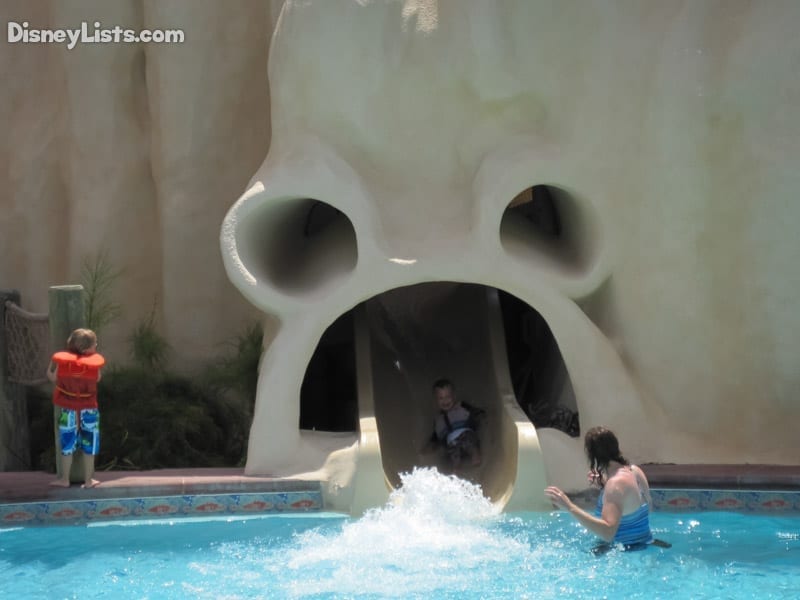 3 – We Want to Know What's Going On.
Our daughter said this should be number one! Kids want to know what on earth is going on?! At times we get into the park to start off on our adventurous day but forget to tell our kids where we are headed to. We've found their little legs tend to move with more excitement, and their attitude stays in check when they have a goal in site. For example, let them know we are going from one park to the other because they finally get to ride Pirates of the Caribbean! Or, we are waiting in line and let them know the estimated wait time. Keep them in the loop inside the parks, and you may just save yourself from answering a few of those millions of questions they ask you a day!
4 – I Want That… and That… oh – and That…
It's a constant battle between parents and their children – kids are non-stop asking for every possible souvenir they lay their eyes on. From plush dolls, balloons, hats, jewelry, candy, and more – the things geared towards your child's attention are limitless at Disney! Do yourself a favor, as well as your child, and set boundaries. Let your child know how many souvenirs they can have. For example, on our last week-long Disney vacation, we told our daughter she could have two souvenirs. Whether she used them up on the first day or the last, two was it. With her knowing this before we even set foot on Disney property, it truly alleviated the "I want…. can I have…." saga.
5 – My Legs Are Tired.
Fitbits are fantastic to wear while on a Disney vacation. When you look at those Fitbit numbers, you realize just how much walking you've done and pat yourself on the back for tripling your steps per day goal! In the midst of your fitness celebration – don't forget about those little legs that are following you all around the park. It's a lot of walking for us parents, but just think about the kids! Yes, they are young and can handle it – but for about every one step we take, they take three. Take breaks and let your child rest their legs. Plus, even if your child wants to dress as a princess, you still want your princess in comfortable shoes. Forget fashion and focus on your child's comfort.
6 – I Don't Know What I Want.
Our daughter says we are guilty of this one! Your child is having a meltdown, or they are on the verge of one, so you say (or maybe shout!) "well, what do you want?". It seems odd to us, but in a child's mind, they likely don't know! We suggest you focus on these three issues: thirst, hunger, and tiredness. Especially in the hot Florida summer, dehydration and hunger drastically change a child's mood. When they have a full tummy (not just on sweets) and are well hydrated, the mood seems to be ok once again! If it's not thirst or hunger, they may be tired. They hate to hear this, however, because they likely don't want to stop cruising around the park. Take a break somewhere and rest, or you can always head back to the resort for a much-needed nap for both the children and the parents!
The children have spoken! You could ask your child what they wish you knew about their Disney Vacation. We bet you'll get an interesting response!
For a no obligation, FREE Quote on a Disney vacation package, please contact our travel partner Magical Vacation Planner at 407-442-0227 (407-442-0215 for Spanish). You can also request a FREE quote online by Clicking HERE.