Shopping while at Walt Disney World is a vacation highlight! Finding that plush Disney character or set of Mickey ears seems to be in almost every gift shop. But, if you are looking for a specialized gift or fashionable outfit to call yours, you'll want head to one of Disney's boutiques. Here are our top picks of boutiques on Disney property.
1 – Marketplace Co-Op @ Disney Springs
Head over to the Marketplace in Disney Springs. Located next to Disney PhotoPass Studio you will find a boutique worth spending some time (and money!) in. Marketplace Co-Op is definitely unlike the typical gift shop you'll find at Disney. Here you will be able to browse specialized clothing, accessories, household goods, artwork, jewelry, and much more. The large store is open and airy and has a natural flow through organized spaces of dedicated merchandise. You will be able to find a little something for everyone on your gift list.
2 – Zuri's Sweets @ Animal Kingdom
Just across from the new Harambe Market in African at Animal Kingdom is the perfect little boutique that will appeal to your sweet tooth. Select desserts from behind the counter or browse the bagged items ready to be taken off the shelves. Whether you are looking to enjoy your treat at that moment or plan on giving the goodie as a gift, you will be pleased with the options that suit a variety of cravings. Not only will you enjoy the delicious items at Zuri's but be sure to step back and take a look at the detailed décor.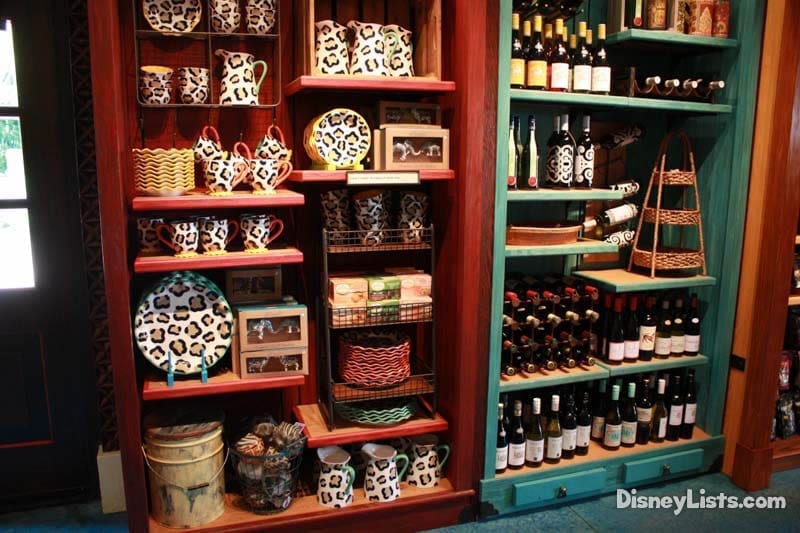 3 – Memento Mori @ Magic Kingdom
The sweet, magical atmosphere at Magic Kingdom seems to be sucked out of this particular boutique gift shop! A shop located near and dedicated to the Haunted Mansion, Memento Mori invites you to enter if you dare. Goosebumps are welcome as you browse the haunted items available. This boutique is rather small, but the specific items are definitely enough to keep your interest. The name "Memento Mori" speaks for the shop in its meaning as a warning to "remember you must die." Happy haunting!
4 – Beverly Sunset Boutique @ Hollywood Studios
We know the first thing you rush to when you enter Hollywood Studios is Rock 'n' Roller Coaster – but on your way back be sure to stop into Sunset Club Couture on Sunset Blvd. This boutique offers not only specialized Pixar merchandise but pre-packaged, tasty treats as well.  
5 – Port of Entry @ Epcot
Truly located directly at the "port of entry" to the World Showcase at Epcot, you will find a gem of a boutique. We particularly enjoy browsing the bottled wine selections, kitchen items, and garden accessories. The list of Epcot boutiques could go on and on, but we find this one to be an excellent shop to purchase those items for family and friends that may be hard to shop for – or simply to spoil yourself with.
 6 – Disney Outfitters @ Animal Kingdom
Before leaving Animal Kingdom for the day, be sure to browse through Disney Outfitters. Some of the items in this boutique are your typical Disney gift shop items, but we still have to mention it for the fantastic selection of African-themed collectibles, jewelry, and outfits. Find the perfect item to remember your day at Animal Kingdom and to show off your wild side!
7 – Bibbidi Bobbidi Boutique @ Magic Kingdom
This one has a boutique in the name, so we feel it earns a spot on our list! With three locations (Magic Kingdom, Disney's Grand Floridian Resort, and Disney Springs), this boutique is a dream come true for your little princess. Princess dresses, hair, make-up, nail polish, fairy dust… the full royal treatment is served here! We recommend the Magic Kingdom Bibbidi Bobbidi Boutique if you have a park ticket and make an advanced reservation. Not that there is any difference in the excellent service the fairy godmothers provide, but there is something magical about watching a little girl exit the boutique from within Cinderella Castle.
8 – Volkskunst and Karamell-Küche @ Epcot
Of all the country-specific boutiques around the World Showcase at Epcot, one of our favorites is Volkskunst. This German-themed shop will take you from window shopping to wanting to pull out that wallet. There are several items to browse through, including clocks, steins, decorative eggs, and so much more. When you wrap up with shopping, be sure to head next door to Karamell-Küche. Are you a lover of those delightful Werther's Original Caramels? Step inside this "Caramel Kitchen" and take your pick from numerous delectable treats. We never knew so many things could be made to taste even better with a touch of caramel in the mix.
For a no obligation, FREE Quote on a Disney vacation package, please contact our travel partner Magical Vacation Planner at 407-442-0227 (407-442-0215 for Spanish). You can also request a FREE quote online by Clicking HERE.