You've likely heard about or enjoyed signature food at Animal Kingdom from Flame Tree Barbecue, Yak and Yeti Local Food Café, Kusafiri Coffee Shop & Bakery, Zuri's Sweets Shop, or the enticing selections in the Harambe Market – but we are checking out what appeals to the snack/sweet taste buds. We've scoured Animal Kingdom, tasted our way from hut to hut, polled folks around us, and smelled delicious smells. We focused on the easy walk-up carts, kiosks, and stands for quick grab-and-go food. Here is what we believe are the top seven amazing food carts, kiosks, and stands from the numerous awesome selections throughout Animal Kingdom.
1 – Harambe Fruit Market in Africa
This fruit stands located in Africa gets number one on our list simply because it speaks the African theme so much so that we forget we are in the middle of Florida! Fresh whole fruit, assorted chips, mickey pretzel, birthday muffin, grilled corn on the cob, cuties mandarin, and mini babybel snack cheese are just a few of the food options available. The fantastic appearance of this fruit stand perfectly matches the fresh taste when you bite into one of their fruit selections!
2 – Terra Treats in Discovery Island
Looking for a quick bite to eat? At Terra Treats you can pick up a slice of cheese or pepperoni and cheese pizza! This is a great place to get a bite to eat without waiting in long lines!
3 – Royal Anandapur Tea Company in Asia
Maybe you want a change-up from the usual Starbucks option on the other side of the park – well you've found your place! Royal Anandapur serves Joffrey's specialty iced/hot teas and coffee. Some of their hot tea specialties on their long list include the Jasmine (green tea with softs notes of Jasmine), African Celebration (combination of rooibos, rose petals and herbs, with walnut, almond, vanilla, and Mandarin orange), and Honeybell Orange (white tea with Jasmine and honeybell orange). Plus, they have HUGE donuts – and you know you can't go wrong with a donut the size of your face!
4 – Tamu Tamu Refreshments in Africa
Don't judge us – but this dessert-only refreshment location just has to be on this list! Taste a slice of heaven with their warm brownie sundae. Or try a pineapple Dole Whip cup with coconut rum. Sweet mama – check this place out! 
5 – Trilo-Bites in DinoLand U.S.A.
Are you craving something with a little kick while strolling through Animal Kingdom? Be sure to head to Trilo-Bites in DinoLand U.S.A. for their specialty – Buffalo Chicken Chips! Chips and buffalo chicken? Heck, it's Disney – why not combine the two and make for an awesome snack! Plus, you can also enjoy soft-serve ice cream with your choice of fountain beverage.
6 – Anandapur Ice Cream Truck in Asia
You can't miss this incredibly decorated blue ice cream truck on your way to Expedition Everest. The menu is really quite simple but very yummy! Take your pick of a soft-serve waffle cone in vanilla, chocolate, or twist. Or go with a float, with your choice of a fountain beverage.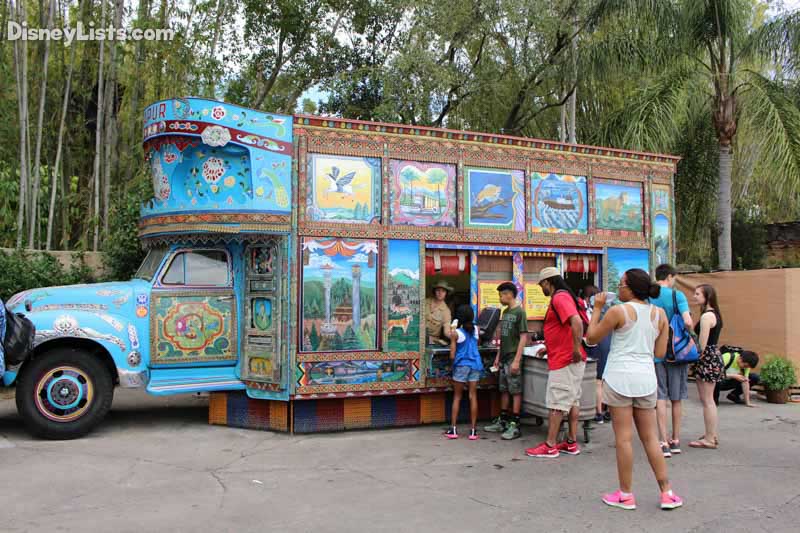 7 – Thirsty River Bar & Trek Snacks in Asia
The Thirsty River Bar and Trek Snacks are popular among guests. They neighbor Expedition Everest. Whether you worked up an appetite while anticipating your ride on Everest or you need a visit to the bar to work up the courage to meet the Yeti, you'll find what you are looking for here! Simple snack items, lighter meal options, a sprinkling of desserts, and a large bar are ready to serve your hunger/thirst needs. Popcorn, Mickey Pretzel, and ice cream treats– plus a bar with frozen beverages, cocktails, beer, and wine – are just a few items on this menu.
Let us hear from you! What is your favorite food kiosk, cart, or stand at Animal Kingdom?
For a no obligation, FREE Quote on a Disney vacation package, please contact our travel partner Magical Vacation Planner at 407-442-0227 (407-442-0215 for Spanish). You can also request a FREE quote online by Clicking HERE.